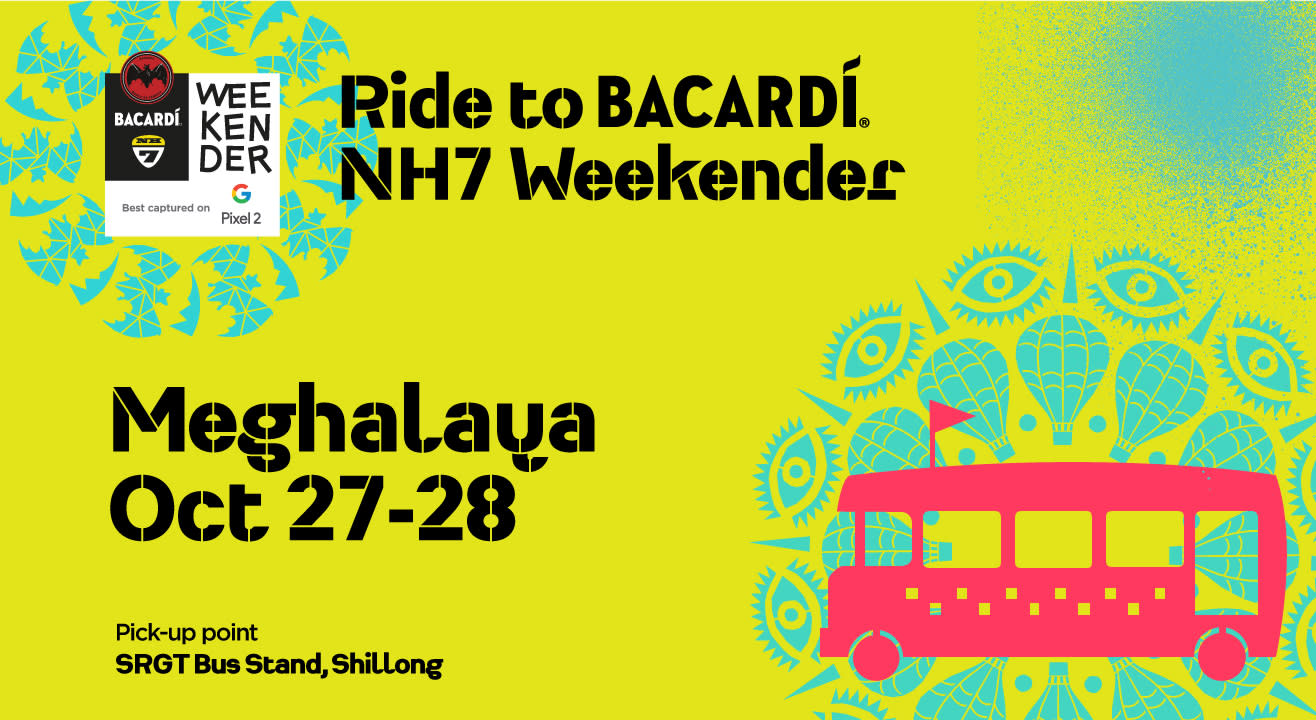 Ride to Bacardi NH7 Weekender Meghalaya
October 27 & 28 | 12PM - 2PM
Pick up Point - SRGT Bus Stop
Invite your friends
and enjoy a shared experience
Ride to Bacardi NH7 Weekender Meghalaya
October 27 & 28 | 12PM - 2PM
Pick up Point - SRGT Bus Stop
Invite your friends
and enjoy a shared experience
Invite your friends
and enjoy a shared experience
"All aboard!"
But this ain't no crazy train, this is the official Bacardi NH7 Weekender shuttle to ferry you from Shillong to the festival venue and back!
Here's what you need to know before booking:
1. Shuttles will run daily between 12 pm to 2 pm from SRGT bus stop, near Jawaharlal Nehru Football Stadium, Shillong on both days of the festival. The pickup point location can be viewed here: SRGT Bus Stop
2. Shuttles will leave from the venue between 10 pm and 11.30pm. There are 3 drop off routes available to choose from depending on which is most convenient to you. The final stop on all 3 routes is the SRGT bus stop.
3. Shuttles tickets can be purchased for single days and both days of the festival. There are limited seats and it highly recommended to book shuttle tickets in advance to avoid any last-minute hassles on account of non-availability.
4. If you are bringing children below 10 with you, shuttle tickets are not required. Please remember to carry an appropriate government-issued ID for your children.
5. Remember to carry a valid photo ID and your shuttle e-ticket with you. Printouts are not required but do remember to download the e-ticket on your phone before coming!
6. This is just a big thank you if you're choosing to skip bringing a vehicle to this beautiful place. Thank you for your support in helping keep Meghalaya green!
Limited seats available.
Here are the routes and timing available:
Route 1:
Pick-up Point: SRGT Bus Stop
Timing: 12PM - 2PM
Return: Venue - Madanryting - Fire Brigade - Barik - Governor's House - SRGT Bus Stop
Timing: 10PM - 11:30PM
Route 2:
Pick-up Point: SRGT Bus Stop
Timing: 12PM - 2PM
Return: Venue - Madanryting - Fire Brigade - Barik - Mawprem - SRGT Bus Stop
Timing: 10PM - 11:30PM
Route 3:
Pick-up Point: SRGT Bus Stop
Timing: 12PM - 2PM
Return: Venue - Madanryting - Rynjah - Nongrim Hills(Pump) - SRGT Bus Stop
Timing: 10PM - 11:30PM
Ride to Bacardi NH7 Weekender Meghalaya
October 27 & 28 | 12PM - 2PM
Pick up Point - SRGT Bus Stop
Invite your friends
and enjoy a shared experience