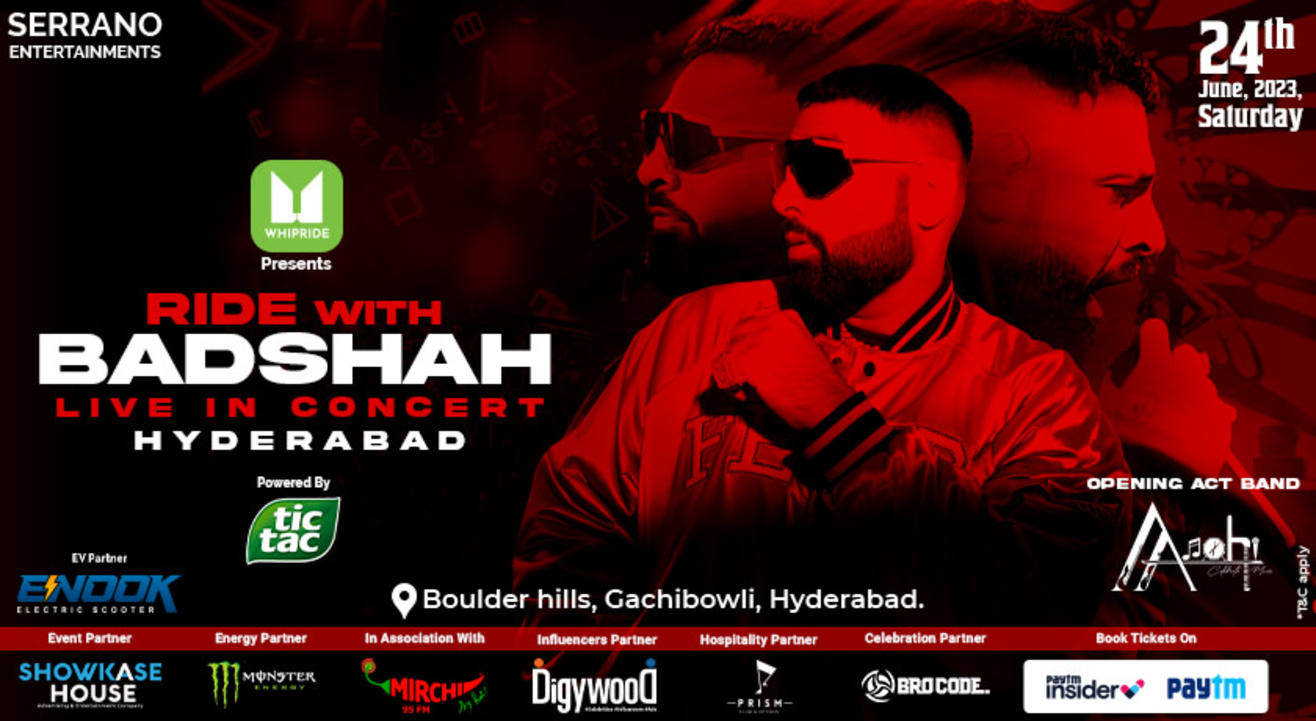 Ride With Badshah - Biggest Bollywood Concert | World Music Week 2023
Event Guide
Language
English, Hindi, Punjabi, Telugu
Invite your friends
and enjoy a shared experience
Ride With Badshah - Biggest Bollywood Concert | World Music Week 2023
Event Guide
Language
English, Hindi, Punjabi, Telugu
Invite your friends
and enjoy a shared experience
Event Guide
Language
English, Hindi, Punjabi, Telugu
Invite your friends
and enjoy a shared experience
Asia's Top Hiphop Artist BADSHAH grand concert on June 24th,Saturday ,2023 at Boulder Hills ,Gachibowli With opening act by Hyderabad's Top Music Band - AROHI
Whipride presents Ride with Badshah is Huge Bollywood Concert with electrifying and live musical extravaganza that showcases charisma of one of India's most renowned and popular artist Badshah. Known for his captivating stage presence and chart-topping hits, Badshah delivers an unforgettable experience that leaves audiences mesmerized.
The concert features an array of Star Performer Badshah biggest hits, including "Kala Chasma","Pani pani","DJ Waley Babu","Ghenda pool", "Garmi" and wide range of Food & drinks to recharge your energies.
The stage setup and production value of the Concert is spectacular. A visually stunning backdrop, dynamic lighting effects, and state-of-the-art sound systems enhance the overall experience, creating an immersive and Life note.
Limited Tickets …Hurry up
• Please carry a valid ID proof along with you.
• No refunds on purchased ticket are possible, even in case of any rescheduling.
• Security procedures, including frisking remain the right of the management.
• No dangerous or potentially hazardous objects including but not limited to weapons, knives, guns, fireworks, helmets, lazer devices, bottles, musical instruments will be allowed in the venue and may be ejected with or without the owner from the venue.
• The sponsors/performers/organizers are not responsible for any injury or damage occurring due to the event. Any claims regarding the same would be settled in courts of Hyderabad.
• People in an inebriated state may not be allowed entry.
• Rights of admission reserved to Organizers. Venue rules apply.
• These terms and conditions are subject to change from time to time at the discretion of the organizer
• Organizers do not guarantee in any parking, though parking at venue is available
• Alcohol will be served to guests above the legal drinking age (LDA) and on the display of valid age proof.
• Telangana Police Department: We strongly condemn and discourage any form of drunk driving. Driving under the influence of alcohol or drugs is illegal and poses a serious threat to the safety of oneself and others on the road. Use alternative transportation options. Breath analyzing tests will be conducted.
• Organizers withhold right to change any mentioned deliverables
• Outside Food/Drinks not allowed in Venue
Boulder Hills
C8PW+7P9, Boulder Hills Rd, Madhava Reddy Colony, Gachibowli, Hyderabad, Telangana 500032, India
GET DIRECTIONS
Ride With Badshah - Biggest Bollywood Concert | World Music Week 2023
Event Guide
Language
English, Hindi, Punjabi, Telugu
Invite your friends
and enjoy a shared experience