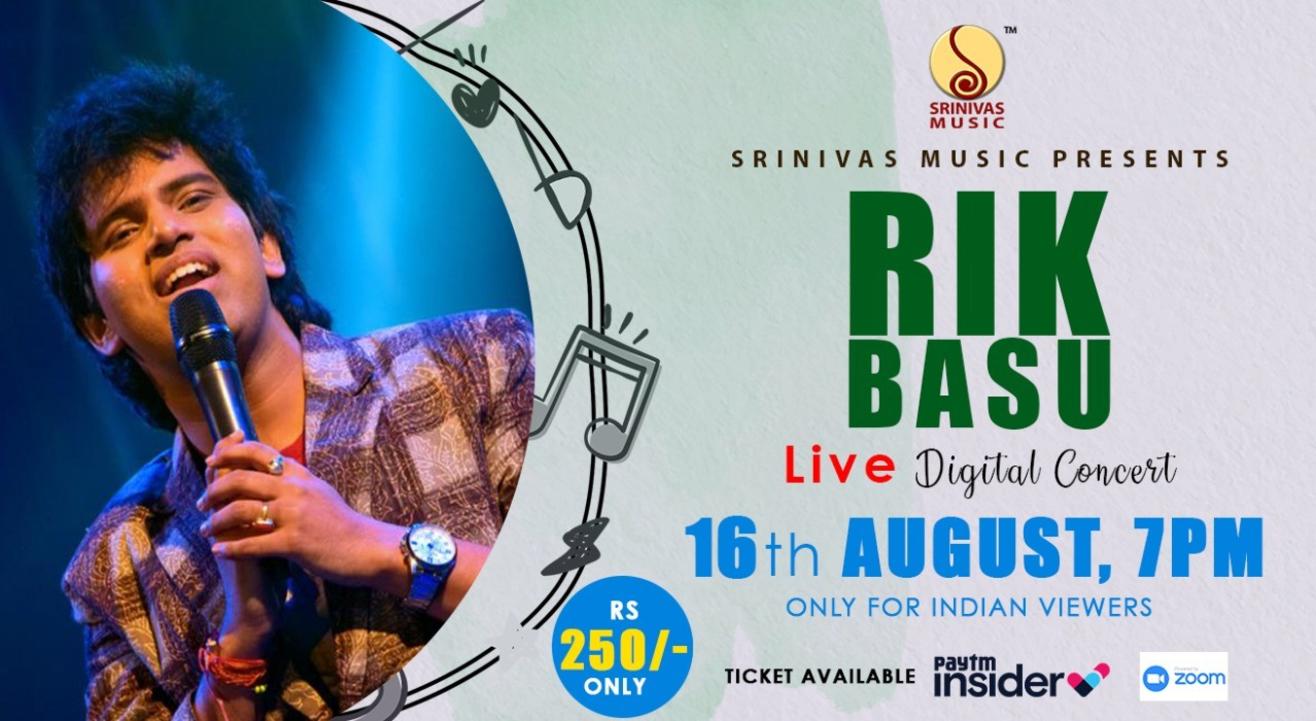 Event Guide
Digital Event
Watch on Zoom
For Age(s)
Family Friendly
Live Performance
Enjoy a unique experience
Invite your friends
and enjoy a shared experience
Event Guide
Digital Event
Watch on Zoom
For Age(s)
Family Friendly
Live Performance
Enjoy a unique experience
Invite your friends
and enjoy a shared experience
About the Event
Rik basu, a very young soul who flew to Mumbai for his dream at 15, who started learning Sa..at the age of 2 from his late father,who never scored second class in his academics,claims his name Rik the rocker,aptly given by the maestro Hariharan ji. Asha Bhosle's "Tum bohut hi badhiya singer ho" was the biggest compliment he could have ever got when he was 18 during the magical saregamapa.This boy of 23 has to never felt consternation about any form of music starting from classical to rock to pop and was declared as the runners up of zee saregamapa 2014/15, a voice that drove Sonu Nigam to his childhood,he complimented him to the utmost on that captivating night of the Grand Finale. His first album released in 2013, were he scored the music for the entire album called Anwikha even before saregamapa and was deeply appreciated by the dignitaries of this industry.His range of songs and the ability to hit higher notes knew no bounds and has created its magic in Bangladesh, United States of America and Canada quite a number of times in the last 4 years,in his super hit concerts in the multiple tours. Pairing with Anwesha Dutta,he has produced one of the highest selling albums 'Hok na kotha' in the United States as a music producer and singer.In the bengali movie fraternity he has given his voice to films like sesh chithi,ei shohore,protaghyat,and a handful of Zee originals movies and many other feature films, including a recently released Bangladeshi single which has become quite popular.He got his first big break as a music composer with the single' Tu Saath mere ', with Yash Raj Films,the melody that records the exceptional Anwesha dutta from their duo channel Anwesha D and has gone on to compose, produce and sing songs like, Tomake khunji,chokher dekha ( as a composer ) and Tujhe pyaar pyaar karta hoon which are all in the top lists on YouTube.Last but not the least this year has been one of the best for him as he has completed a bengali movie as a music composer singer and songwriter where singers like Nakash Aziz, June Banerjee have sung for him..which is yet to release and The most significant among all is that he has achieved an unexpected victory as a bengali when his composition Wole wole aa got played before the FIFA World Cup final 2018 in Moscow and also at Sony live. He has won a contest Internationally and wole wole aa has grown this Lil boy internationally which is just mind-boggling..
Working in Mumbai for singles and versions at T-series and for his own stuff, Rik has already been identified as one of the most promising composer-Singer of the upcoming decade by most famous sound designers of Mumbai such as Eric Pillai, Vijay Dayal of Yash Raj films, Shadaab Rayeen and many more.
His songs promise to conquer Bollywood and Tollywood very soon as his struggle continues in Mumbai irrespective of being one of the busiest artists in the concert scene,we hardly find his evenings free,but he never fails to give time to the studio..
His recent Bollywood Break "Dil ki Gullak" has left all his listeners spellbound from the much awaited Baarish season 2 on Alt Balaji and Zee 5.
To conclude Kumar Sanu's favourite, alka Yagnik's ,'the singer who always creates an impact',Rik the rocker has been a result of the unending love of his audience and he promises to enthral the crowd with his own songs in the years to come.