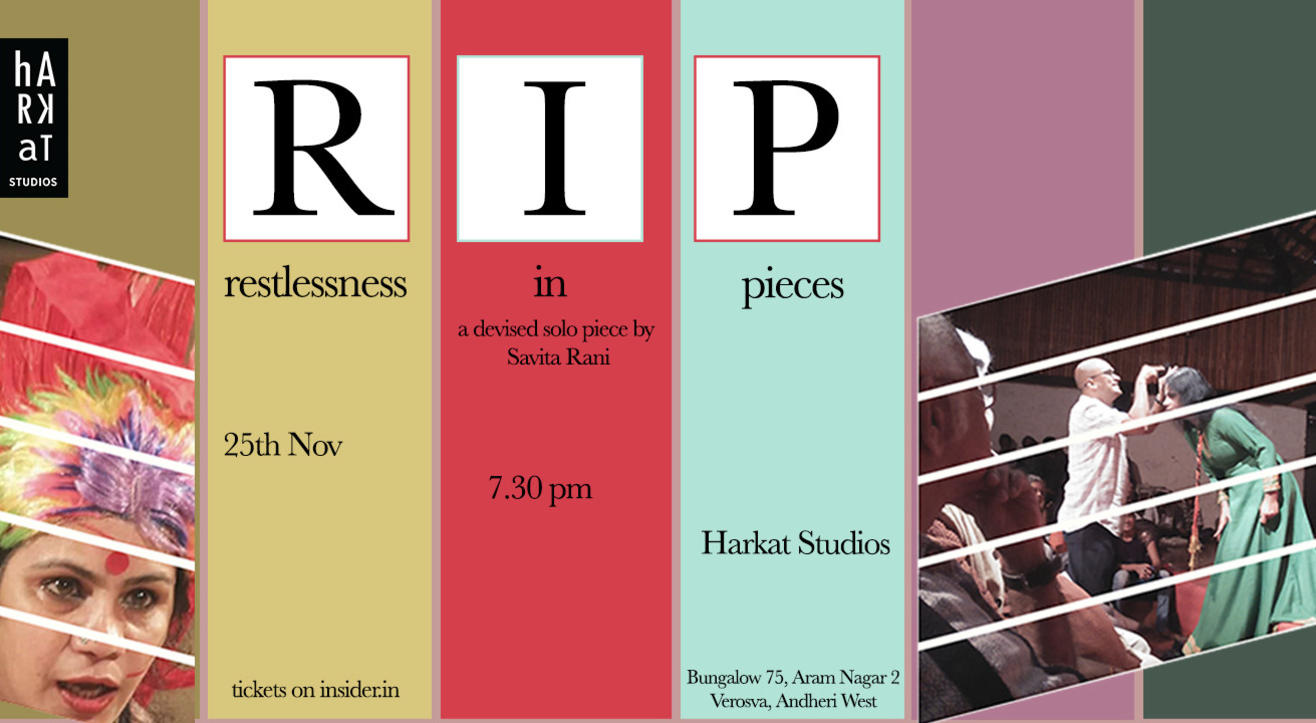 Theatre
RIP - restlessness in pieces
Harkat Studios, Versova, Mumbai
About
What is freedom? How free is a woman? Is she free to live on her own terms, to travel on her own terms, to be herself, by herself?

In RIP, a woman seeks her path, within her restricted life, tied to her husband, by first convincing her husband to take her with him on his work related travel. Travelling is her dream. Through her travel, she grows and frees herself. And, this is her celebration!

An interactive solo, RIP is a woman's personal, and political, narration full of satire and humour. It takes the audience into a journey, also their own, of emotions, opinions and questioning, of everyday and taken for granted conventionality of women's lives, in individual, social, cultural and political milieus.

RIP is an abbreviation used to wish well for the soul that no more occupies a human body. Interestingly, other meanings of the word are tear, split, shred, break, scratch, cleave. The performer sticks to RIP as 'restlessness in pieces,' a contrary context to its usual meaning. The performance is an inquiry into Rest in Peace itself. For a body that goes through so much restlessness in life, both within and outside in the world, how can there be Rest in Peace after death? Why can one not rest in peace while they are alive? How? By inquiring into own restlessness, and releasing it out. It opens up an individual's possibilities of living, where the focus is not on final product but rather on the person living, in that process.
This piece evolved in inquiring into performance, space and actor-spectator relationship, looking for its form and content.

Performed by Savita Rani.
Savita Rani is a graduate of National School of Drama (NSD), New Delhi (2008), with specialization in acting. She started her theatre career in her native Rohtak, Haryana in 1999 with Jatan Natya Manch, a political and social theatre group. Savita also has a one-year diploma from Himachal Cultural Research Forum & Theatre Repertory & Academy.
Savita Rani has worked with eminent theatre personalities and her work has given her opportunity to travel to countries like Peru, Pakistan, China, Bangladesh, Japan, Thailand, and England. Besides, Savita has acted in many drama productions, and participated in many conferences, theatre festivals and workshops. She also participated in École Nomade workshop by Ariane Mnouchkine of Theatre du Soleil, France in Pondicherry. At present, Savita Rani is pursuing her Ph.D. in the Department of Performing Arts, Pondicherry University.
Harkat is an international boutique arts studio with a passion for film, new media, community art spaces and contemporary art. Based in Mumbai & Berlin, Harkat takes many forms and identities across disciplines & related creative industries. As an alternative performance & arts space, they have hosted more than 150 shows in the past year in the mediums of theatre, film, music, community projects & contemporary art. Harkat supports the new, unheard, upcoming, exciting, cutting edge, the political, the forgotten, nostalgic, melancholic, soul stirring, the beautiful & more. And that's what Harkat is. Harkat.
Venue
Harkat Studios, Versova, Mumbai
HARKAT STUDIOS, BUNGALOW 94, FIRST FLOOR, ARAM NAGAR 2, VERSOVA, ANDHERI WEST, 400061-MUMBAI