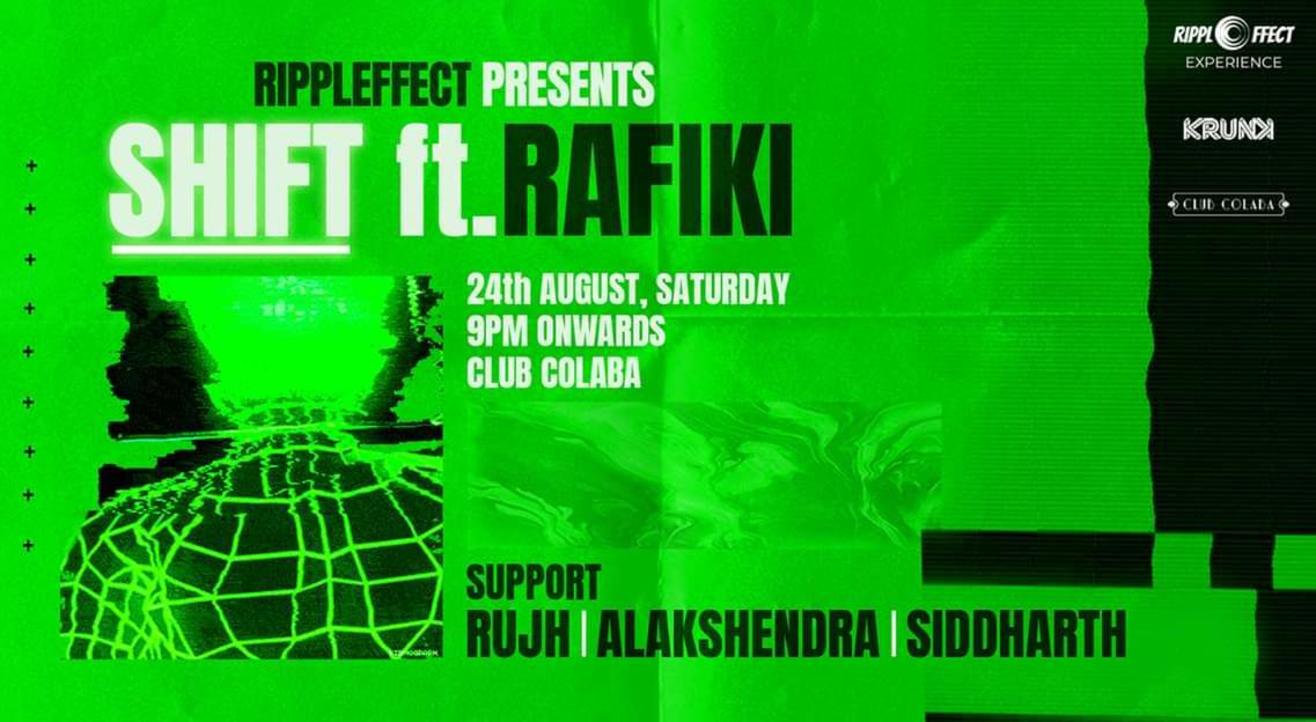 Music
RIPPLEFFECT PRESENTS SHIFT ft. RAFIKI
About
Raflki Sounds
Rafiki is the solo project of Sohail Arora (Founder of KRUNK) pushing the best in cutting edge house / disco / techno / afro beat from across the globe. In the short span under the moniker, Rafiki has already supported acts like Baba Stiltz, Cashu, RRoxymore, Anthony Naples, Roza Terenzi, Eclair Fifi, Willow & more.
We have an extensive line-up of Homegrown artists that will be on Support duty for the night.
Rujhan
Born and raised in India, DJ & Producer RUJH aka Rujhan, decided to pursue his degree in Music Production and Sound Engineering from PointBlank Music School of London. His breathtaking break-downs, heart throbbing bass, and syncopated percussion sets have acclaimed great recognition in the UK's underground Techno community. Dark and Industrial atmosphere is a prominent sound he looks out for in his Techno sets alongside his own production.
Alakshendra
Rippleffect's founder and an avid music enthusiast, Alakshendra's style of music can be best classified as "Power with a bit of melody". With the aim of giving something fresh (and groovy) to the crowd every single time he is DJing, his sets range from Electronica, Nu-Disco, House, Deep house, Tech House to everything in between.
Siddharth
With an affinity towards exploring a plethora of genres of Dance Music since an early age and being part of the Dance music Community made him come to the other side of the Console. Setting the vibe of the place and warming up the audience is key for him. A versatile selector, Siddharth has never restricted himself to one particular genre. His track selection and over the edge mixing makes his sets an overall sonic experience.