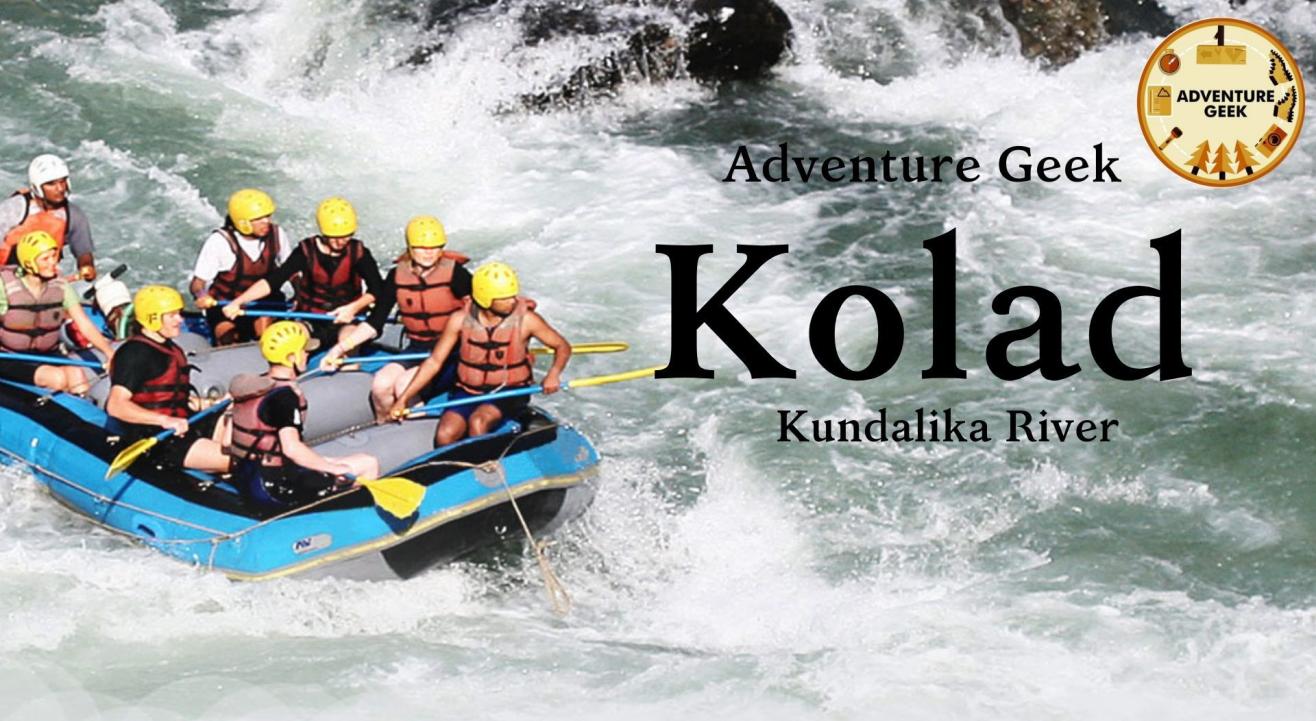 Adventure
River Rafting at Kolad | Adventure Geek
Sanjay Gandhi National Park - Main Gate
About
It's a perfect way to start your vacations from a little adventure with an amazing river rafting event in the Kundalika River! Let's add some joy & memories of Adventure in your pocket.
Join Adventure Geek on an amazing journey to "Kolad", a small village on the outskirts of Mumbai. The Kundalika river, with its rapid gushing water, provides for an adrenaline rush with its "Grade 3" Rapids.
Ideal for all, beginners and professionals, thrill seekers as well as nature lovers, it's a perfect way to start the most awaited vacations. So come to join us this Exhilarating journey for an experience that will stay with you for a long long time.....
It is not a Leisure Trip! Adventure Trip takes time so plan accordingly.
QUICK OVERVIEW :
————————————————————————
River Rafting Distance:14 km on the water
Rapids: Grade 2 to Grade 3
Duration: Approx 2 hours
Capacity: 25 persons
SCHEDULE :
————————————————————————
****Note: There are 2 slots of rafting in a day. Trip timings will depend upon the slot we get allocated. Accordingly, the scheduled timings may vary****
Meeting Point Sanjay Gandhi National Park @ 5.30 am
05.45 am - Leave for Kolad
08.30 am: Breakfast at Pali
09.30 am: Reaching start point & get ready
Listen to instructions from the experts and start the much-awaited rafting adventure ( with life jackets and helmet)
09.45 am: 2hour rafting event
11.45 am: Meeting Adventure Geek at end Point and go back to start point
12.30 pm: Get Fresh and have Lunch (Veg/ Non-Veg)
02.00 pm: Start Return Journey
03.30 pm: Evening snacks break at Pali
07.00 pm: Reach Sanjay Gandhi National Park. (tentatively)
INCLUDES
————————————————————————
–Transportation from SGNP to SGNP In private Non a/c bus.
–Breakfast,Lunch and evening refreshments
– Rafting gear and Equipment
– Rafting & Expertise charges.
Excludes
Anything not Mentioned in the Includes
Personal Expenses
Things to be Carried:
————————————————————————
– Extra pair of clothes
– Identity card(government proof)
– Camera. (Optional)
– Some ready to eat food, biscuits etc
– Water (at least 2 Ltrs) compulsory
– Medicine those if you require usually
– Bag to throw garbage
– Please Carry Polythenes to keep wet Clothes
RULES:
---------------------------
– No smoking.
– No plastic littering.
– Wear full sleeves, full track suite to avoid mosquito.
– No jeans/skin tight clothes.
– Proper footwear/shoes are essential for the trek.
– Conserve and preserve our heritage.
– No deo / perfume. After a trek it's OK.
– We reserves all right to change/deviate/cancel the plans without any prior notice.
– No Extra adventure/out of itinerary behavior during trek.
– Trek leader's decision will be final and binding.
– Photographs were taken during the activity which can be used for publicity purpose.
– Each member will be responsible for his/her own safety, Jewellery, Cash and baggage.
MEDICAL DISCLAIMER:
---------------------------
– It is most essential to be fit and fine before heading for Adventure Activity .
– While planning your trekking trip, it is preferable to have a medical fitness check up done.
– If suffering from any kind of allergy or ailment, do carry proper prescribed medicines to prevent serious health problem including heatstroke, sever headache, cough, dehydration and hypothermia.
– Participants suffering from chronic conditions like asthma, bronchitis, blood pressure, migraine, diabetes etc should seek their physicians advice before coming.
Venue
Sanjay Gandhi National Park - Main Gate
Western Railways, Borivali East, Mumbai, Maharashtra 400066