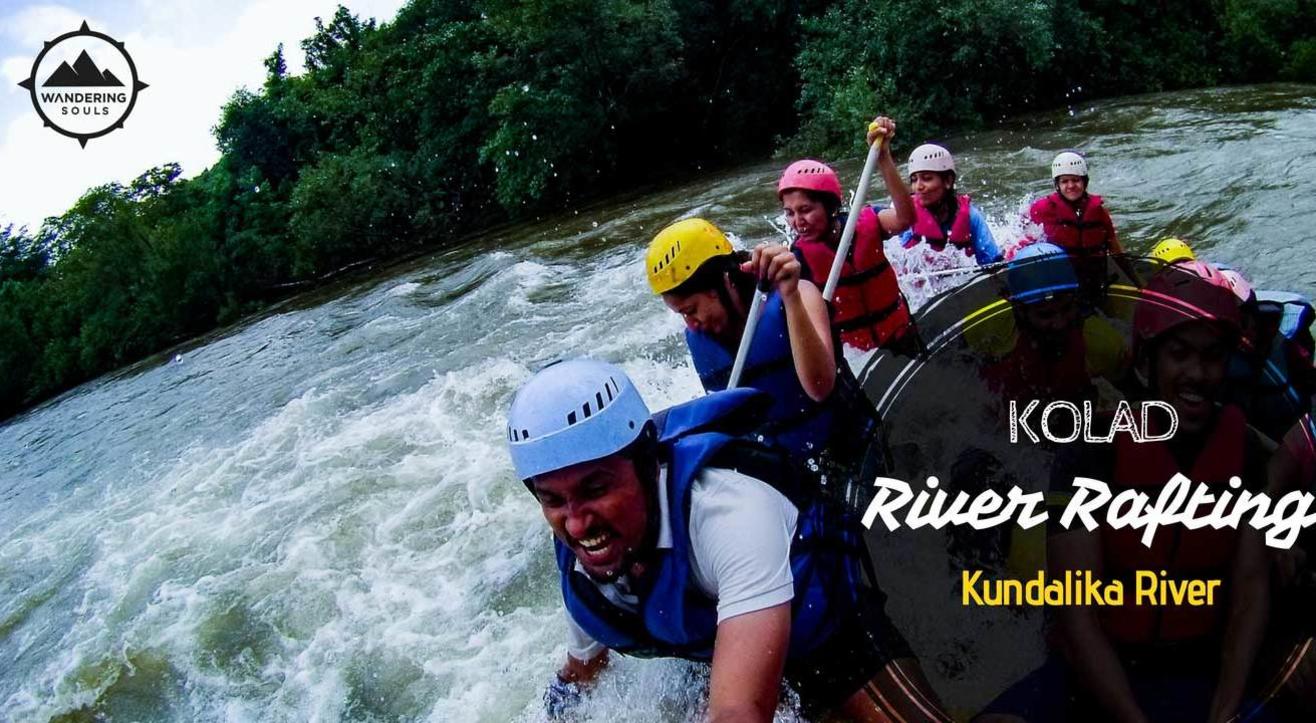 Adventure
River Rafting Kolad | Wandering Souls
About
"Adventure is worthwhile" – Aristotle
Join us for one of the most exciting water based activity on this planet.
Kolad is situated on the bank of Kundalika in Maharashtra, which is just few hours drive from Mumbai and Pune. The Kundalika River is the major factor behind people's choice to do white water rafting in Kolad. It is one of the fastest flowing rivers in the south that makes it water ideal for adventure filled rafting
Rafting in Kolad can be done any time during the year since the river will remain intact throughout the year but of course, monsoon has special interest in Kolad so that many of the adventure lovers admire being at Kolad during the rainy season when the rapids may grow up to another level of adventure.
05:30 hrs Pick up from Dadar
05:45 hrs Pick up from Chembur
06:10 hrs Pick up from Vashi Highway
06:40 hrs Pick up from Kalamboli McDonalds, have breakfast on the way to the start point
08:45 hrs Reach the start point, get fresh and prepare yourselves for the rafting session after a brief introduction
09:00 hrs Rafting session begins
12:30 hrs Rafting ends, drive back to the start point in our vehicle
13:30 hrs Change into dry clothes and have a delicious lunch
15:30 hrs Say your goodbyes with a promise to meet again, leave for Mumbai in our Bus. This brings us to the end of our trip, Or rather just the beginning.
Mumbai to Mumbai Private Transport
Breakfast, Tea
Unlimited Buffet – Lunch
Rafting Charges – One Time
Expertise and Guide charges
First Aid Certified Co-ordinators
Wash Rooms & Changing rooms facilities
Anything other than the above-mentioned things
Identity Proof
Water – 2 litres
Floaters
Swimming Goggles (If wearing contact lenses)
Extra pair of clothes
Electoral powder / Glucon D
Personal Sanitary Kit
Personal care stuff, medicines which you require usually
How will you contact me once I register?
We will be mailing you the details a day or two before the event. We will also create a WhatsApp group a day before the event

Do you need to know swimming?
No, you don't need to know swimming for this activity. Life jackets and helmets are provided to all participants

What is the weight limit?
The weight limit is up to 100kgs

What is the age limit for rafting?
The age limit is 14yrs to 60yrs. Children between 12 & 14 may be permitted to raft subject to a safety clearance from river rafting guides. Children below 12 years will not be allowed to raft.

Can I come alone?
Yes, many of our participants are solo travellers.

Is it safe for a female solo traveller?
It is completely safe for a female solo traveller as our representatives will be there with you all the time. Moreover, most of our event have 60% female participation.

Can I Bring my Car?
Yes, you can bring your own car.

Are washrooms available?
Yes washrooms & changing rooms are available.

Can we smoke or drink alcohol?
Smoking or drinking alcohol is prohibited.

Would I get cellular connectivity?
You will get limited connectivity.

What type of food will I get?
Breakfast & a Veg/Non-Veg Buffet Lunch

What if I have a medical emergency?
We will carry first aid kit with us. The rafting guides are also certified. You will get a medical attention as quickly as possible.

What kind of clothing we need to wear?
Wear comfortable clothes, carry extra pair of clothes to be used while rafting

Do I need special footwear?
Sandals are recommended during rafting, don't wear slipper during rafting as they might get washed away
Cancellation charge of 15% would be deducted from the booking if cancelled 7 days before the event
No refund would be granted if cancelled within 7 days of the event