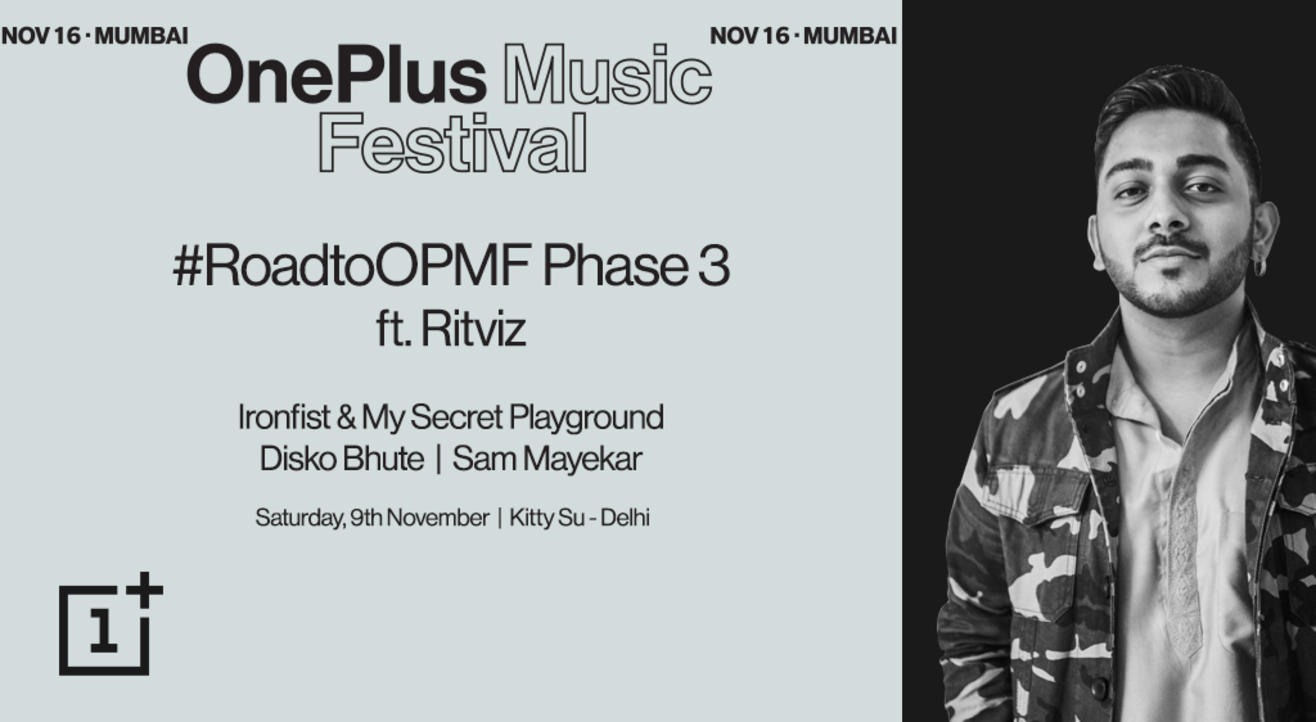 Step out and enjoy this event
Invite your friends
and enjoy a shared experience
Step out and enjoy this event
Invite your friends
and enjoy a shared experience
Invite your friends
and enjoy a shared experience
This November brings you a blend of International and Indian electronic acts to three major cities of India. Join us for the OnePlus Music Festival pre party, biggest music festival of our country this year.
'Road To OPMF Phase 3' at Kitty Su - New Delhi.
November 9th Saturday starting from 8pm onwards.
RITVIZ
Ritviz is Hindustani musical prodigy from Pune (IN) who shot to fame last year with release of his hit single "Udd Gaye". In a partnership between Bacardi,All India Bakchod & Nucleya.Udd Gaye was handpicked by the best in the business to be the biggest party anthem of the year. Since it's release in December 2017, the track has clocked over 200M plays across all platforms. Following up this massive hit with a series of sticky numbers through the year, Ritviz has made a name for himself as one of the most widely followed electronic music producer in India today. His ability to effortlessly merge Hindustani Classical elements with electronic beats has taken Indians by storm, all over the world. Currently he is one of the most streamed artist on Spotify India.
IRONFIST And MY SECRET PLAYGROUND (RABOTAT RECORDS)
Rabotat Records music and community is uncompromising, daring and bold. The label is a place where artists can come without inhibition or fear to create and collaborate - breaking new ground, merging genres and cultures to create music that speaks it's truth and to the hearts of people around the globe.
One of Rabotat's founders, Ironfist, has put together a playlist made up of his eclectic tastes and tunes that have inspired him. The prologue to his debut album 'Bronze Age' drops in April 2019.
Florian Herzberg, the man whose own artistic voice has been heard for many years, has been drawing on intense experience as a drummer, DJ, producer and bandleader of My Secret Playground . Founded in Vienna in 2007, the debut EP "No-Excuses" was released in 2008. Florian lives and plays in Berlin since 8 years. He found there not only musical but also emotional strength.Herzberg is one of the important minds of the Berlin live scene. In 2014 he launched. Today's cast of his band and the guest musicians of his album "Sounds of a Decade" (2018) includes the best of these sessions.
DISKO BHUTE
To witness the bridging of boundaries between various genres of electronic music, is exactly what Disco Bhute wants his audience to be imbibed by. His music's deep and dark basslines keeps you grooving while he seesaws your mind with the hypnotic vocals.
Kitty Su, Delhi
Kitty Su, Near Modern School, Barakhamba Rd, Fire Brigade Lane, Connaught Place, New Delhi, India
GET DIRECTIONS
Step out and enjoy this event
Invite your friends
and enjoy a shared experience