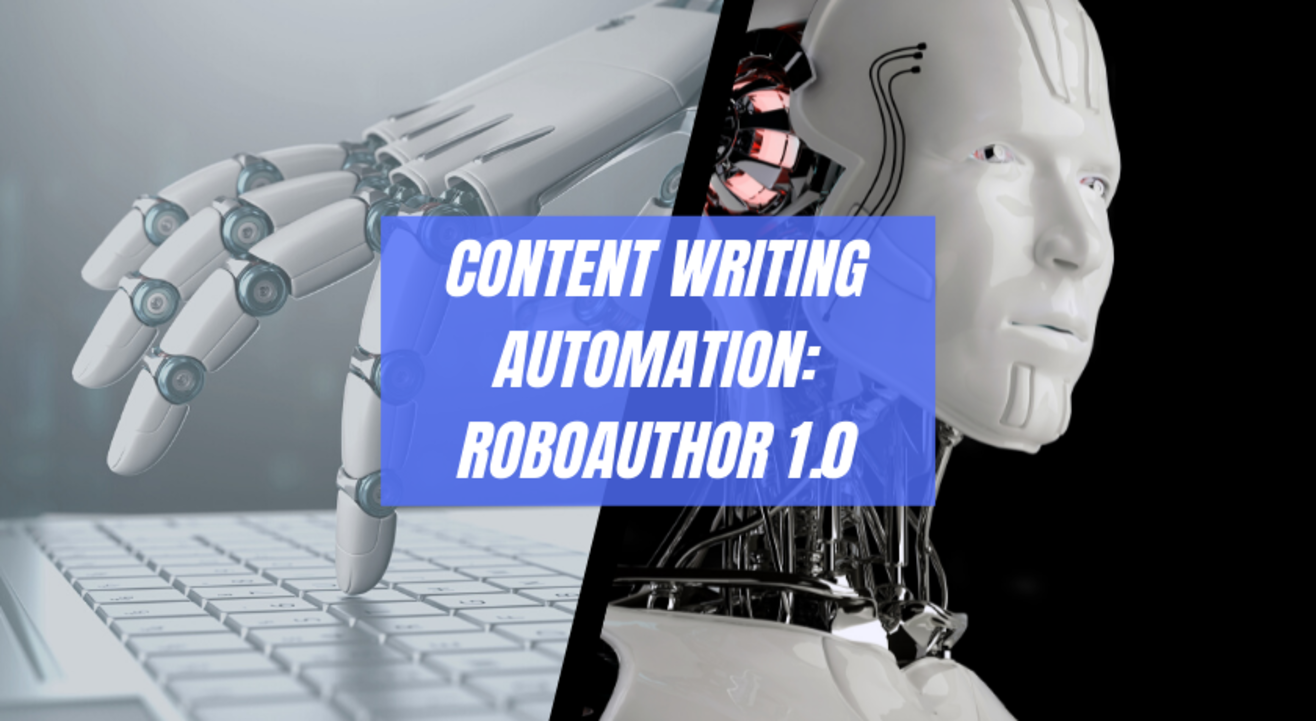 RoboAuthor: Content Writing Automation - Full Online Course (Part 1)
Event Guide
Digital Event
Watch on Insider
Invite your friends
and enjoy a shared experience
RoboAuthor: Content Writing Automation - Full Online Course (Part 1)
Event Guide
Digital Event
Watch on Insider
Invite your friends
and enjoy a shared experience
Event Guide
Digital Event
Watch on Insider
Invite your friends
and enjoy a shared experience
Do you recall the "Jetsons" cartoon?
The Jetsons enthralled me and everyone else in the room. My daydreams were fueled by images of moving sidewalks, self-driving cars, and robot housekeepers. Let's move on to the present day and the technology that is developing.
Nowadays, I can ask a robotic tool, device, or technology to tell me the weather forecast for the next day, read me an e-book, play my favourite podcasts, and even vacuum my floors. This indicates that we've all witnessed the growth of automation and how it's influenced our daily lives.
Artificial intelligence has made waves in our corporate equipment and processes, and it continues to do so. And this leads us to an intriguing question: Will Artificial Intelligence (AI) technology take over one of our lives' most important aspects, content? What if you could teach AI to create content on its own, without the need for human intervention? Isn't that a mind-boggling thought in and of itself?
Automated content material generation is now a fact and reality. That's true!
Under the guidance of humans, Artificial Intelligence (AI) has progressed from its humble beginnings of simple computer programming to assisting humans, automating jobs, and even drawing paintings. Artificial intelligence (AI) can be used to analyse records and, in some situations, predict outcomes. It's important to remember that AI is always tied to a person and that it doesn't function on its own (for the conspiracy theorists), but human and AI-powered content is the future, and the future is now.
Artificial Intelligence (AI) systems can now simulate the human mind, allowing them to predict outcomes or scenarios, fill in logical gaps, analyse material, and even talk in some cases. Let's take it a step further and pose the ultimate question.
Is this the end of content creation by hand?
The answer is a resounding "Yes."
In 2022, the content will be able to write itself. This is a proven truth, not a made-up concept.
The world's resisted course has finally arrived. A new record will be broken that will astound writers and authors all across the world.
Learn content writing automation in 2022 with the "RoboAuthor: Content Writing Automation Series," and let robots generate meaningful and unique stories and content for you. We've uncovered some fantastic technology tools to aid you in this endeavour, and I, Digital Marketing Legend "Srinidhi Ranganathan," would want to educate you on how to use them to help you start a daily content or fiction tale.
If you require it, the content tools taught in the course will imitate a specific author's style, and the content will be wholly original. All of this is accomplished through the use of cloud-based Artificial Intelligence (AI) tools that do all of the heavy liftings for you when you feed a line or a sentence to generate content based on the input provided. This amazing or fantastic training will completely shift the way you think about the material.
We'll show you how to automate the creation of blog posts, short stories, poetry, screenplays/scripts, and song lyrics, among other things. You'll also get a demonstration of how to write using a writing robot.
The future of content creation arrives.
Let's have a look at the wonder of the unique material that is automatically woven and created by robots.
Shop this VOD course right now and let's get started with this "Part 1 RoboAuthor Artificial Intelligence" course.
It's time to go big and make a splash in the content writing world.
Duration of the Video Course: 44 Minutes, 25 seconds
Requirements:
None. However, A few cloud-based Artificial Intelligence (AI) Content Writing tools are taught in the course. Some may be free. Some may be paid. You can leverage whichever one you need according to your requirement.
RoboAuthor: Content Writing Automation - Full Online Course (Part 1)
Event Guide
Digital Event
Watch on Insider
Invite your friends
and enjoy a shared experience