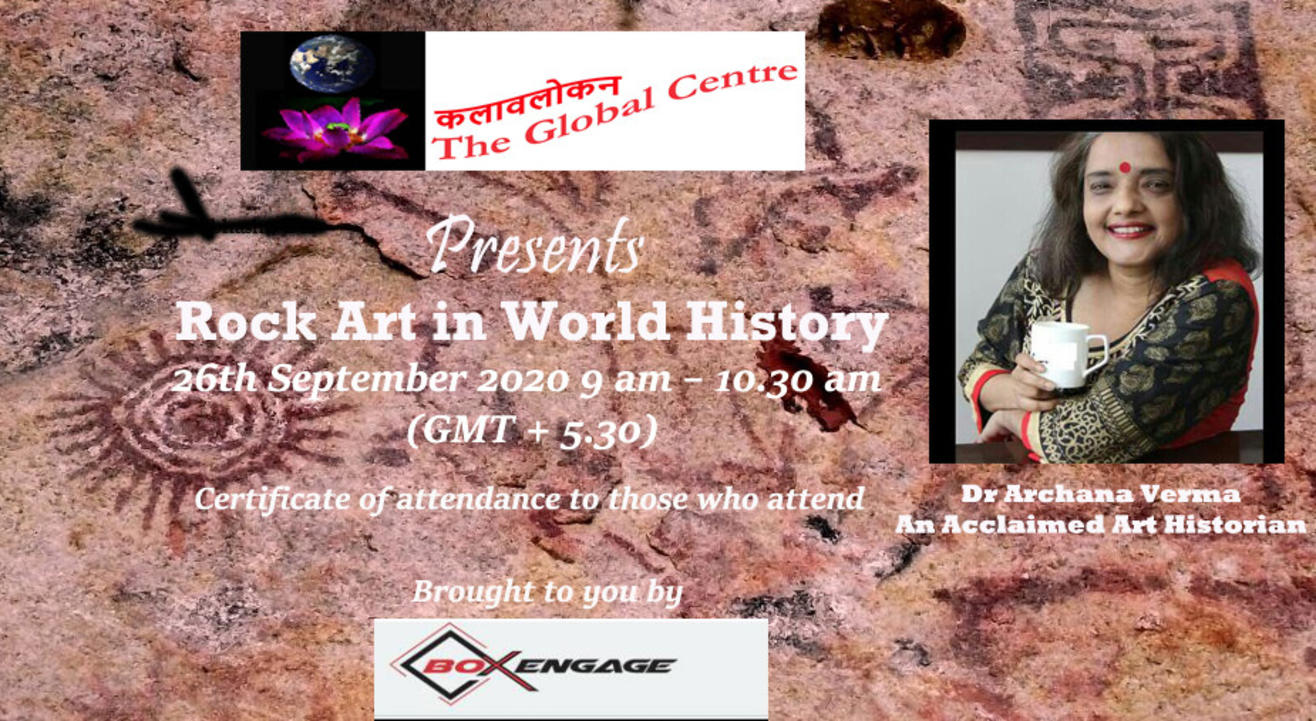 Rock Art in World History by Dr Archana Verma
Invite your friends
and enjoy a shared experience
Invite your friends
and enjoy a shared experience
About the Event
Rock Art in World History This will be a presentation of some prominent findings of Rock Art from across the world. Some of these are well known and others are new findings of this art form which shows the very beginning of the art activities of the human civilisations. Presentation will be by Power Point by Dr Archana Verma, an eminent Art Historian and the Founder of the Global Centre in New Delhi. Presentation would include pictorial and historial details of the rock art specimens and their symbolic interpretations. Attendees would be provided with a Certificate of Attendance in digital form by email.
Date : Sep 26th, 09:00 AM - 10:30 AM at BoxEngage.com !!
Live show only on BoxEngage.com || Register for your Free Pass !
Event Link: https://boxengage.com/product/5f4cc5df81564e11abce3a7b
Rules of the show:
1. This show is on BoxEngage. Please log-in to BoxEngage.com and register. It's simple.
2. Please make sure you're ready 10 minutes before the show timing to joining us live on BoxEngage. Also make sure you're in a good room with internet and silence around.
3. Please wear headphones. Your live artist/s would like to hear/read your expressions but wouldn't want to hear his own voice echoing off your laptop/phone :)
4. Please do not RECORD any of this! This is a ton of hard work and effort going into making you guys laugh during these tough times and we'd appreciate it if you respect the artist and craft by not recording.
5. We are happy to have an audience like you, enjoy while you are at it, we would love to make you happy.
6. We promote personal hygiene and safety. Wash your hands, stay at a safe place while you watch the performance and please do not walk on roads while you are with us, it's dangerous.