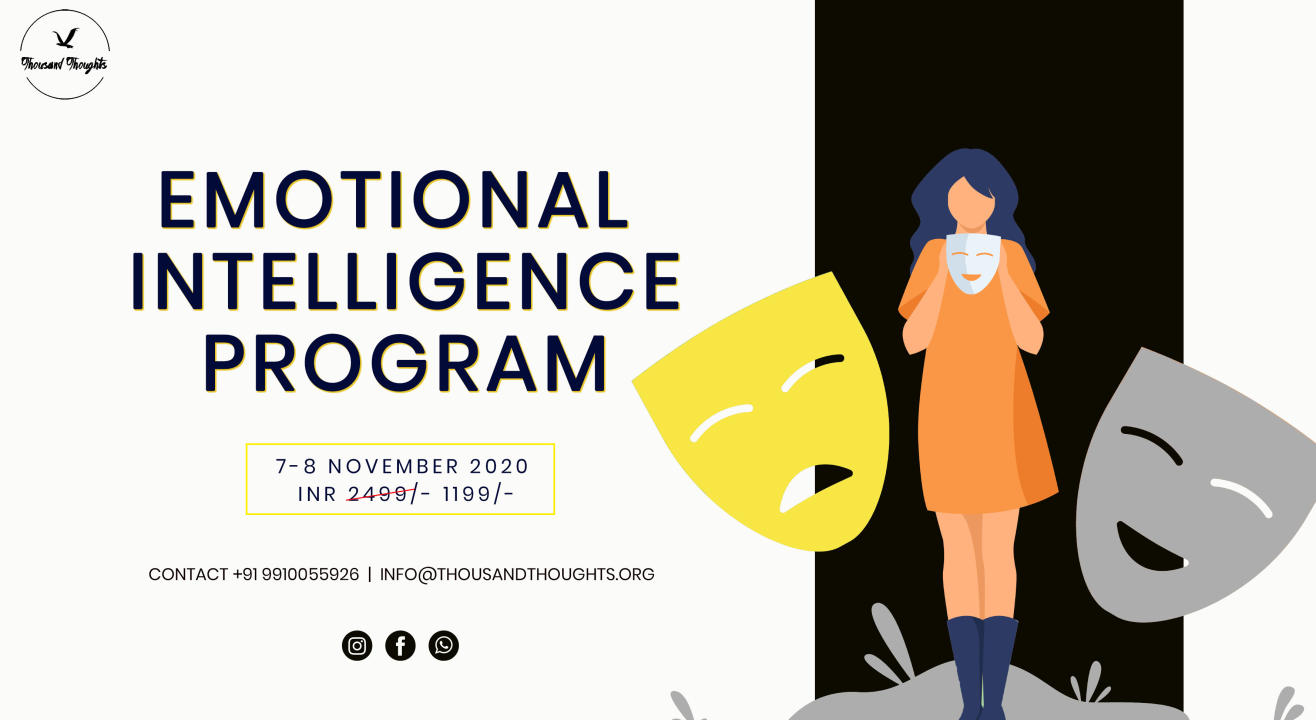 Emotional Intelligence Program
November 7 | 11AM - November 8 | 12PM
Enjoy this event from your home
Invite your friends
and enjoy a shared experience
Invite your friends
and enjoy a shared experience
About the Event
Announcing the 6th Batch of Emotional Intelligence Program!
The program aids in guiding the participants discover their thought process and learn how to improve workplace and interpersonal relationships, boosting self-awareness, understanding the role of the emotions as a motivator and a critical resource in individual development, building compassion and empathy.
𝐁𝐞𝐧𝐞𝐟𝐢𝐭𝐬 & 𝐓𝐚𝐤𝐞𝐚𝐰𝐚𝐲𝐬:
Discover how to use Emotional Intelligence to help yourself and others.
The knowledge to mentor or coach others towards greater Emotional Intelligence.
Emotional Intelligence can be used to help with anxiety, depression, stress, overwhelm and many more emotional issues
More resilient responses to challenges, stress, pressure and high demand
Manage their emotions to enhance their relationships with some practical strategies
Build better relationships with stronger communication and an enhanced ability to manage conflict.
Note-10% Student Discount applicable!
\\ Certificate of Completion will be awarded!
>>> Know your Trainers
⁣
𝐑𝐎𝐇𝐈𝐓 𝐊𝐔𝐌𝐀𝐑⁣
𝘛𝘩𝘰𝘶𝘨𝘩𝘵 𝘓𝘦𝘢𝘥𝘦𝘳 & 𝘊𝘦𝘳𝘵𝘪𝘧𝘪𝘦𝘥 𝘕𝘓𝘗 𝘗𝘳𝘢𝘤𝘵𝘪𝘵𝘪𝘰𝘯𝘦𝘳⁣
⁣
A Certified Strategist from DMS (IIT-Delhi) and a Certified Neuro-Linguistic Programmer from American Board of NLP & A Certified Whole Brain Practitioner. He also has received and attended various behavioral training across the world from some of the top trainers including but not limited to Les Brown, Robert Kiyosaki, Mahatria Ra to name a few.⁣
⁣
𝐃𝐈𝐕𝐘𝐀𝐍𝐆𝐈 𝗪𝐀𝐋𝐈𝐀⁣
𝘊𝘦𝘳𝘵𝘪𝘧𝘪𝘦𝘥 𝘕𝘦𝘶𝘳𝘰-𝘓𝘪𝘯𝘨𝘶𝘪𝘴𝘵𝘪𝘤 𝘗𝘳𝘰𝘨𝘳𝘢𝘮𝘮𝘦𝘳⁣
⁣
An Unencumbered Soul with rooted background in human resource and life skill development. Certified as a Neuro-Linguistic Programmer, she has an objective of transforming lives through life skills training and self-healing sessions. An adventurous traveler with a thirst to explore life outside the four walls.⁣
------------------------------
Call/WhatsApp: +91 9910055926
Email: thousandthoughtsorg@gmail.com