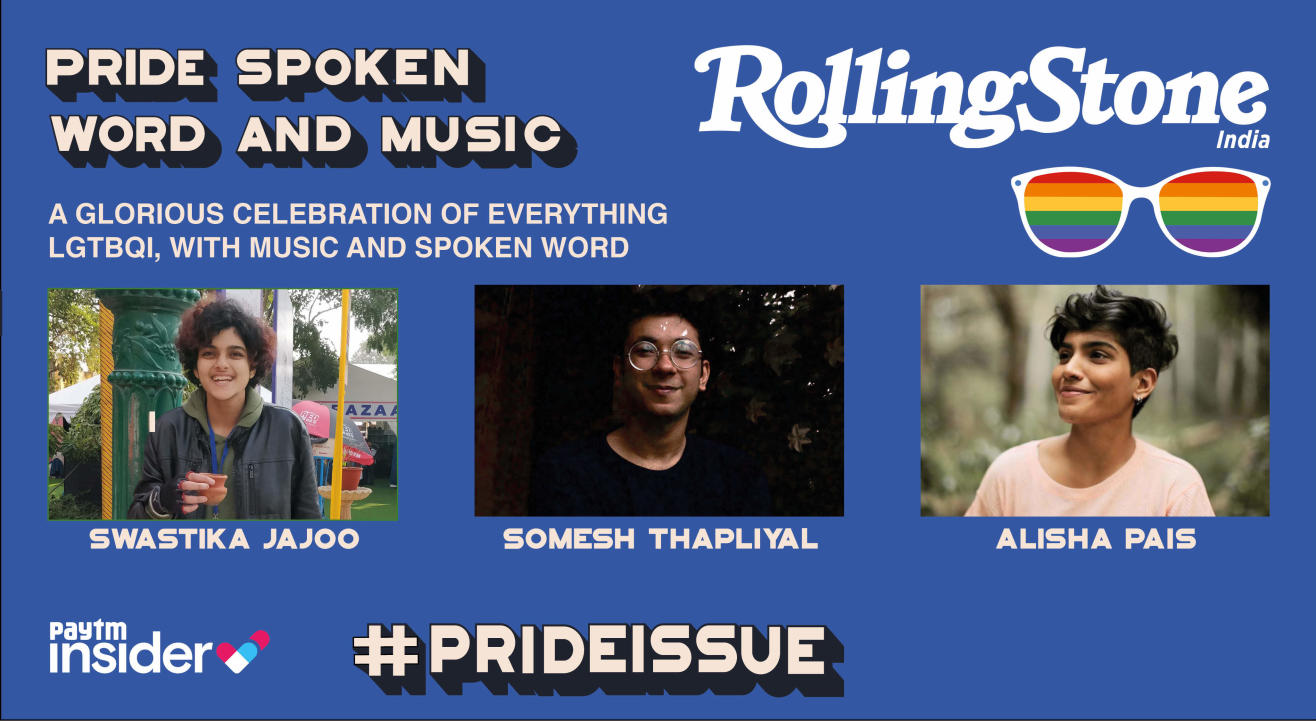 Rolling Stone: Pride Spoken Word and Music
Enjoy this event from your home
Invite your friends
and enjoy a shared experience
Invite your friends
and enjoy a shared experience
About the Event
Rolling Stone India is proud to present a special #PrideIssue this month. This year, we want to initiate a range of conversations and dialogues that are crucial to the LGBTQ+ cause, as part of an editorial campaign titled #ThisCoverStoryIsAConversation.
A donation link will be sent to you after you purchase a ticket, proceeds from the donations will go to the Humsafar Trust's COVID Relief Fund.
Pride Spoken Word and Music
A glorious celebration of everything LGTBQI, with music and spoken word
SWASTIKA JAJOO:
She is currently a government scholar studying Linguistics at Tohoku University, Japan. Her two passions are poetry and potatoes. Her other (not so) secret delight is generating ingenious puns about bisexuality; one she is particularly proud of goes, "Bisexuality is to be able to say that the grass is green on this side too". She admits that her puns might be terrible but her poetry is verse. She gave a TEDxTalk at Tohoku University in April 2019 titled 'Sushi Rolls, Not Gender Rolls'
ALISHA PAIS:
She is a singer-songwriter from Mumbai, with rich powerful husky vocals and guitar. She plays an eclectic mix of haunting originals and interpreted covers both contemporary and retro that carry the audience on a reflective journey through life, love and longing. 

She is known for her raw solo performances and has been seen/heard singing in collaboration with some of India's most interesting artists.
Pais made her television debut on Vh1 music diaries, performing one of her own compositions, as well as on Discovery's Travel and Living Channel. She was also invited to perform on the TV show titled 'the stage', as one of India's top 20 artists.
SOMESH THAPLIYAL:
He is a spoken word poet who also happens to be a molecular biologist. He writes about the human experience and believes that the art of spoken word and poetry allows people to share stories that have been historically denied a place in the mainstream. He explores queer identity and resilience through his poems. He has been performing at events across Delhi since 2013 and co-founded the spoken word collective "Slip of Tongue". He has been featured in various line-ups at events organized by The 'Zine, Airplane Poetry Movement, Free the Verse, SoulStuff, and ArtRefurbish. He also performed at the Gurgaon International Film and Literature Festival 2014, and at the Italian embassy in collaboration with Poetry Couture. He brings vulnerability and courage to his words through performance.