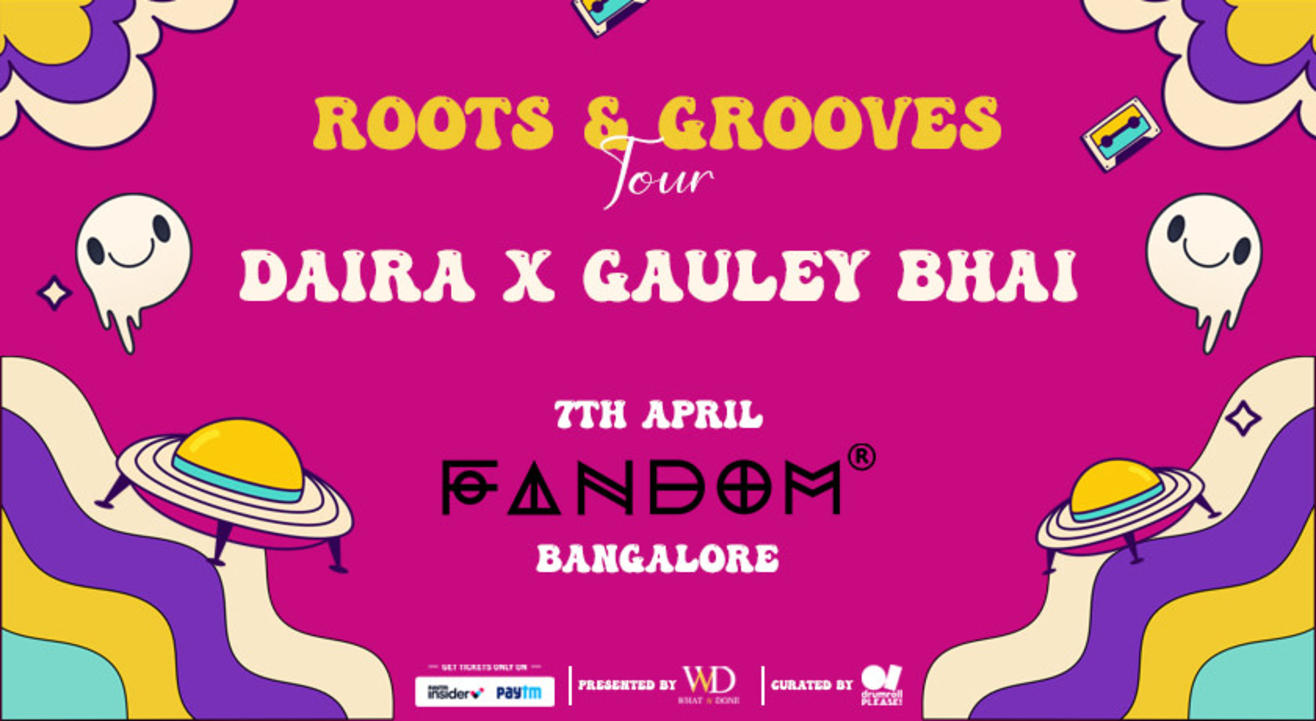 ROOTS & GROOVES TOUR - DAIRA + GAULEY BHAI
April 7 | 7PM - April 8 | 12AM
Fandom at Gilly's Redefined, Bengaluru
Step out and enjoy this event
Invite your friends
and enjoy a shared experience
ROOTS & GROOVES TOUR - DAIRA + GAULEY BHAI
April 7 | 7PM - April 8 | 12AM
Fandom at Gilly's Redefined, Bengaluru
Step out and enjoy this event
Invite your friends
and enjoy a shared experience
Covid 19 Safety Measures
This event adheres to the following

Health & safety measures
Sanitisation before the show
Proof of Vaccination Required
Invite your friends
and enjoy a shared experience
Covid 19 Safety Measures
This event adheres to the following

Health & safety measures
Sanitisation before the show
Proof of Vaccination Required
WhatnDone and Drumroll Please Present: Roots & Grooves Tour with 2 of India's top bands - Daira and Gauley Bhai
About Roots & Grooves Tour: This tour will be a musical showcase of two prominent bands who embrace their cultural roots and are known for making the audience groove to their music.
Daira: A Hindi Art-Rock band from Mumbai that fuses alternative rock with a Desi sense of humour. Embracing their routes in India's Hindi heartland, Daira pioneered 'Awadhi Rock' into the scene - a unique brand of contemporary rock sounds delivered in Hindi and Urdu. The 5-piece band is most notable for it's striking stage persona and an energetic live set. Daira has 3 full-length studio albums and 3 singles to their credit, and are releasing their newest single on 30/3/23.
Gauley Bhai: ("the boy from back home/of the neighbourhood" in Nepali, lit. "younger brother from the village") is a transtraditional rock band, based in Bangalore and Kalimpong. In 2017, a group of friends met in a jam room in Bangalore - Siddhant, Veecheet and Anudwatt from Kalimpong (Gorkhaland - nepali-speaking north-east India) & Joe from Calicut (Kerala). They began creating music that reflected their journeys of migration. The music drew from sounds of their childhood, growing up in small towns, and the fractures of life in a city.
Terms &Conditions:
- Entry to 21 and Above only. If below 21, they are to be accompanied by a parent. An undertaking signed by a parent to take responsibility for the minor Insider the venue needs to be submitted at the entry.
- Valid ID proof is required to enter.
- Loose Cigarette packs and illicit substances are prohibited and will not be allowed into the premises.
- A cover charge of 499 INR is applicable at the gate which can be redeemed against Food and Beverages.
Fandom at Gilly's Redefined
1st floor of Gillys redefined,# 413, 100 Feet Road,, 4th Block, Koramangala, KHB Block Koramangala, Koramangala 4-B Block, 5th Block, Koramangala, Bengaluru, Karnataka 560034, India
GET DIRECTIONS
ROOTS & GROOVES TOUR - DAIRA + GAULEY BHAI
April 7 | 7PM - April 8 | 12AM
Fandom at Gilly's Redefined, Bengaluru
Step out and enjoy this event
Invite your friends
and enjoy a shared experience