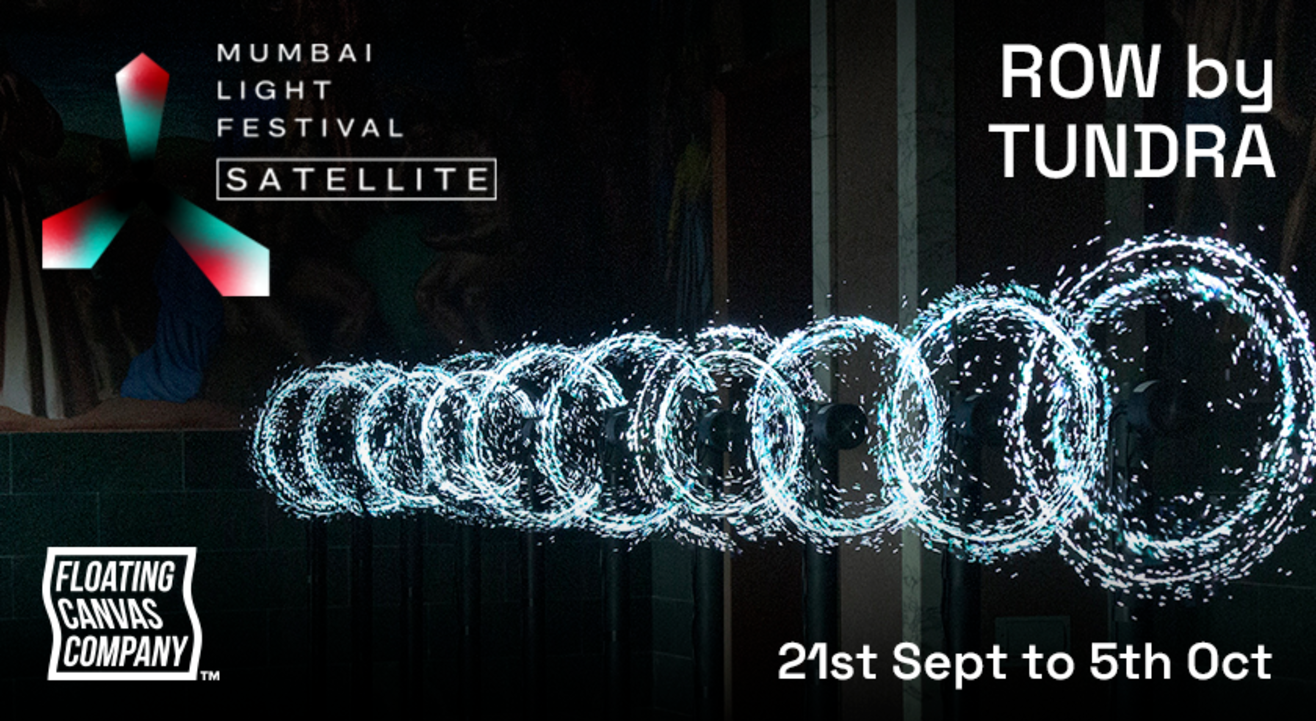 September 21 - October 5 | 10AM to 11PM
Event Guide
For Age(s)
Family Friendly
Live Performance
Enjoy a unique experience
Invite your friends
and enjoy a shared experience
September 21 - October 5 | 10AM to 11PM
Event Guide
For Age(s)
Family Friendly
Live Performance
Enjoy a unique experience
Invite your friends
and enjoy a shared experience
Event Guide
For Age(s)
Family Friendly
Live Performance
Enjoy a unique experience
Covid 19 Safety Measures
This event adheres to the following

Health & safety measures
Invite your friends
and enjoy a shared experience
Covid 19 Safety Measures
This event adheres to the following

Health & safety measures
ROW is an award-winning holographic installation by the artist collective TUNDRA that has enthralled viewers worldwide. And now it's headed to India for the first time!
About the installation:
In general terms, a 'row' is a basic way to structure data - from mathematics to twelve notes of the chromatic scale in music. Taking off from there, this installation - composed of a modular and scalable array of screens - takes the shape of a canvas which is constantly shifting in length and shape. Translating raw visuals driven by generative sound, the content is echoed on this canvas with a slight delay, thus creating various moving patterns that highlight and reflect the spatial characteristics of the space where it is installed.
In turns hypnotic, meditative and dazzling, ROW has been extremely popular worldwide. It has also won 2 international awards: Jury Selection at 24th Japan Media Arts Festival and Individual Award in "Light Installation" category of CITIC Press Lightening Selection (China).
Recent ROW exhibits around the world:
No Art Festival, Amsterdam - August 2022
44 kW Zone, Shanghai - June 2022
Future Shock, 180 Studios, London - April-August 2022
Bahidora Festival, Morelos, Mexico - February 2022
Llum BCN, Barcelona - February 2022
About the artist:
TUNDRA is a multidisciplinary new-media artist collective from Europe that specialises in creating multisensory spatial experiences by exploring facets of interaction between light, sound, space and human perception.
It started in 2013 as a collaboration between visual artists and electronic music producers to explore synesthetic facets of human audiovisual perception by using new emerging technologies and examining their significance through the lens of creativity. They blend sound, visual, space, technology and use it as a tool to interact with rapidly-changing environmental contexts.
TUNDRA's artworks have been exhibited at museums, galleries and festivals of multi-media art in America, Great Britain, Europe, Australia and Asia.
About Mumbai Light Festival (MLF) and MLF Satellite:
Mumbai Light Festival (MLF) has been envisioned as a one-of-its-kind celebration of lights that becomes a fixture in Mumbai's cultural calendar. A platform for artists from India and abroad who are doing path breaking work with light as a medium, MLF's goal is to establish itself as a public arts festival that is global in ambition, scale and execution. The first edition of MLF is scheduled for Q1 2023.
MLF Satellites are intimate, limited-capacity events that are meant to provide a glimpse of that magical space that lies at the intersection of art and technology. Starting September 2022, MLF Satellite will be hosting solo shows by artists who are pushing boundaries when it comes to light as a medium. The idea is to give people a taste of the possibilities of light as a medium for art and build excitement for the main event.
Please carry a valid Student ID to the venue in case you have purchased a Student Pass.
Passes (tickets) are applicable for attendees aged 5 and above.
This audio-visual installation features flashing and flickering lights. If you have a history of epileptic or photosensitive seizures then you are advised to exercise caution.
No parking facilities are available inside the venue premises. You are requested to schedule your vehicle pick-ups and drop-offs at the venue entrance gate.
Tao Art Gallery
165, The View, Dr Annie Besant Rd, Lotus Colony, Worli, Mumbai, Maharashtra 400018, India
GET DIRECTIONS
September 21 - October 5 | 10AM to 11PM
Event Guide
For Age(s)
Family Friendly
Live Performance
Enjoy a unique experience
Invite your friends
and enjoy a shared experience