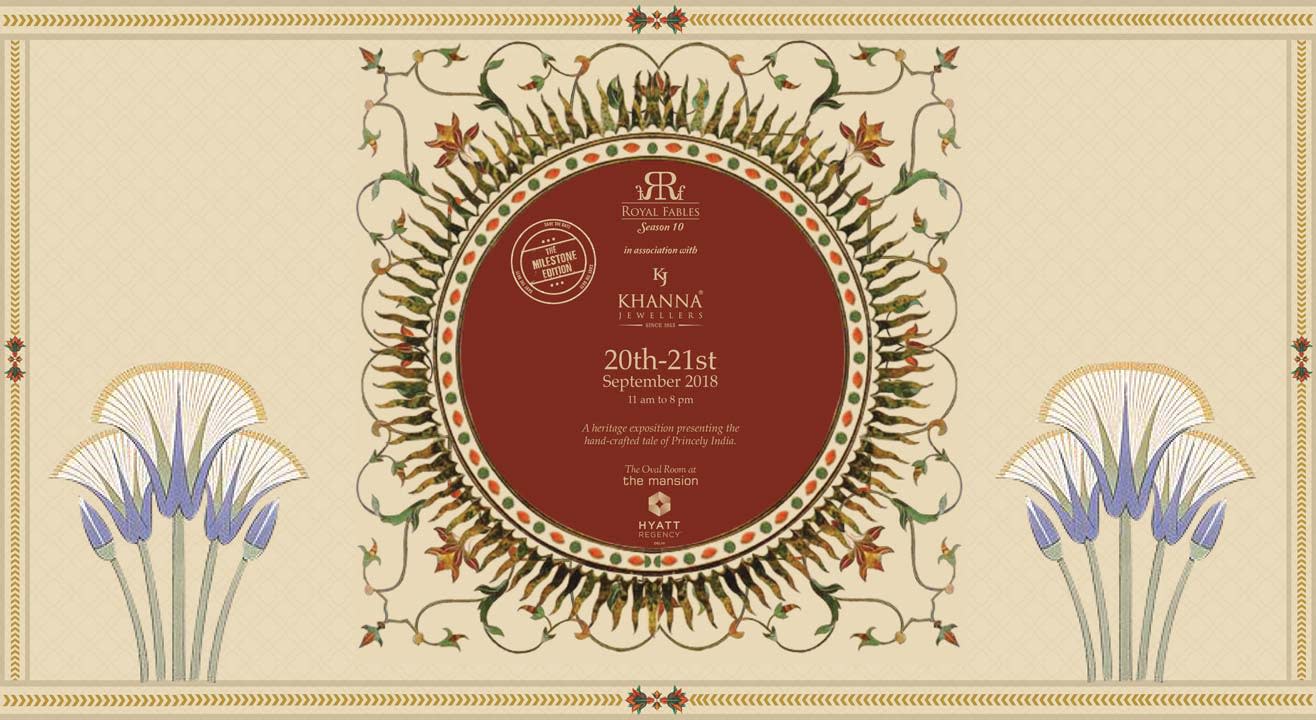 Royal Fables Season 10 Exhibition: The Milestone edition
September 20 - 21 | 11AM - 8PM
The Mansion at Hyatt Regency Delhi, Delhi
Step out and enjoy this event
Invite your friends
and enjoy a shared experience
Royal Fables Season 10 Exhibition: The Milestone edition
September 20 - 21 | 11AM - 8PM
The Mansion at Hyatt Regency Delhi, Delhi
Step out and enjoy this event
Invite your friends
and enjoy a shared experience
Invite your friends
and enjoy a shared experience
Royal Fables has, through the last nine years, held shows in New Delhi, Mumbai, Morocco, Thailand and Hyderabad. Royal Fables recreates the mystical aura of Imperial India for the contemporary audience. Visitors can shop with the royals and hand-pick woven and embroidered ensembles and sarees, precious jewellery, royal art, collectibles, objets d'art, home linen, etc. Shop with the royals and bring home a piece of legacy.
In 2017 Royal Fables launched two parallel brands: Palace Karkhanas and Kitchen of the Kings. While the former presents 'The hand crafted legacy of Princely India', Kitchen of the kings invites young royals with a Zen for cooking to present their culinary fable to discerning audiences.
This year in its 10th, Milestone Edition Royal Fables will be held on the 20th -21st September, 2018 from 11am-8pm at The Mansion, Hyatt Regency, Bhikaji Cama Place, Ring Road, New Delhi.
Visitors can travel through time to rediscover heritage through a very richly mounted exhibition.
The Mansion at Hyatt Regency Delhi
Hyatt Regency Delhi, The Mansion, Bhikaiji Cama Place, Ring Road, New Delhi, Delhi 110066
GET DIRECTIONS
Royal Fables Season 10 Exhibition: The Milestone edition
September 20 - 21 | 11AM - 8PM
The Mansion at Hyatt Regency Delhi, Delhi
Step out and enjoy this event
Invite your friends
and enjoy a shared experience