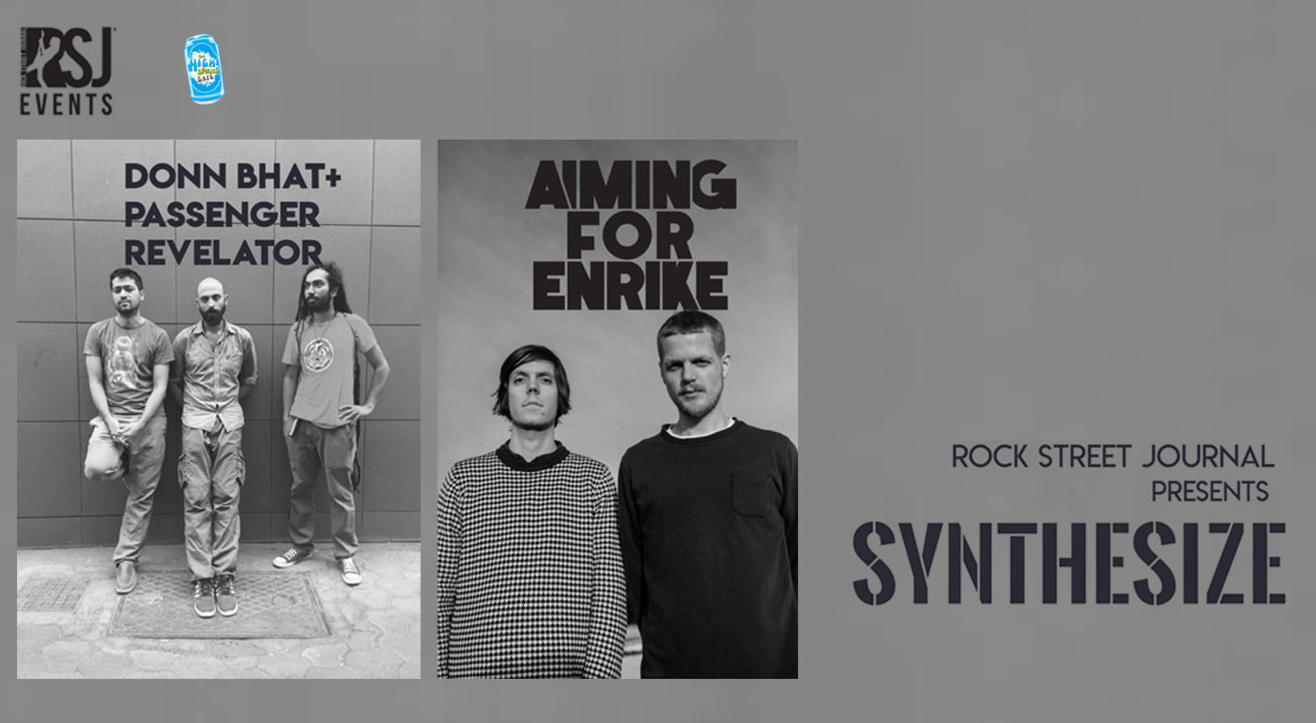 Music
RSJ Presents Synthesize | Aiming For Enrike & Donn Bhat + Passenger Revelator
About
Two spectacularly versatile artists coming home this Friday, Aiming The Enrike and Donn Bhat. Soundscape that cannot be limited to a genre and is aimed at finding a space that harnesses experimental song/lyric-driven music that aims to move both emotionally and physically, we present to you, Donn Bhat!
Explosive, genius virtuoso, Aiming For Enrike that manages to create an extremely exciting, eccentric universe by means of one drum, a number of interconnected guitar amps and a series of loop & effect pedals. A universe filled with jazz, noise, post-punk & funk. Adventurous, energetic, danceable and innovative. Right through the wall of sound!
Who's in for a rager?
Aiming For Enrike
Once in a while you come across bands you just can't help falling in love with, and sometimes all you need to create a new, original sound are two young musicians with a strong mutual will. Aiming for Enrike is founded on the premise of freedom, curiosity, and the urge to break new grounds, keeping focus on "explosivity" and energy.
Aiming for Enrike's infernal drive, almost ridiculously symbiotic interaction, staggering technical qualities and wide-ranging musical palette nonetheless never feels flashy. They always refrain from making things unnecessarily complicated, and they are inclusive and wilful at the same time. Their sources of inspiration span from repetitive electronic music like Burial and Jon Hopkins to the party animal James Brown and noisemakers like Lightning Bolt and Deerhoof. In sum this is a band formed in an era where genres are fading, the underground and the mainstream are getting it on and we are freer in style and expression than ever before.
Hidden in the controlled chaos of tight drum patterns, complex guitar loops and improvised detours are well-arranged sound structures, as well as a standing invitation to anyone who would like to join.

Donn Bhat + Passenger Revelator
Donn Bhat is a Music Producer/Songwriter/Guitar player based out of Mumbai. A self-taught musician, he initiated his journey into music, during his early years in school. His band in college went on to win nationwide competition 'The Great India Rock' (GIR) in 2003. Donn then toured with the band Orange Street- one of the few Indian bands playing original music. He played at different festivals in Sweden, Norway, Estonia and the UK as a guitar player/producer for them.
After coming back from tour is when he really found himself gravitating towards music production, songwriting and experimenting as an instrumentalist. He wrote/produced/recorded his first solo album 'One Way Circle' in 2006 from his bedroom in Delhi .The album was an exercise in learning and discovering the freedom that technology brought about for an independent songwriter. This DIY effort, led him to strengthen his belief and love for the music that isn't catering to commercial tastes or pandering to the 'flavor of the season.'
The album has been voted the best indie album of 2016 on multiple platforms. "Connected" won the best Electronic Album Award at the Radio City Freedom Awards. Donn has been actively performing multiple times with his band at various domestic festivals such as the NH7, Ziro Festival (2013/2016)Magnetic Fields (2013/2015). They've travelled international to perform at the Galle Music Festival (SriLanka) (2014), Sakifo Festival(Reunion Islands) (2015) and the prestigious Glasstonbury(UK) (2015).

Come home to the music!