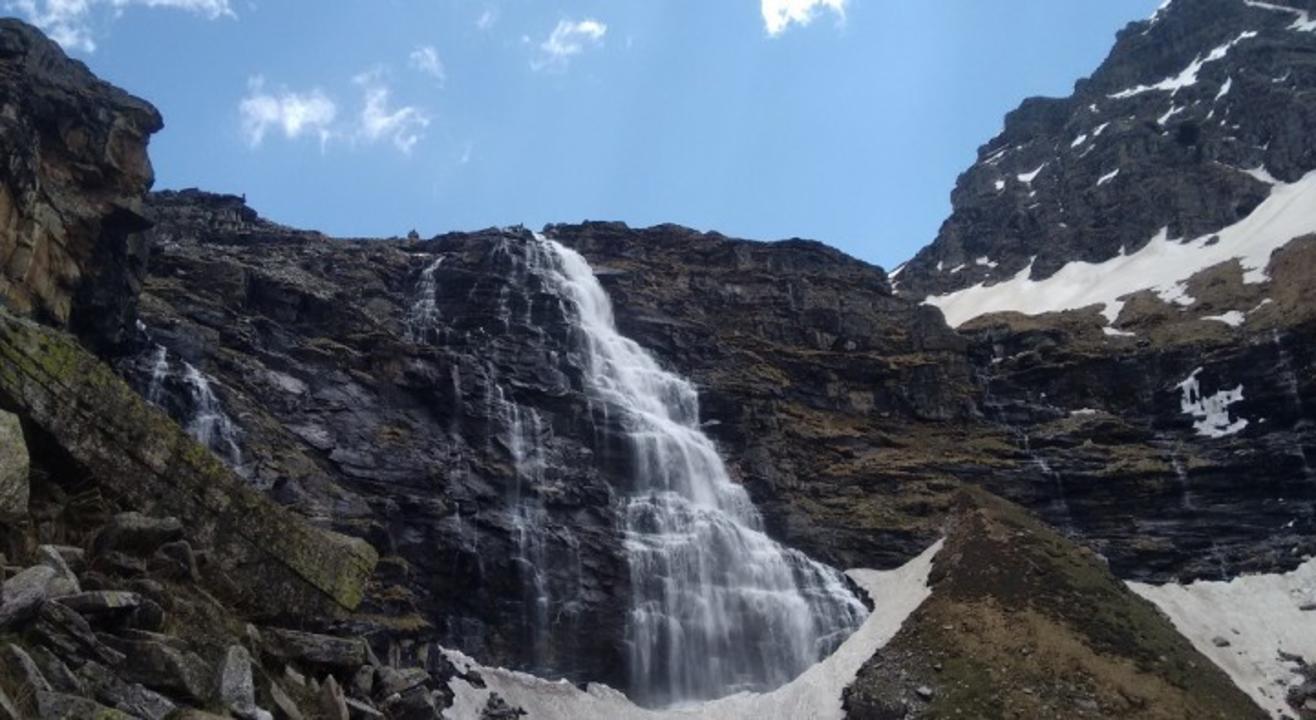 Trek
Rupin Pass Trek | Justwravel
About
Rupin Pass is a high-altitude trek which starts from Dhaula in Uttarakhand and ends at Sangla.Being a high-altitude trek, of about 15250 feet, Rupin Pass is considered among one of the high range expeditions for trekking in India.Rupin Pass trek consists of trails dug out of rock faces and wooden bridges, cut through deep dark folds in the mountain, glaciers and icy slopes, and over snow fields. Along the way there are white Rhododendrons and expanse of green meadows.
The diversified number of sceneries and sudden variation in trails attract many nature lovers.Rupin Pass trek will surprise you every few hours with the change in its trail and gorgeous beauty of mother nature. The trails at times are very difficult with its steep climbs which suddenly changes to an easy walk.
Rupin Pass is an ideal trek for any adventure seeker as it offers trek to every type of terrain, be it on snow, rocky terrain, along and through the water streams or meadows.
Itinerary:
Day 1: Dehradun to Dhaula (235km)
You'll be required to reach Dehradun early in the morning and get yourself onto avehicle destined towards Mori. A sleepy hamlet, amazingly scenic beautiful village, surrounded by greenish and yellowish paddy fields, Mori is located on the banks of renowned Tons River. Mori is a part of the Tons valley, have a unique culture andhistory. Retreat for the night in the tents as tomorrow your Rupin pass trek commences.
Day 2: Dhaula 1550m toSewa (1980m). Trek 9km,5-6hrs
This day, enjoy the trek amidst rhododendron woodlands and fields. Post some hours of walking, you will arrive at Sewa. After a great day, spend the night in tents
Day 3: Sewa (1980m) to Jakha (2680m)Trek12km, 6-7hrs
This is an exceptionally scenic day for shutterbugs. As you make your way through some hamlets, get a fine whiff of their local culture and lives. Enjoy the way amidst mixed forests and initial sights of snowy ridges of Dhauladhar range. Arrive at Jakha, the final hamlet of the day that is also the highest in the region. Later in the night, retreat to your tents.
Day 4: Jakha (2680m) to BuransKandi (3259m). Trek 7km, 5-7hrs
It is a beautiful walk through the blue pine and maple forest. After a while the trail starts to descend to the river. There is a small bridge taking the trail to the true left of the valley. We camp overnight beside the river beside a spot frequented by shepherds.
Day 5: Burans Kandi (3259m)to DhandrasThach (3560m)Trek 5km, 3-4hrs
You will encounter the first snow bridge upon the river. After snow bridge there will be a heavy ascent for a while.The scenic beauty of Rupin Valley and Rupin river is just mesmerising at this point. From here on, you will encounter lots of snow crossing and at some places snow will be very soft and even it immerses down to your knee level. After few kilometres of snowy adventure, you will reach campsite in Dhandras Thach. This campsite will be having amazing view of Rupin Waterfall and snow-clad peaks.
Day 6: Dhandras thatch (3560M) to Upper Waterfall camp (4054M).
This is the shortest trek but toughest than the earlier. There will be multiple climbs today that pass through 2 waterfalls. As if the snow will be melting the slippery will be much higher. You need to hike vertically from Lower Waterfall to the Upper waterfall amidst beautiful scenery. This 3 km hike will be the toughest.
Day 7: Upper Waterfall Camp (4054M) to Rupin Pass (4649M) to Ronti Gad (4090M)Trek 10km
There are excellent views of the hanging glaciers and snow fields on the way to the pass. It is a narrow and steep path through the boulders; in case of snow a rope maybe used. From the pass, one can witness great views of the Kinnaur Kailash range. We descend to the alpine meadows with lots of camping options.
Day 8: Ronti Gad (4090M) to Sangla (2682M)Trek 13km, 5-6hrs
Today is a beautiful short trek through blue pine, deodar and oak forest overlooking the Sangla valley. It is a steep descent to Sangla, which is a town connected by road to Shimla.
Inclusions
Food as per menu on the trek(only veg)
Forest Permits/Camping Charges
Homestays
Tents, Sleeping bags, mats
Safety Equipment
Experienced Trek guide, cook, helpers, & porters for carrying common supplies
Services of a Trek Leader
Exclusions
Transport from Dehradun to Dhaula and Sangla to Shimla
Any Personal expenses
Anything not mentioned in Inclusions
Cancellation Policy :
No refund of booking amount to be provided if customer cancels the booking 10 days prior to departure date.
50% refund if done between 11-20 days prior to schedule departure.
90% refund if done between 21-90 days prior to schedule departure.
100% refund if cancelled 90+ days prior to schedule departure date.