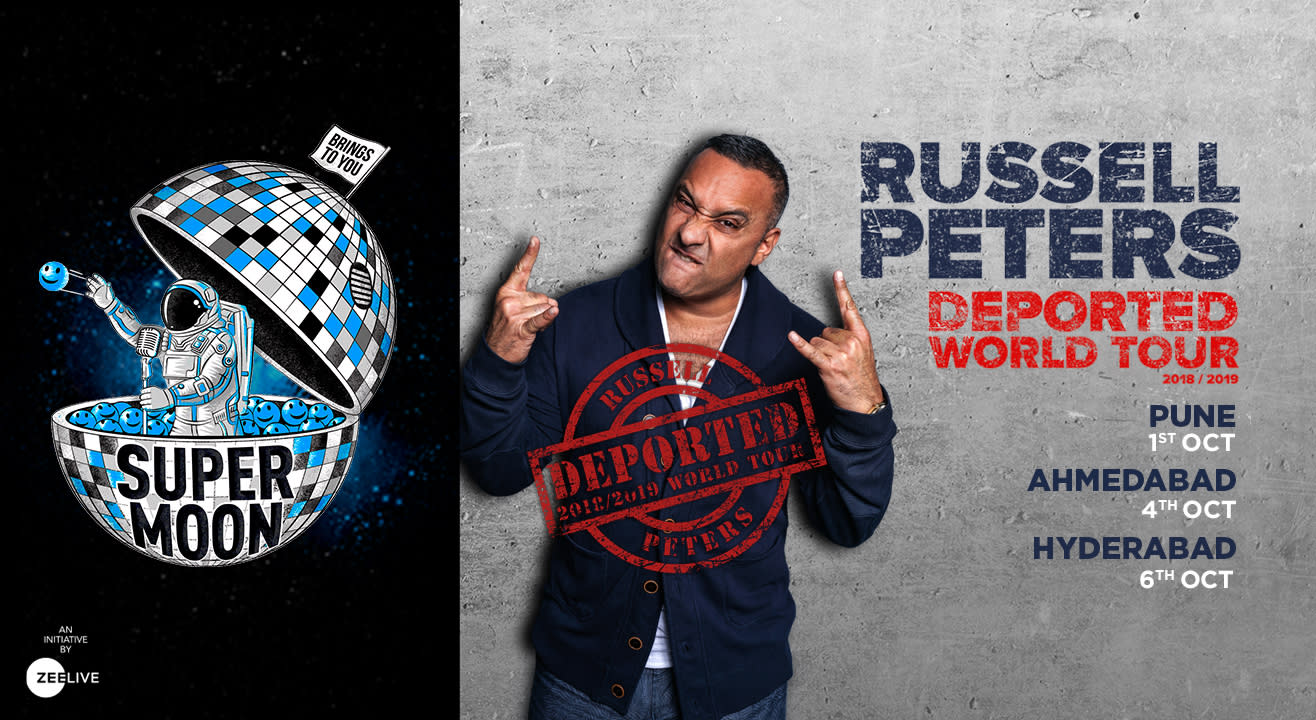 Funnyman Russell Peters is back in India!
Global comedy superstar, Russell Peters is all set to return to India with "Supermoon ft. Russell Peters Deported World Tour" after performing in May earlier this year.
Invite your friends
and enjoy a shared experience
Designated as "50 Best Comics of All Time" by Rolling Stone, Indo-Canadian Russell Peters is coming back in his home country for his live tour after having performed in here in the month of May and June.

The Toronto-native comedian will be touring in 3 cities - Pune (Oct 1), Ahmedabad (Oct 4) and Hyderabad (Oct 6), and will leave no cultural stereotype unturned. Experience his style of comedy, in case you missed it the last time, which is an observational comedy and the classic audience involvement in every show.
TICKETS ARE LIVE - Take it and go!
A glimpse of the razzle-dazzle of the Russell Peters Deported show earlier this year!
About Russell Peters
"Who I am on stage is just an amped up version of who I am in real life."
A stand-up comedian of East Indian descent, Russell Peters started doing stand-up at the age of nineteen at open mics in his native Toronto in 1989. He spent the next fifteen years honing his craft at clubs across Canada and the UK, and broke out in 2004 when his set of Canada's Comedy Now! went viral. Peters has had sold-out arenas such as Madison Square Garden and Wembley Stadium and each of Peters' tours - including Outsourced (2006), Red, White & Brown (2008) and The Green Card Tour (2010) - was turned into a special that aired on different networks on television. In 2013, he became the first stand-up to create an original comedy special on leading streaming website and has made appearances in various late-night shows to perform his stand-up.
"Stand-up and boxing are very similar. You're the only one out there, you're going into a fight, and you're going in with a game plan."
Peters' 2010 memoir, Call Me Russell, was a Globe and Mail bestseller in his native Canada and he has received both Peabody and Emmy awards for his work as executive producer of an acclaimed docu-series. Peters is also an active philanthropist having donated more than a million dollars over the past several years to various charities from the Brampton Civic Hospital, Gilda's Club, the MS Society of Canada and a scholarship at his old high-school; The Russell Peters North Peel Scholarship, which sends a deserving student to college.

Subscribe to receive our newsletter!
Find the best experiences happening out there in your city or enjoy handpicked content while sitting comfortably at home. Paytm Insider is your go-to place to figure out what to do today!