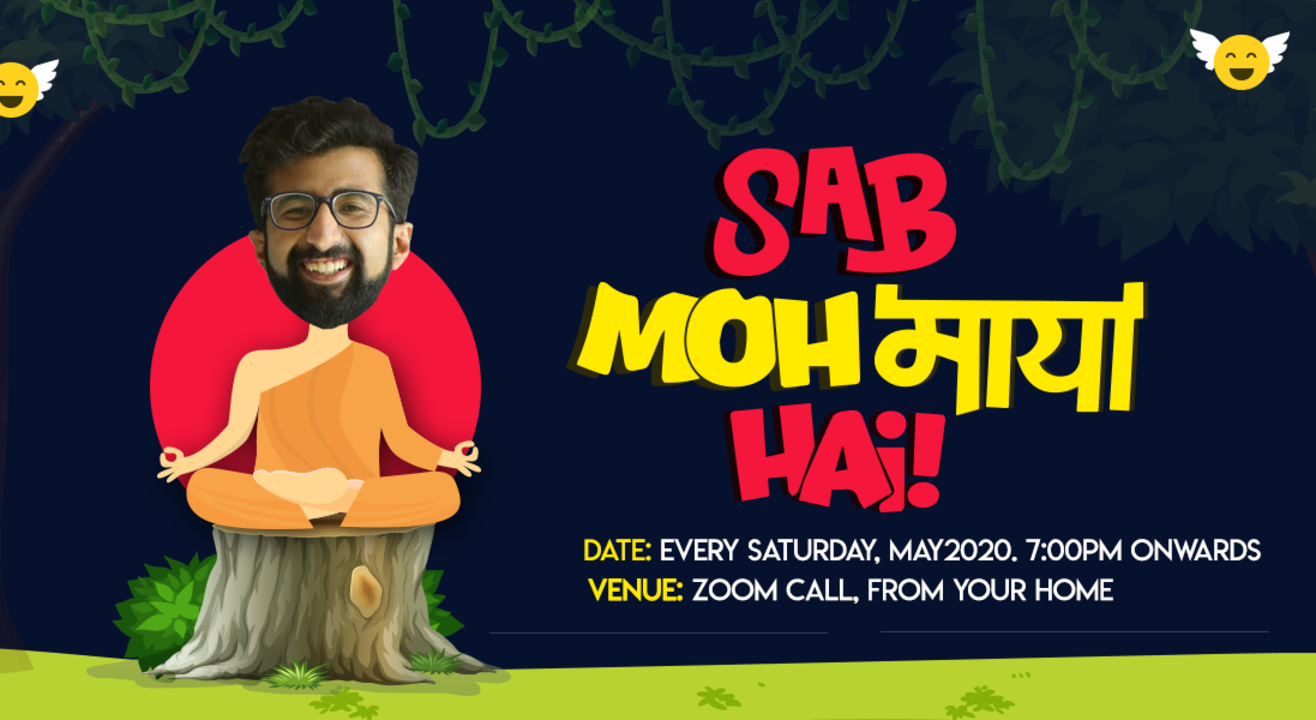 Sab Moh Maya Hai - Zoom Edition
Invite your friends
and enjoy a shared experience
Invite your friends
and enjoy a shared experience
About the Event
In this lockdown, bringing you a dose of laughter in your home. I have decided to do my show, every Saturday, 7pm in May 2020. You can join in through the Zoom app in your phone or your browser. I have been told I look better on laptop screens.
Please ensure that you are in quiet surroundings. Put your earphones on, I don't want you to miss a part of the stories and then feel left out..
Keep your camera on. It has been a while since we all saw other people laugh and smile. I would like to see the smiles too, to remind me why I do this.
Join 5 minutes before the call. In case there is an internet issue, you can DM me on Social media and I will accomodate you in a future show.
About the show
After Garv was almost arrested, for snorting Glucon D at a Jain Rave Party, he decided to rethink his life and took a trip to the mountains. His discoveries about life, substances and money brought him to this conclusion called "Sab Moh Maya Hai" Because why be right or wrong, when you can be happy instead. When you lay in your bed, thinking about the most pressing issues of your life, "Does she like me?" "Will I get this promotion?", "Mandir Kab Banega?", "Abki Baar Kiski Sarkar?". The one phrase which can free you from wanting all these answers is "Sab Moh Maya hai".
The phrase also helps you get away with the most uncomfortable questions in life. "Shaadikabkarrahihai?", "Exams kiTaiyarikaisihai?" , "Paisekabwapaskarega?" can all be answered with - Sab Moh Maya hai. Infact, A modified version of this phrase is used in corporate, and is pronounced as "I will get back to you".