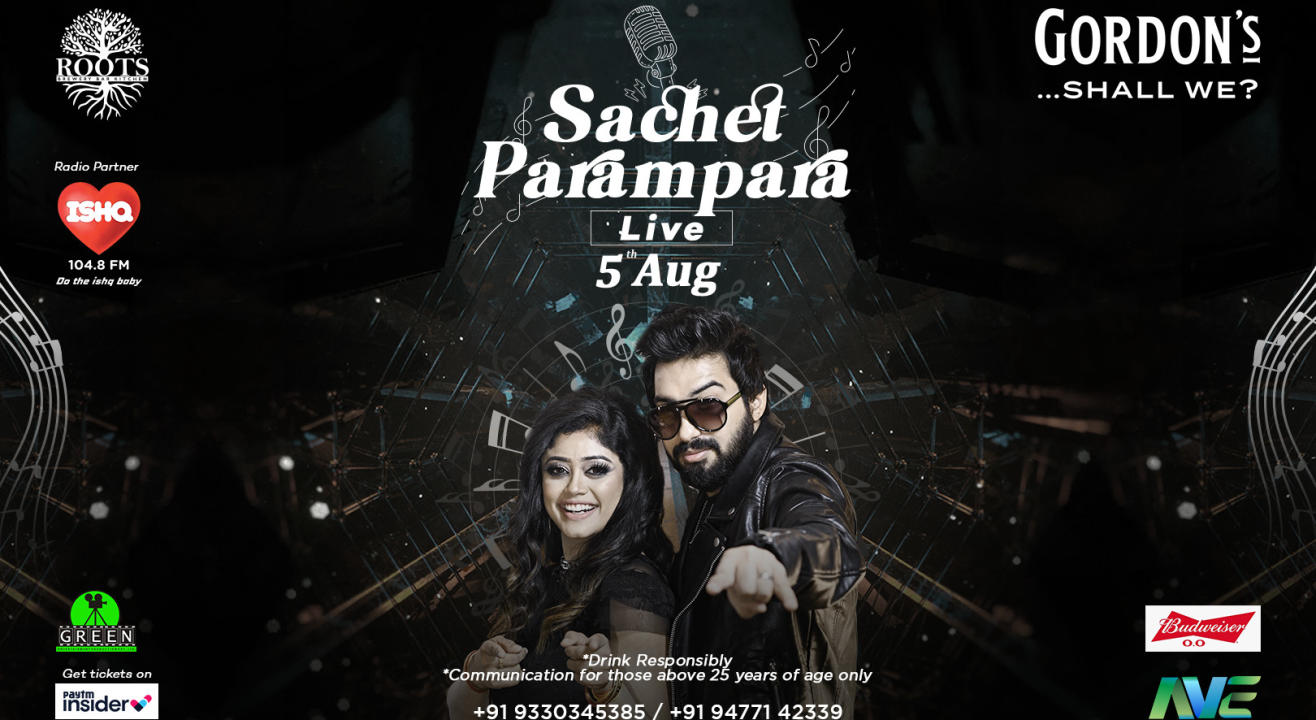 Sachet Parampara Live I Roots I Kolkata
November 14 | 4:22PM - November 15 | 4:22PM
Event Guide
Live Performance
Enjoy a unique experience
Invite your friends
and enjoy a shared experience
Sachet Parampara Live I Roots I Kolkata
November 14 | 4:22PM - November 15 | 4:22PM
Event Guide
Live Performance
Enjoy a unique experience
Invite your friends
and enjoy a shared experience
Event Guide
Live Performance
Enjoy a unique experience
Invite your friends
and enjoy a shared experience
Join us for an electrifying evening of soul-stirring melodies as we present "Sachet Parampara Live" at Roots, Kolkata on August 5, 2023. Get ready to be enchanted by the mesmerizing tunes of the renowned musical duo, Sachet Tandon and Parampara Thakur, as they take the stage to captivate your hearts.
Sachet and Parampara, the dynamic duo behind some of the biggest Bollywood hits, are set to deliver an unforgettable performance that will leave you spellbound. Known for their enchanting vocals and heartfelt compositions, they have won the hearts of millions with their soulful renditions.
Experience the magic as Sachet Tandon and Parampara Thakur come together in Kolkata for a scintillating concert, where they will perform their chart-topping songs and new musical creations. From romantic ballads to high-energy dance numbers, their versatile repertoire promises to cater to every musical taste.
This is an event that no music lover should miss. So mark your calendars for August 5, 2023, and get ready to witness the magic of Sachet and Parampara live in Kolkata. Book your tickets now for an evening filled with unforgettable melodies and timeless performances. Get ready to be swept away by the enchanting magic of Sachet Parampara Live!
Roots
55, 55/1, Chowringee Rd, Elgin, Kolkata, West Bengal 700071, India
GET DIRECTIONS
Sachet Parampara Live I Roots I Kolkata
November 14 | 4:22PM - November 15 | 4:22PM
Event Guide
Live Performance
Enjoy a unique experience
Invite your friends
and enjoy a shared experience