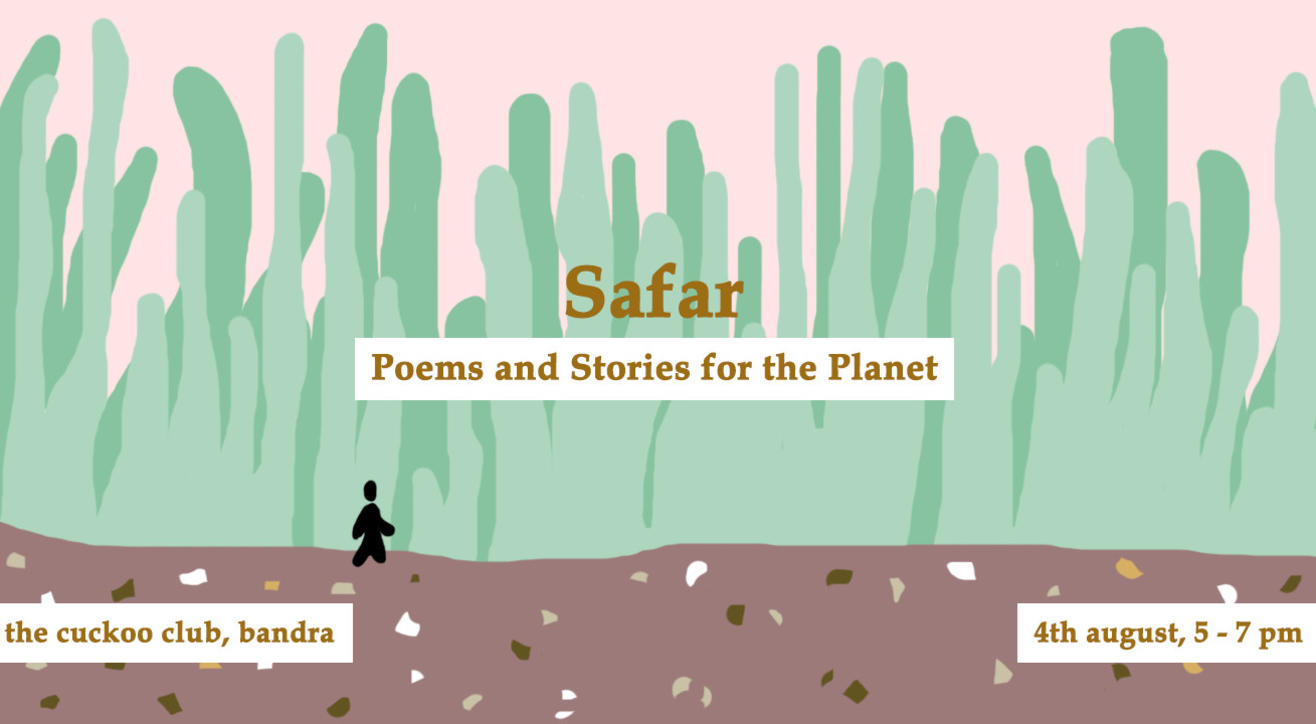 Poetry
Safar, Poems and Stories for the Planet
About
"Nature is no longer the rustic retreat of the Wordsworthian poet. … [it] is now a pressing political question, a question of survival." – Jay Parini
The environment has never seen a greater threat than it does today. Poetry has always been a means to both lend a voice to important issues or just find solace in the thought that you're not alone in your thoughts and struggles. In this day and age, where we're effectively facing a climate emergency and witnessing a slow death and decay of the blue and green planet that once was, and politicians all over the world are insisting that everything's fine while the forests (quite literally) burn, it is incumbent upon us that the discussion about climate change is not buried under the debris of development.
In this initiative, poets and storytellers armed with their love for the planet and fuelled by the rage and despair against the corporates and establishment that undermine climate change are here to lend their voice to the conversation regarding the environment crisis we're in the middle of. Come for an evening filled with rage, hope and whole lot of reality check and let's contribute in our own big little way for the planet we call our home. All the proceeds from the show will be donated to an organisation working in that direction
Featuring Performances by Ramneek Singh, Amandeep Singh, Saumya Kaulgud, Aakriti Khosla, Saumya Kaulgud, Rutwik Deshpande, Heema Shirvaikar, Bikram Bumrah, Simar Singh
About the Artists
Amandeep Singh
Amandeep Singh is a full time storyteller and writer and a person who has much more in his bags than just dream and documents. He loves to dabble with public drama and debate. Amandeep has been featured by Netflix, Buzzfeed India, Aaj Tak, Being Indian, The Indian Express and many other media houses. He has also performed for different festivals across the country including Soken Fest, Jash-e-rekhta and colleges like Delhi University, BITS Hyderabad, LPU and many others. He has also shared stage with Rahat Indori Ji at NIT Jamshedpur and have been appreciated for his work.
Saumya Kaulgud
Saumya is a 22 year old writer and poet, with a bachelors in English Literature. She has been writing poetry since she was a child, and began performing it over two years ago. A collector of Good Words, Saumya hoards novels, poems, and short stories. Her own writing is a warehouse of her experiences, often creating unusual images to depict the mundane and the unassuming.
Rutwik Deshpande
Rutwik Deshpande is a 20-year-old Spoken Word Poet, who is often seen jumping in and out of his "zone". He won the English Poetry Slam at Mood Indigo in 2017. He has collaborated with poetry collectives like UnErase Poetry, Spill Poetry, and The Habitat. He is also a theatre artist and a huge Manchester United fan.
Heema Shirvaikar
Heema is a 25 year old lawyer with sound logic in one hand and genuine empathy in another who is out to set the world right, one poem at a time. She is a vegan who names all her plants so she can be extra sad when they die, and most of her friends are street dogs. She is trying real hard and failing epically so far at living a zero-waste life. She is a big contributor to water conservation because she often forgets to hydrate herself and hates baths. The next time you see her, just remind her to drink some water!
Dhruv Sharma
A finance lawyer by profession, Dhruv Sharma possess the heart of a 'shayar' and frequently pens nazms and ghazals in urdu and hindustani. Passage of time, love, shades of human nature and realities of urban life few of the many subjects his poetry dwells upon. Certainly one of the known faces in the mumbai circuit, his style is both modern and classic.
Aakriti Khosla
Aakriti likes music and the sky. Because of consumerist culture, she believes one day soon we might not have cats. That thought makes her sad. Things she loves: sustainable fashion, cats, and people who care about the environment. You can find her most days fervently researching consumerism online, or promoting her digital thrift store, Skeleton Thrift Project.
Bikram Bumrah
Haling from Punjab, his works are inspired by poets from both sides of the border. In his poetry, he uses elements of nature to express human emotions.
Ramneek Singh
Ramneek Singh is a Hindustani poet activist and satirist originally from J&K who covers issues such as archaic laws, conflict in Kashmir and questions ideas of freedom in contemporary urban India.He has performed across cities in college fests and arts festival.His recent work resolver around dystopia and is centre around life in the city. Over the years, he has also produced various poetry events in Mumbai, and is a regular supporter of the poetry scene in the country. At present he is working on creating an audio visual library of indian poetry in regional languages.
Simar Singh
Simar Singh is the 19 year old founder of UnErase Poetry and an English spoken word poet.