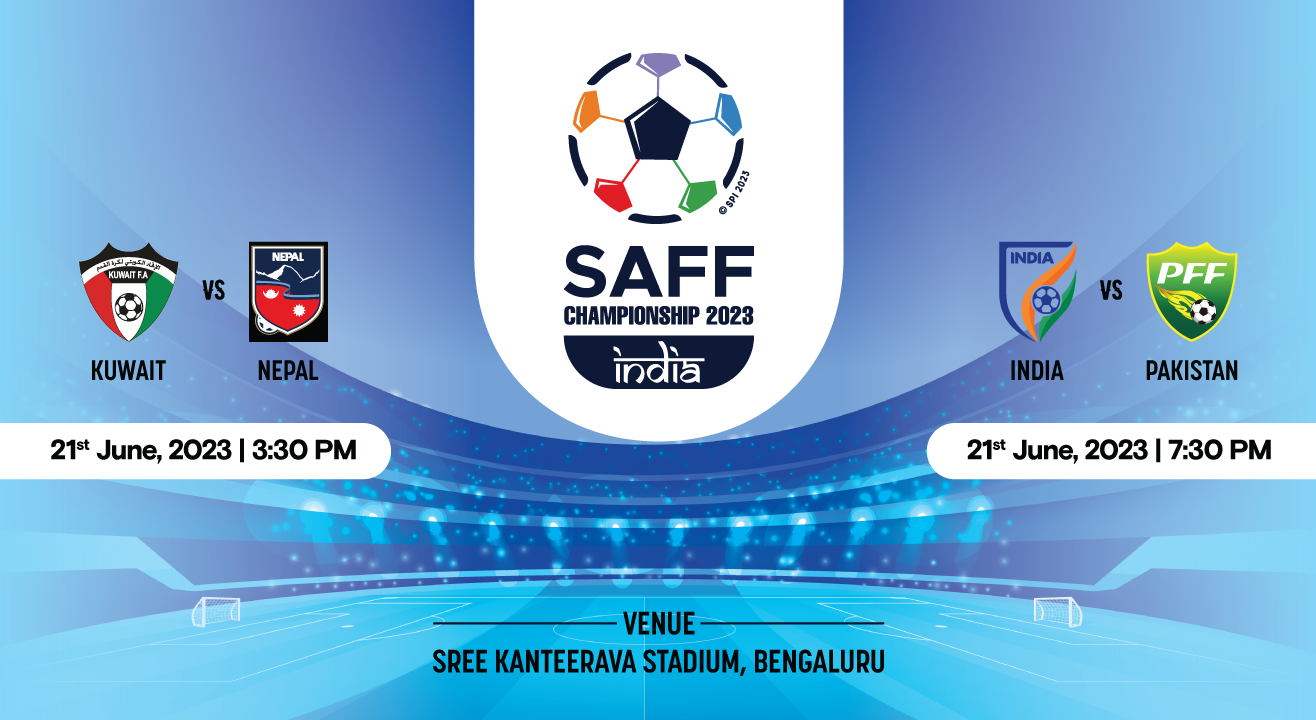 SAFF Championship- Day 1: KUW v NEP and IND v PAK
Sree Kanteerava Stadium, Bengaluru
Invite your friends
and enjoy a shared experience
SAFF Championship- Day 1: KUW v NEP and IND v PAK
Sree Kanteerava Stadium, Bengaluru
Invite your friends
and enjoy a shared experience
Invite your friends
and enjoy a shared experience
The battle for regional supremacy, SAFF Championships - 2023 is here!
It brings together South Asian football players and fans alike to ignite the pitch with fiery passion and raw skill. This biennial battle, orchestrated by the South Asian Football Federation (SAFF), is taking place in India this time around.
With adrenaline coursing through their veins, the participating nations lock horns, leaving no blade of grass untouched in their quest for glory.
On day one of this fight for glory; Kuwait takes on Nepal and India hosts Pakistan.
Get your game face on and bring your enthusiasm to the stadium - Get your tickets, now!
SAFF Championship 2023 - Match Schedule
June 21: Day 1
3:30 PM- Kuwait v Nepal
7:30 PM- India v Pakistan
June 22: Day 2
3:30 PM- Lebanon v Bangladesh
7:30 PM- Maldives v Bhutan
June 24: Day 3
3:30 PM- Pakistan v Kuwait
7:30 PM- Nepal v India
June 25: Day 4
3:30 PM- Bangladesh v Maldives
7:30 PM- Bhutan v Lebanon
June 27: Day 5
3:30 PM- Nepal v Pakistan
7:30 PM- India v Kuwait
June 28: Day 6
3:30 PM- Lebanon v Maldives
7:30 PM- Bhutan v Bangladesh
Sree Kanteerava Stadium
2, Raja Ram Mohan Roy Rd, Nunegundlapalli, D' Souza Layout, Sampangi Rama Nagar, Bengaluru, Karnataka 560001
GET DIRECTIONS
SAFF Championship- Day 1: KUW v NEP and IND v PAK
Sree Kanteerava Stadium, Bengaluru
Invite your friends
and enjoy a shared experience