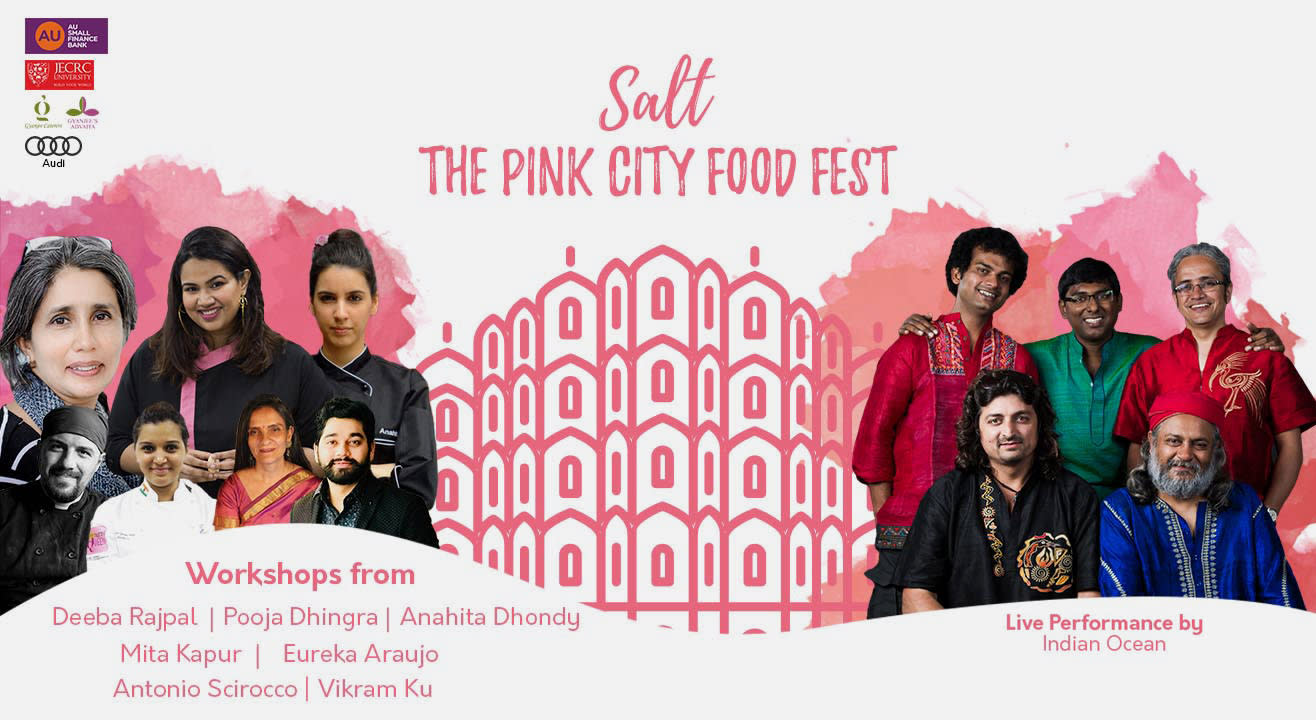 Food Fest
About
Salt is a gourmet food festival in which celebrity chefs will be conducting various workshops.
The event entails enthralling food pop ups from Delhi, Mumbai & Jaipur, music concerts and culinary contests. They also have a space for lifestyle markets so that Jaipurites can a have unique shopping experience of the brands which are not available in Jaipur. Salt wishes to embody the best of culinary world under one roof whilst offering sheer fun.
There will be food infused games as well!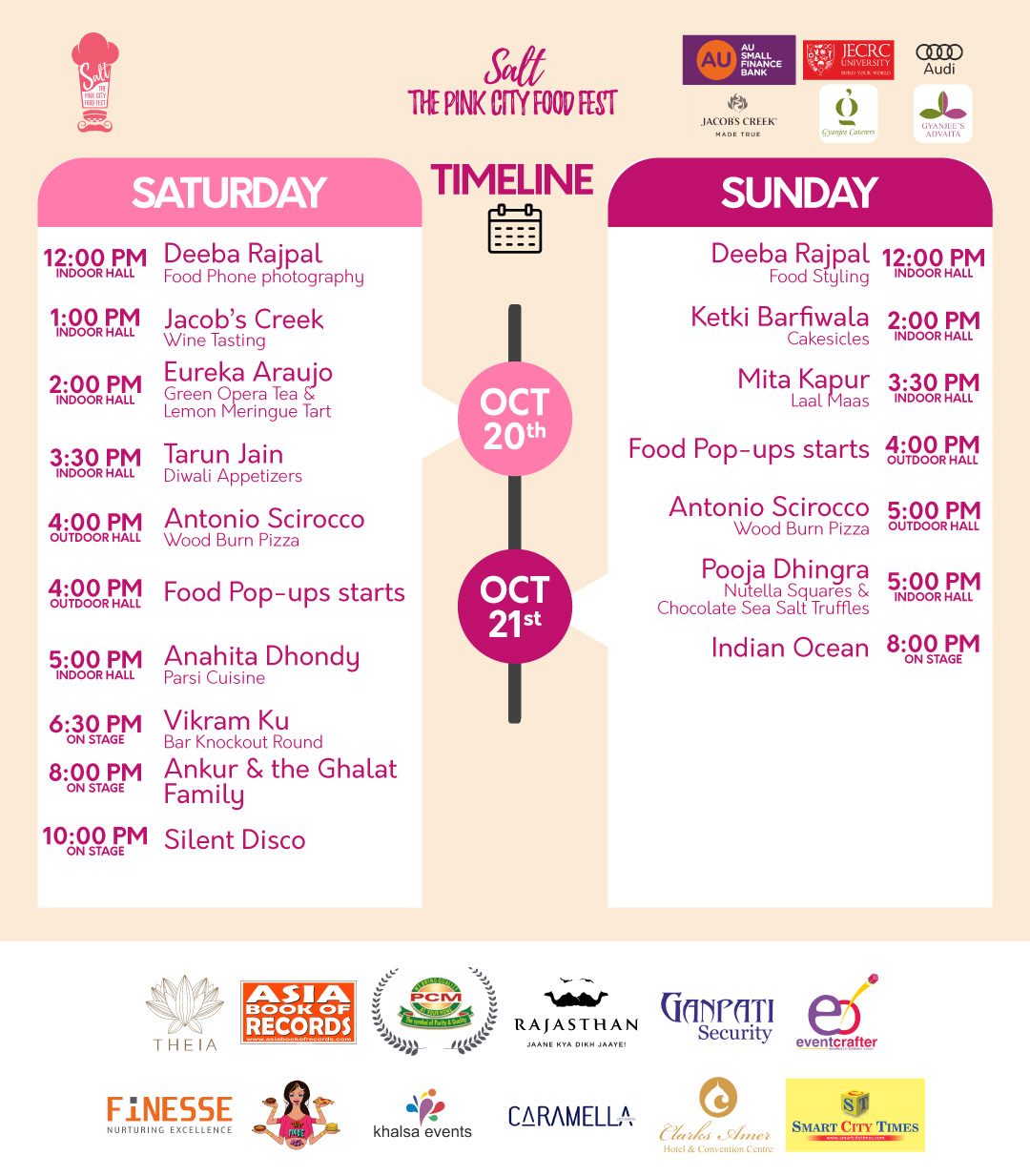 Deeba Rajpal:
A compulsive baker, food stylist & photographer, she shares her creativity and food styling on her blog. For her, visual appeal holds as much significance as healthy and delectable food.

Pooja Dhingra:
The Macaron Queen of India opened India's first macaron store and is the owner of bakery chain Le15 Patisserie that specializes in macarons and a host of French desserts

Antonio Scirocco : An Italian chef who was one of the first pioneers in India to introduce wood burn pizza.

Eureka Araujo:
Pastry Queen of India 2017.

Anahita Dhonde:
Graduate from the Institute of Hotel Management Aurangabad and Le Cordon Bleu London, Anahita who dreamed of cruising around the world, cooking modern French cuisine in an incredible journey, today has become a cultural mascot, youth icon and trendsetter

Vikram Ku:
Among the top 10 bartenders in the world.

IMita Kapur:
Author of Chilies and Porridge, founder & CEO of Siyahi.

Tarun Jain:
Graduate from Le Cordon Bleu, is now handling operations of three generations old catering business.

Ketki Barfiwala:
Patisserie entrepreneur from Mumbai, runs her own patisserie by the name of Carmella, Alumnus of Academy of Pastry Arts, Malaysia.
Indian Ocean: Indian Ocean is an Indian rock band formed in New Delhi in 1990, who are widely recognized as the pioneers of the fusion rock genre in India. The musical style of the band can be at best classified as folk and fusion music. It is an experimental genre, fusing raga with rock music, guitars and drums, sometimes using Indian folk songs.

Ankur and The Ghalat Family: Ankur & The Ghalat Family is the Hindi rock project of singer-songwriter Ankur Tewari, along with Gaurav Gupta, Sidd Coutto and Johan Pais. Formed in 2009, the Mumbai-based act has been playing festivals and gigs and enthralling audiences with their fun and happy songs. Get ready for some beautiful, simple Hindi lyrics packed with some intense whistling on both ends.
Ankur & The Ghalat Family - Dil Haare | Sofar Bombay
Chef Workshop Schedule | Day 1 - October 20
Deeba Rajpal | 12 PM: Mobile Food Photography Class, learn to take Instagram worthy food photos.
Jacobs Creek | 1PM: Jacobs Creek wine tasting session
Eureka Araujo | 2PM: Learn to make Green Opera Tea & Lemon Meringue Tart
Antonio Scirocco | 4PM: Learn to create tasty Wood Burn Pizza
Tarun Jain | 4PM: Diwali Appetizers
Anahita Dhondy | 5PM (Paid): Learn from the best in Parsi Cuisine, the chef partner of Soda Bottle Opener Wala
Vikram Ku | 7PM: Mixology Knock off


Chef Workshop Schedule | Day 2 - October 21
Deeba Rajpal | 12PM (Paid): Food Styling, learn the art of arranging food so that it looks attractive.
Ketki Barfiwala | 2PM:Learn the art of baking Cakesicles.
Mita Kapur | 3:30PM: Learn how to make delicious Laal Maas
Pooja Dhingra | 5PM (Paid):Learn to make tasty Nutella Squares and Milk chocolate sea salt truffles.
Antonio Scirocco | 5PM:Learn to create tasty Wood Burn Pizza
Venue
Clarks Amer, Jaipur
U.P. Hotels Limited, Jawahar Lal Nehru Marg, Jaipur - 302018, Lal Bahadur Nagar, Chandrakala Colony, Mata colony, Jaipur, Rajasthan 302017