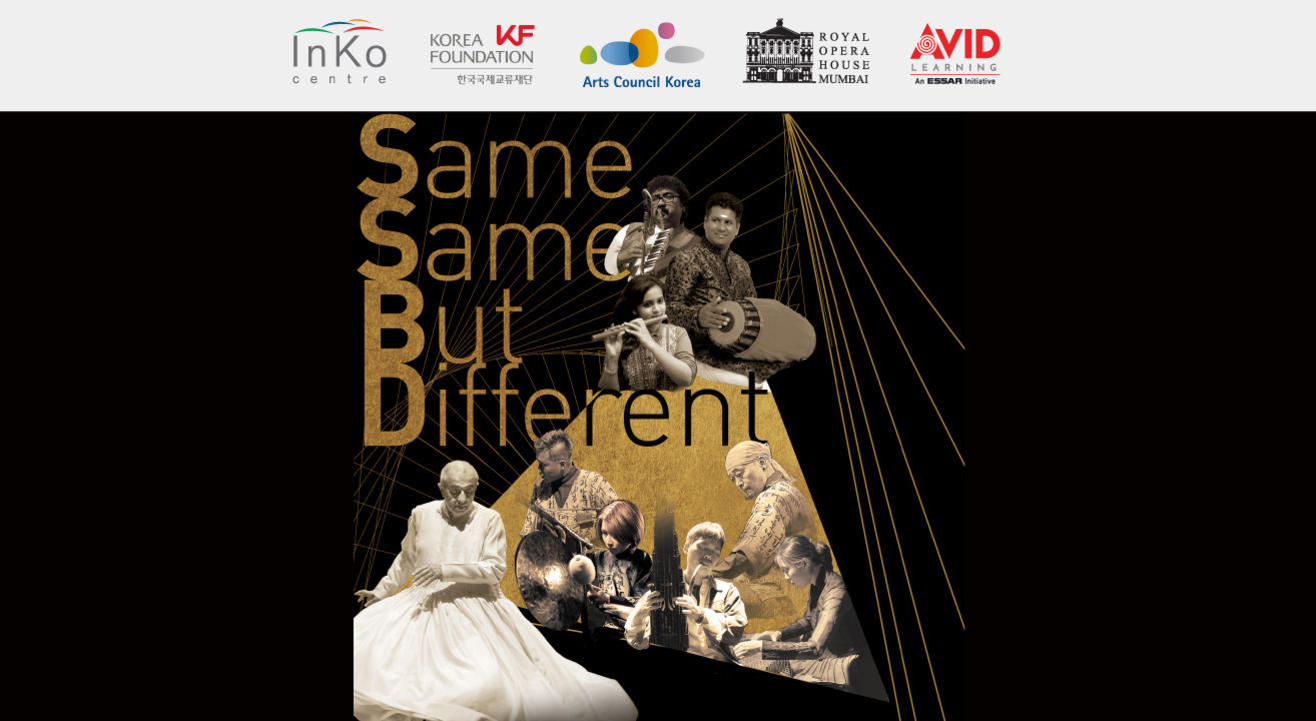 Music
Same Same but Different | A Unique Indo-Korean Collaboration
The Royal Opera House, Mumbai
About
InKo Centre, The Korea Foundation, Arts Council Korea, The Royal Opera House, Mumbai and Avid Learning present Same Same but Different a unique Indo-Korean collaboration that brings together and showcases music and dance traditions from both countries.
Same Same but Different (SSBD) is a celebrated concert series produced periodically by Korean New Wave Music Group Noreum Machi since 2013, to introduce its international collaborations with artistes around the globe. The group consists of Artistic Director Ju-Hong Kim, Korean Traditional percussionists Howon Lee and Hyun-ju Oh, Saenghwang and Piri player Gyeongsik Kim and Gayageum player Hyeyeong Oh.
By collaborating with artists from different cultural and artistic backgrounds for each season, this project provides opportunities for Korean traditional music to converge with different cultures and genres of art. By its very multicultural mix, SSBD provides a platform for convergence- a pulsating possibility where different strands, divergent styles complement each other, reinstating their own but embracing a different cultural perspective to embark on a new journey of discovery!
This concert, to be presented in its fifth iteration, will make its exciting Indian debut across four cities- Chennai, Bangalore, Hyderabad and Mumbai. The Mumbai concert will feature world-renowned Contemporary Dancer and Choreographer Astad Deboo who is also a pioneer of modern dance in India and Trayam, an ensemble of three critically acclaimed Indian musicians featuring Percussionist BC Manjunath, Singer and Flautist Varijashree Venugopal and Percussionist, Composer and Music Director, Praveen D. Rao. Together with Noreum Machi, these artistes will perform in harmony to present an experimental and eclectic soundscape that merges traditional Korean sounds with Classical Indian music, complemented with the stillness and flow of contemporary dance. An entire range of soundscapes will be showcased, including 'Nature' and 'Space' which is at the very core of Korean Traditional Music.
About the Performers
Noreum Machi was established in 1993 as a highly professional Korean traditional music ensemble and has received a great deal of attention in Korea and around the world. The group aims to communicate with audiences with immediacy and verve and avoid being bound by the past. Critics and audiences acknowledge Noreum Machi as a fascinating and future-oriented ensemble because of the way the artists connect with the audience, the obvious pleasure they take in performing, and the profound emotions they share as they move back and forth between past and present. In the world music scene, Noreum Machi has achieved its reputation as a 'New Wave Korean Music Group' after performing at world class festivals in 150 cities, across in 40 countries worldwide. Noreum Machi whose artistic achievements and social contributions have been widely recognized and appreciated, is supported by the city of Seoul as a seminal performing arts organisation. The group consists of Ju-Hong Kim, Artistic Director, Howon Lee, Korean Traditional percussionist and performer, Hyun-ju Oh, Korean Traditional percussionist and performer, Gyeongsik Kim, Saenghwang and Piri player and Hyeyeong Oh, Gayageum player.
Astad Deboo is a contemporary dancer and choreographer, who pioneered an innovative style of Indian dance that employs his training in Indian classical dance forms of Kathak as well as Kathakali to create a dance form that's unique to him. He is also a pioneer of modern dance in India. He describes his style as "contemporary in vocabulary and traditional in restraints." His stunning signature style is characterized by intense focus, concentration and technical virtuosity along with a distinctively Indian aesthetic of evoking rasa (emotion). Today contemporary Indian Dance has Astad's unique stamp on it. His significant legacy offers innovative models for younger Indian artists and his collaboration with visual artists, musicians globally, puppeteers and dancers have been hailed by critics and audiences alike. Astad's dynamic dance career spans over 50 years, with performances in over 70 countries, includes solo, group and collaborative choreography with performing artists. He has been working with the hearing impaired for 30 years. He has been awarded the Padma Shri and the Creative Dance Award from the Indian Government's prestigious Sangeet Natak Akamedi, among other awards.
A competent and dynamic young artist, BC Manjunath is a recipient of several acclaimed awards. He has a noteworthy track record having performed at several prestigious Platforms, both in India and overseas with world-renowned artistes of different genres. Manjunath is well versedwith Indian Classical, World Music, Modern Jazz, Contemporary Dance, Contemporary classical music, Indifusion and many more styles. He is well-versed in reading, transcribing and playing from Western notation having worked with several international composers. Manjunath is also a trained teacher conducting workshops for students across the world and he has created several personalized CDs and cassettes. As a musician who is comfortable with cultural diversities, Manjunath is widely appreciated for his empathetic and intuitive ability to synchronise seamlessly with diverse musical styles.
Singer and Flautist Varijashree Venugopal was a child prodigy with the rare ability of being able to close recognise to 50 ragas before she was two years old and about 200 ragas by the age of four! She was initially trained by her father, Flute Vidwan H.S. Venugopal. Varijashree underwent formal training in Carnatic music under Vidhushi H. Geetha.
She has also learnt a few rare compositions from Vidhushi Vasantha Srinivasan and Vidwan D.S. Srivatsa and later took advanced advanced music lessons under the tutelage of Gaanakalanidhi Vidwan Salem P. Sundaresan. Varijashree first full-fledged Carnatic vocal performance at the tender age of 7, at the prestigious platform of Bangalore GayanaSamaj.
Varijashree has performed all over India and at several prestigious events around the world, including the USA, UK, Australia and Kuwait, to name a few. She was invited to perform at Ramakrishna Mission and Sharada Ashram, Sri Lanka, Colombo, in 2000 and 2001 and at the World Hindu Conference, in 2003. Varijashree was invited by the "Kinkini" association, Kuwait chapter, in the year 2005, November, to pay tribute to Late Smt . M.S. Subbulakshmi and in the year, 2006, to participate in Kinkini"s prestigious dancemusic festival.
Percussionist, Music Director and Composer A versatile classical musician with an international reputation, Praveen Rao has worked as a Music director, composer, percussionist, stage Director and arranger for over 23 years. He trained under the renowned Guru Pt. R. V. Seshadri Gavai of Aravinda Sangeetha Vidyalaya and Guru Pt. Ravindra Yavagal. Praveen is currently the Principal of the Academy and Head of The Department of Classical Music at the COSMOS ATMA school of Music & Arts in xx. Praveen is a composer, arranger and performer accomplished in avariety of Indian musical styles including classical, light, folk and fusion. He has composed music for theatre, dance, soap operas, movies and advertisement jingles. He is also a versatile multi-instrumentalist proficient in a range of percussion instruments, keyboards and electronic media.
About Partners
InKo Centre is a registered, non-profit society supported primarily by TVS Motor Company Limited and Hyundai Motor India Limited; the Korean Association in Chennai and a host of Indian and Korean companies based in Chennai. The Centre works in close co-operation with the Embassy of the Republic of Korea, New Delhi, The Korean Cultural Centre, New Delhi and the Consulate General of the Republic of Korea, Chennai. Through the access points of language, culture and information, InKo Centre have consistently presented a cohesive programme that drawing on the rich traditions of both countries, showcases not just the local and the national characteristics of each country but also the global dimensions of such exchange. We have presented a whole series of programmes covering the gamut of language studies, performing and visual arts as well wellness programmes such as yoga, taekwondo and calligraphy. Our programmes and services aim to link key Indian and Korean artists and organisations in a meaningful and sustainable manner. We present regular programmes at our Centre (Centre programmes) and large-scale projects in association with partner organisations at external venues (Periodic programmes) on a regular basis.
The Korea Foundation, established in 1991 as an affiliate of the Ministry of Foreign Affairs and Trade, aims to promote awareness and understanding of Korea throughout the world. It aims to enhance international goodwill and friendship through the implementation of various international exchange programmes. The major Foundation activities include support for Korean Studies programmes overseas; fellowships and grants to encourage and assist foreign students and scholars interested in Korea; intellectual exchanges and forums to promote bilateral ties with other nations as well as people-topeople interactions to boost mutual understanding between Korea and other countries; cultural exchanges to introduce the unique characteristics of Korean culture to the world.
Arts Council Korea (ARKO) was established to promote creativity and enjoyment of the arts by supporting diverse arts and cultural activities in Korea. The Council consists of eleven dedicated professionals of the cultural and arts sector in Korea. The Arts Council also places emphasis on the establishment of arts infrastructure. It facilitates the rise of practice-oriented policy implementation in line with the increasingly sophisticated cultural environment of Korea.
Royal Opera House, Mumbai is widely touted as Mumbai's Cultural Crown Jewel and India's only surviving Opera House. The original idea for the space was conceived of in 1908, inaugurated in 1911 by King George V, and eventually completed in 1916. The design incorporated a blend of European and Indian detailing. The space became a cinema in later years before falling into disrepair and shutting by the 1990s. Fittingly, the space has been owned by the Royal Family of Gondal since 1952 and was eventually restored by conservation architect, Abha Narain Lambah under the leadership of His Highness, Maharaja Shri Jyotendrasinhji of Gondal. The Royal Opera House Mumbai, now one of the last remaining Baroque structures in the city, reopened after 23 years in October 2016. The building was included on the 2012 World Monuments Watch to raise awareness about its history and significance, and support preservation efforts. The building has since been recognized with an Award of Merit in the 2017 UNESCO Asia-Pacific Awards for Cultural Heritage Conservation. The restored facilities feature a 575-seater 3-level auditorium with an orchestra pit and state of the art technological upgradations, including acoustics, stagecraft, lighting and air-conditioning, alongside retaining the old-world charm of the proscenium stage, the royal boxes and the magnificent regal chandeliers. Some more enhancements to the venue include a motorized screen, co-axial ceiling speaker system, Four-zone volume control and all round wifi access. Today, it stands as a key performance and creative hub in the city's cultural landscape, while being a premier heritage landmark. Facebook: MumbaiOpera Twitter: @MumbaiOpera Instagram: @mumbaiopera
Avid Learning, the cultural philanthropy arm of the Essar Group founded in 2009 has, over the past decade, grown into one of Mumbai's leading public programming platforms and is firmly entrenched in the country's wider cultural ecosystem. Over the years, AVID has gained a reputation for curating thought provoking, innovative and path-breaking content that is intellectually and creatively stimulating and engages with a variety of topical subjects and trends. Our thoughtfully curated and diverse events embrace the spirit of collaboration to bring together the best of Indian and international writers, artists, intellectuals, cultural experts, policymakers and industry leaders across Visual Art, Literature, Culture and Heritage, Education, Design & Technology and the Performing Arts through engaging and dynamic formats like panel discussions, workshops & master classes, roundtables, lecture demonstrations, festival platforms, symposiums & conferences, multidisciplinary performances and walkthroughs. We seek to democratize the arts, create new audiences, and deepen engagement by providing a platform that gives equal access and opportunity to new learners, fresh voices and nascent minds in order to nurture future stakeholders for the creative community in India. To date, AVID has conducted over 1150 programs and connected with more than 140,000 individuals, a widely eclectic group of life-long learners including students, patrons, practitioners, influencers, thought leaders and cultural & creative enthusiasts in Mumbai, Delhi, Jaipur, Bangalore, Goa and Gujarat. We have also made our mark internationally, with events and collaborations in Dubai and New York. We regularly collaborate and partner with institutions, organisations and initiatives like the Federation of Indian Chambers of Commerce and Industry (FICCI), one of the apex bodies that impact cultural policy and the creative sector as a whole. We have been at the helm of programming at the Royal Opera House, Mumbai India's only surviving Opera House since its reopening in 2016. We believe in the importance of arts for social change and we regularly offer our support and platforms for Social Advocacy. Thanks to a dedicated and innovative team, as well as a growing and evolving community of learners, AVID continues to give truth to the belief that Learning Never Stops! To keep updated and attend our events, like us on www.facebook.com/Avidlearning, follow us on www.twitter.com/Avidlearning and Instagram:@avidlearning or log onto www.avidlearning.in
Venue
The Royal Opera House, Mumbai
Mathew Rd, Charni Road East, Opera House, Girgaon, Mumbai, Maharashtra 400004
GET DIRECTIONS