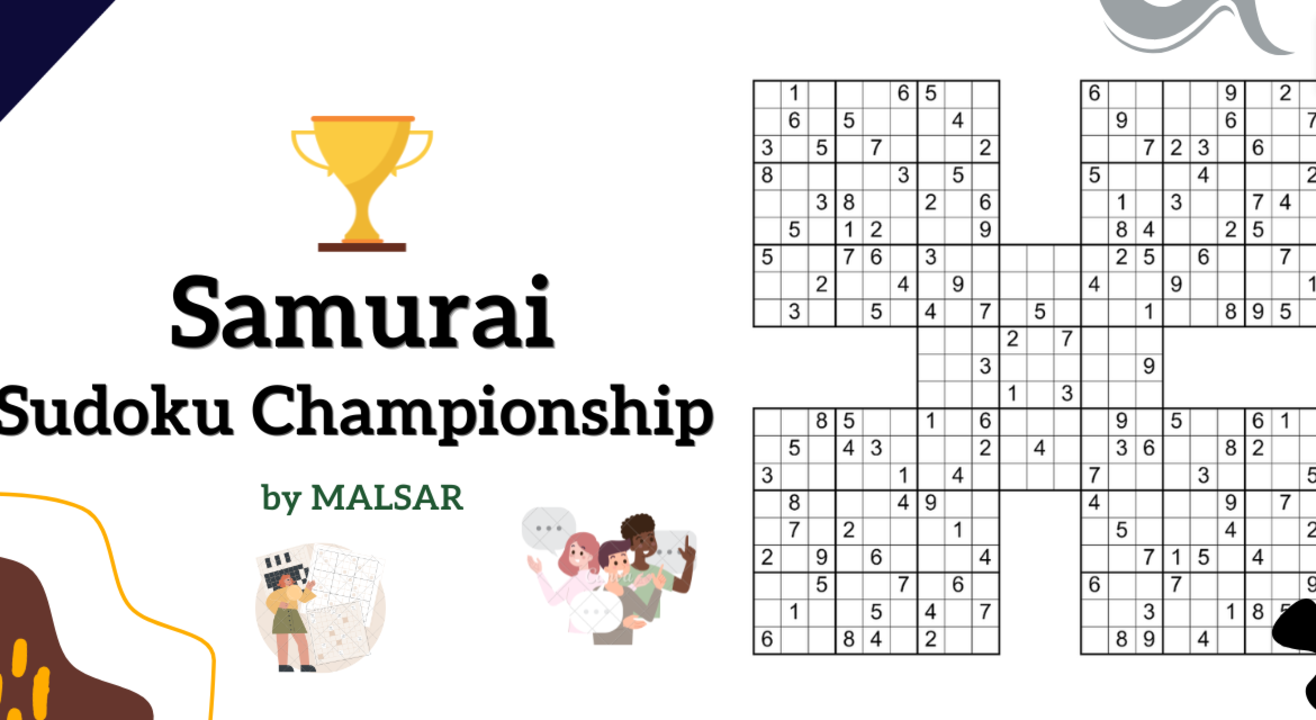 Samurai Sudoku Championship by Malsar
Enjoy this event from your home
Event Guide
For Age(s)
Family Friendly
Invite your friends
and enjoy a shared experience
Samurai Sudoku Championship by Malsar
Enjoy this event from your home
Event Guide
For Age(s)
Family Friendly
Invite your friends
and enjoy a shared experience
Event Guide
For Age(s)
Family Friendly
Invite your friends
and enjoy a shared experience
What is All India Samurai Sudoku Championship
About Sudoku & Samurai Sudoku :
The name "sudoku" is derived from the Japanese suuji wa dokushin ni kagiru which means "the numbers (or digits) must remain single. It's a puzzle with deep roots in Asian history and played across the globe.
Samurai Sudoku follows the same rules as Sudoku in that every row, column and block of each of the five grids must contain the numbers "1" to "9". Where the grids overlap, the rows and columns do not go beyond their usual length but the interlocking blocks give you more clues.
About Championship :
Samurai Sudoku Championship is organised by MALSAR . The events will be attended by participants from Metro cities to small towns to even the remotest parts of India. This contest is aimed to bring, the most enthusiast, Sudoku champions in the country together and have them compete with each other .
The championship will have 2 rounds Round 1 "Qualifier" and Round 2 "Finals". The event will be conducted on WhatApp, the participants will added to the whatsapp group near to the event date by the organising team. Championship rules will be shared on the group itself.
How to participate?
1. Register here for the contest by submitting your basic details and registration fee.
2. Our team will be add you to Participant WhatsApp group one day before the event. All other details will be shared on the group itself.
3. Participants need Active Whatsapp connection, as communication will be done by the same.
Rewards
Rank 1 to Rank 3 - Medals
Rank 1 to 30- e-certificate with Rank
For queries contact us
WhatsApp: https://wa.me/message/FWMGXTPN5VRYM1
Email Id : support@malsar.in
Samurai Sudoku Championship by Malsar
Enjoy this event from your home
Event Guide
For Age(s)
Family Friendly
Invite your friends
and enjoy a shared experience