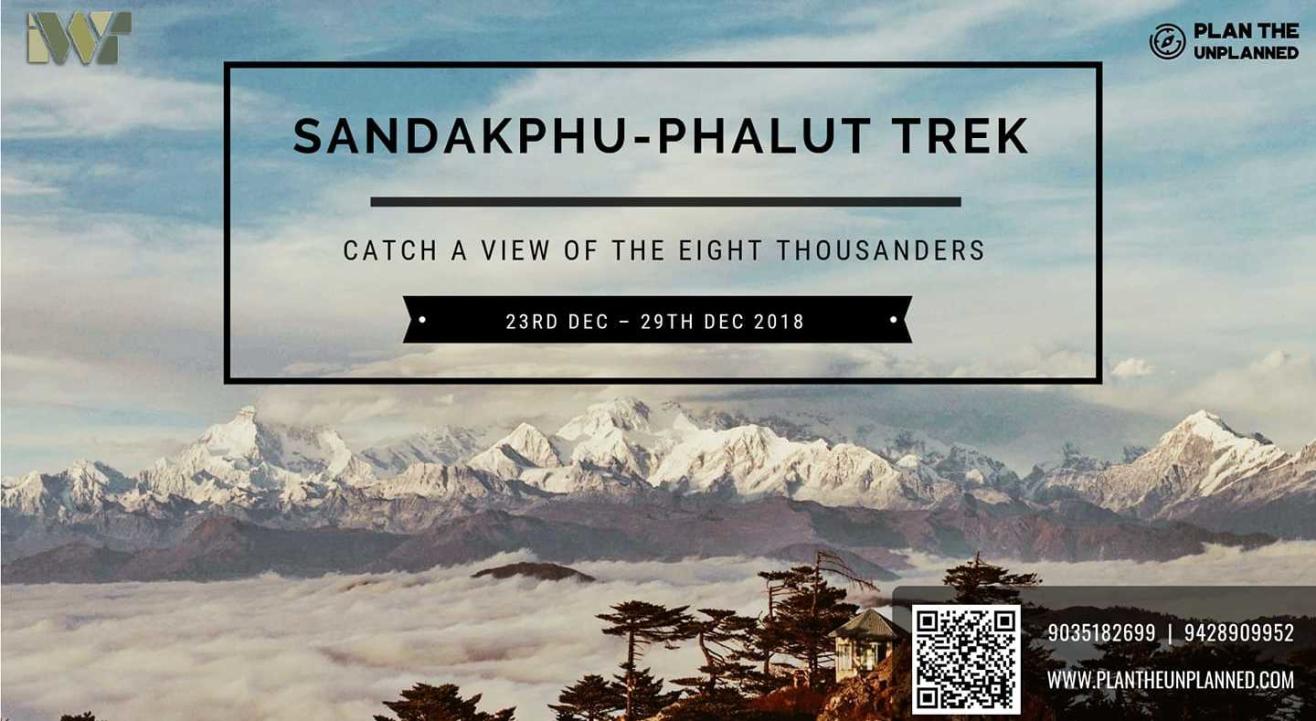 Adventure
Sandakphu Phalut Trek | Plan The Unplanned
MG Road Boulevard, Bangalore
About
Plan The Unplanned in association with IWasThere brings you the Sandakphu Phalut Trek based in West Bengal takes you to the highest point of the state, the Sandakphu peak. It is one of those rare treks in the world which gives you a panoramic view of 4 of the world's 8 thousander – Mt. Kangchenjunga, Mt. Everest, Mt, Makalu and Mt Lhotse and, a trek that switches borders between India and Nepal on almost every day of the trail. The fact that it is not situated at a very high altitude makes it accessible even during the winters.
The trek is along the Singalila ridge through dense Rhododendron and Magnolia forest of Singalila National Park, this gives the trekkers an opportunity to explore the fascinating wildlife along with varied species of flora and fauna. There is also a motorable road which people use to reach Sandakphu on the old Land Rovers but without giving you the settings of the trekking trails of this subalpine forest. The trek has long walk days even crossing 20 KMs on one of the days means the trek is graded as Moderate. However, this is a trek which can be easily attempted by beginners with good preparation. What makes this trek unique and special is the Tea house experience of this region which gives it a feeling of trekking in Nepal.
4 highest peaks of the world, dense forest, subalpine meadows, the Sleeping Buddha view, Teahouse experience are reasons enough to chose this as your next trek and broaden the horizon of creating memories for a lifetime with Plan The Unplanned and IWasThere.
Type: High Altitude Trekking
Region: West Bengal
Duration: 7 Days
Grade: Moderate
Distance: 81 KMs
Highest Altitude: 12,000 Ft.
Grade: Moderate

Cost: 10,350 plus 5% GST

Cost Inclusions:
-Transport: Non AC coach from NJP/Bagdogra/Siliguri to Kopidana on Da 1 and back on Day 7.
- Accommodation: 4 nights stay in Tea Houses and 2 nights of camping in tents on twin/triple
sharing basis.
- Meals: All meals since arrival at Kopidana till the lunch on Day 7.
- During the trek - Breakfast, Lunch, Evening Snacks and Dinner will be provided. The food will be vegetarian and eggs may be provided. Tea will be a part of breakfast and evening
snacks.
- An expert and experienced Trek Leader.
- Professional and experienced local trekking guides.
- Entry fee for the park
- Environment levy fees
-Any other permits that may be required.

Cost exclusions:
- Air fare/Train tickets
- Accommodation at NJP/Bagdogra
- Any charges for carrying still/video cameras etc.
- Soft drinks, bottled water, beverages, etc.
- Personal expenses like tips, telephone calls, laundry, etc.
- Trekking equipment like trekking bag, shoe, trekking pole etc.
- Any meals/services not mentioned above
- Any costs arising out of unforeseen circumstances like landslides, roadblocks, bad weather, etc
- Travel Insurance

Health & Fitness Requirements:

All participants are required to submit a medical certificate approved by a registered medical practitioner prior to the trek.
Apart from this we highly recommend you having an adventurous spirit and willingness to undergo the joys & hardships of outdoor camping, in addition to good physical and mental fitness, to completely enjoy the trek. If you suffer from severe muscular, chest, heart or bronchial ailments, we advise you against participating since most treks happen in remote areas with limited access to medical services & hospital facilities.

Our Trek Leaders are experienced mountaineers and we trust their judgements. If during the trek, the Trek Leader advises you against continuing on the trek, we request you to respect his judgement and follow his instructions.
For faster communication: +91 9035182699, +91 7760710005, +91 9428909952
DETAILED ITINERARY
Day 1: NJP/Bagdogra to Kopidana
Distance: <100 KMs
Time: 5 Hrs drive
Altitude: 6,400 ft
Today it is going to be a 5-hour drive from NJP railways station to Kopidana, it is an uphill drive of about 85 KMs. The drive is through the tea estates and villages bordering India and Nepal. (Food during the transit from pickup location to Kopidana is not a part of the trek. Please stop over at many of the Himalayan Dhabas to relish local cuisine en route)
---
Day 2: Kopidana to Tumling
Distance: 11 KMs
Time: 5-6 Hrs
Altitude: 9,600 ft
Kopidana is en route Sandakphu via the motorable road which is not very prominent but a beautiful village which acts as the base camp for treks in West Bengal. We start our walk the early morning after breakfast. It is a long walk full of gradual ascends and flattish terrain.
Tumbling is where the border between trekking in Nepal and India blurs and we cross the Indian National borders and enter into Nepal after crossing a check-post. The Visa/IDs need to be kept handy at the borders for checking and acts as a formality before crossing the International Borders. Hot lunch will be provided on the way.
The tiny hamlet of Tumling is located at an altitude of 9,600 ft., which is also accessible via motor road from Manebhanjam and Jaubhari—the alternate routes to ascend towards the Sandakphu-Phalut trail beside Kopidana.
As we start our trek early, we are expected to arrive at Tumbling by late afternoon in daylight. We shall break here for the day in a Tea House and take a short walk all the way up to the viewpoint which is at the centre of the town. The Sun setting in the opposite direction makes Kanchenjunga come alive to all its glory and one can witness it in the magical golden colour making the view mesmerizing.
---
Day 3:- Kopidana to Kalipokhri
Distance: 14 KMs
Time: 7 Hrs
Altitude: 10,400 ft
Today we start our walk through the Singalila National Park and head towards Kalapokhri. This national park is known for its ecstatic colours during summer when the Rhododendron and Magnolia blossom. On a clear day, the entire set of Mt Kanchenjunga peaks unveils itself. We walk through the thick forest to reach a small settlement called Gairibasa, you will find a few hotels and restrooms here and yes, you are in Nepal at this point. After a brief stop here we gear up for more and continue a steep ascend towards Kaiyakatta, where we break for a hot lunch.
We walk for another 2 Hrs before the trail gets greener and more scenic, which marks our arrival at Kalapokhri. We break here for the day in a tea house and enjoy the evening exploring the place.
---
Day 4: Kalipokhri to Sandakphu
Distance: 6 KMs
Time: 4 Hrs
Altitude: 12,000 ft
Walk from Kalipokhri to Sandakphu is about 4 Hrs, we start a gradual ascend for the first 30 minutes followed by a steep ascent for about an hour, and finally, a rippling path on the motor road.
A panoramic view of Sandakphu summit can be seen right in front of you as you reach Bikheybhanjang, though the summit is 4 KMs of another jaunting walk. The summit to Sandakphu is through a zigzag path for an hour before the view opens up to the magnificent snow-covered mountains, these are not just mountains they are the tallest ones on our planet. On a clear day, snow-covered peaks of Makalu, Lhotse, Everest, Nuptse, Baruntse, Chamling, Chomolonzo, Machapucchare, extending to the Annapurna family can be seen. We break for the day with this view in tents/tea houses.
---
Day 5: Sandakphu to Sabargram
Distance: 21 KMs
Time: 8 Hrs
Altitude: 11,800 ft
Today is the longest day of our trek so we start early as we need to cover a lot of distance, the trail begins with a gradual descent followed by a combination of gradual and steep ascents and level walks. Long days means varied scenery and varied trails. Don't let the distance scare you, this is one of the most fun and beautiful days of the trek. Though the trekkers need to be careful of the gravel roads with few muddy sections on the forest cover, this trail gets really tricky if it rains with the chances of rainfall higher during the second half of the year. We will be entering Nepal border while we walk towards Sabargram for about 3-4hrs, a forest check post marks our arrival at the campsite.
---
Day 6: Sabargram to Gorkhey via Phalut
Distance: 16 KMs
Time: 6-7 Hrs
Altitude: 7,500 ft via 12,000 ft
From Sabargram we head to Phalut in a serpentine trail for about 2 Hrs, from where you can get best views of Mt Kanchenjunga. You will reach Phalut by climbing steadily for about 7 KMs. Phalut is a small grassland with minimal habitation as there not many opportunities for farming. If the weather is clear you can enjoy the panoramic view of the world's highest peaks, and if the weather is not clear we would head straight to Gorkhey.
From Phalut we descend all the way down 10kms through the forest and small settlements. You reach Gorkhey after a steep descend through the step farms. Gorkhey is a small village situated next to Gorkhey River where you can relax and spend your evening getting lost in the serenity of nature.
---
Day 7: Gorkhey to NJP/Bagdogra via Sepi
Distance: 15 KMs walk + 5 Hrs drive
Time: 4 Hrs + 5 Hrs drive
Altitude: 6,200ft
Today we descend steeply from Gorkhey to Sepi, it is a 4 Hrs of fun walking down through the forests and small villages. We will reach Sepi by lunch and depart to NJP/Bagdogra from here on a 5 Hrs drive, feel free to plan your onward trip accordingly.
ADVISORY
Please be informed that trekking is an adventure activity and a lot depends on the weather conditions in the mountains. In case of bad weather or health issues of any trekker at any point during the trek, the trek itinerary will be changed by the Trek Leader after evaluating all the available options. We make sure that our trekkers are informed at all the times and a common consensus will be arrived after discussing with the participants, however, the decision of the Trek Leader will remain final.
Also, in case of any unforeseen circumstances like landslides or bad weather, We promise to provide services only for 7 days. It will remain the responsibility of the Trek Leader to get the trekkers back to safety irrespective of the number of days, however, the cost will be borne by the trekker themselves.
We are committed to providing a safe, secure and a magical experience in raw nature and hence, smoking, drinking and littering is completely prohibited during the trek and on the campsites. People found to be indulging in any of the above activities will be abandoned from the group.
Put Litter in its place, do not trash the mother earth.
In the case of traffic delays or breakdowns, expect a few delays in reaching the destination.
Plan The Unplanned/IWasThere will not be responsible for any loss/ hamper of your possessions. We request you to be alert about whatever you carry.
SAFETY
We take a lot of pride in providing the best safety standards to its trekkers while trekking. Experienced Trek Leaders will be leading the group with a full-fledged first aid kit along with an oxygen cylinder.
The Trek Leaders will also be carrying medication pertaining to high altitudes
Venue
MG Road Boulevard, Bangalore
MG Road Boulevard, beside MG Road Metro Station, near Anil Kumble Circle, Mahatma Gandhi Road, Shivaji Nagar, Bengaluru, Karnataka 560001