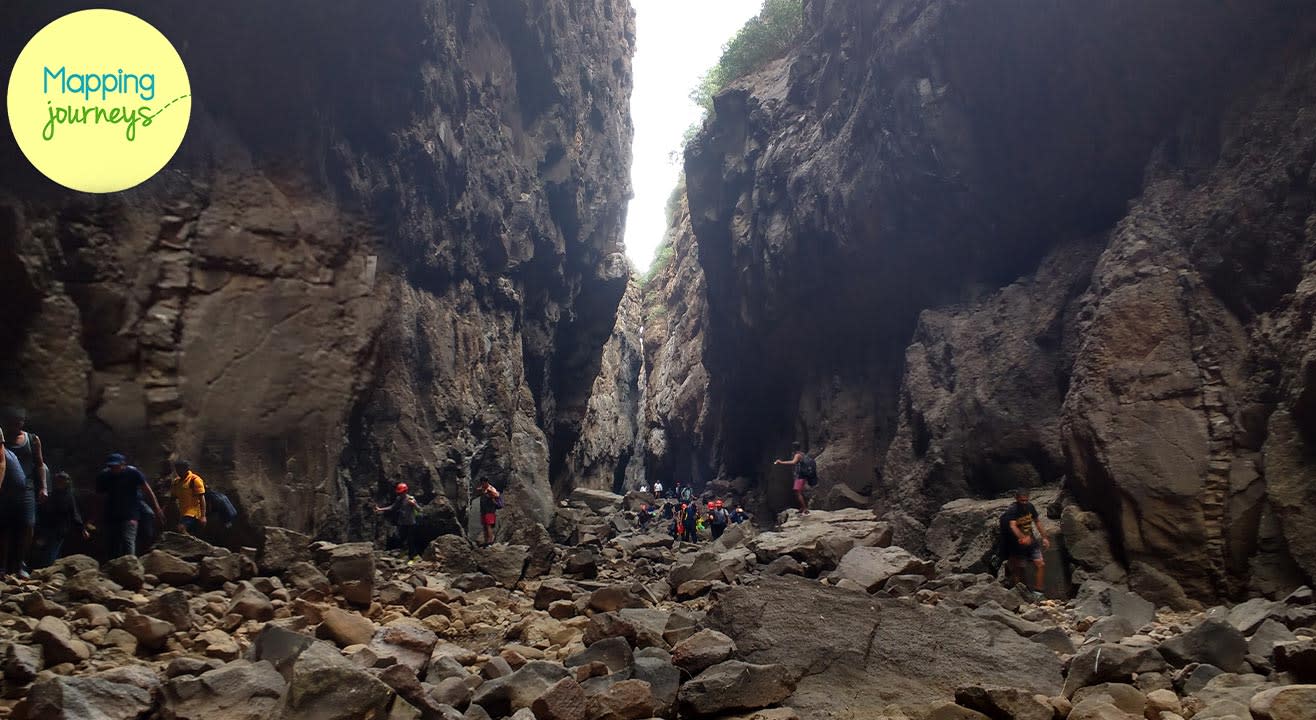 Trek
About
Sandhan valley is a full descend trek, but the descend is not an easy walk. Completing the trek is more like solving a boulder puzzle. Throughout the length of the valley, we come across boulders ranging in sizes that we need to tackle as we proceed ahead. This trek cannot be done without the technical assistance of certified professionals as there are three patches where one has to rappel down. The 45ft rappelling patch along with two others requiring assistance only adds to the thrill of the exploration.
Sandhan is not recommended for people who are not physically fit/active. The length to be covered in two days is 10km. We highly recommend checking the photos and video links provided below before registering for the trek.
Height: 4100 ft.
Grade: Above Medium. (Not recommended for people trekking for the first time)
Location: Bhandardara Region.
(Friday Night):
Catch the CST-Kasara train as per the timings mentioned.
10:50 pm - CST.
10:57 pm - Byculla.
11:05 pm - Dadar.
11:13 pm - Kurla.
11:18 pm - Ghatkopar.
11:34 pm - Thane.
11:57 pm - Dombivali.
12:07 am - Kalyan.
01:18 am - Kasara.


(Saturday):
01:30 am - Depart to base village ie Samrad by a Private Vehicle.
04:00 am - Reach Samrad. Proceed for some rest and breakfast in the morning.
07:00 am - Move towards the entry point exploring Sandhan Valley. Rappel down a few patches. Lunch mid way.
05:30 pm - Reach the camping area.
Settle after a tiring day followed by talks, food, and a campfire.

(Sunday):
06:30 am - Wake Up Call. Breakfast will be provided inside the valley itself.
08:00 am - Start trekking towards Dehene village.
11:00 am - Reach Dehne. Lunch in Dehene.
02:00 pm - Move towards Asangaon.
04:00 pm - Reach Asangaon Station.
07:00 pm - Reach Mumbai(Tentative).
Transportation from Kasara to Asangaon.
Meals: Day 1: Breakfast, Lunch, and Dinner. Day 2: Breakfast and Lunch.
Tent stay (2/4 sharing basis with sleeping bags)
Certified technical Assistance.
Rappelling Charges.
Safety and First Aid.
Professional expertise.
Guide charges.
Mapping Journeys charges
Travel till Kasara station.
Meals during travel.
Personal expenses.
Insurance of any kind.
Medical hospitalization, evacuation, and related expenses.
Any item not covered under "inclusions".
Consumption of alcohol is strictly prohibited. For confirmation of the seat, the full amount needs to be deposited prior to the event. Prior to making any payments please confirm the seat availability.