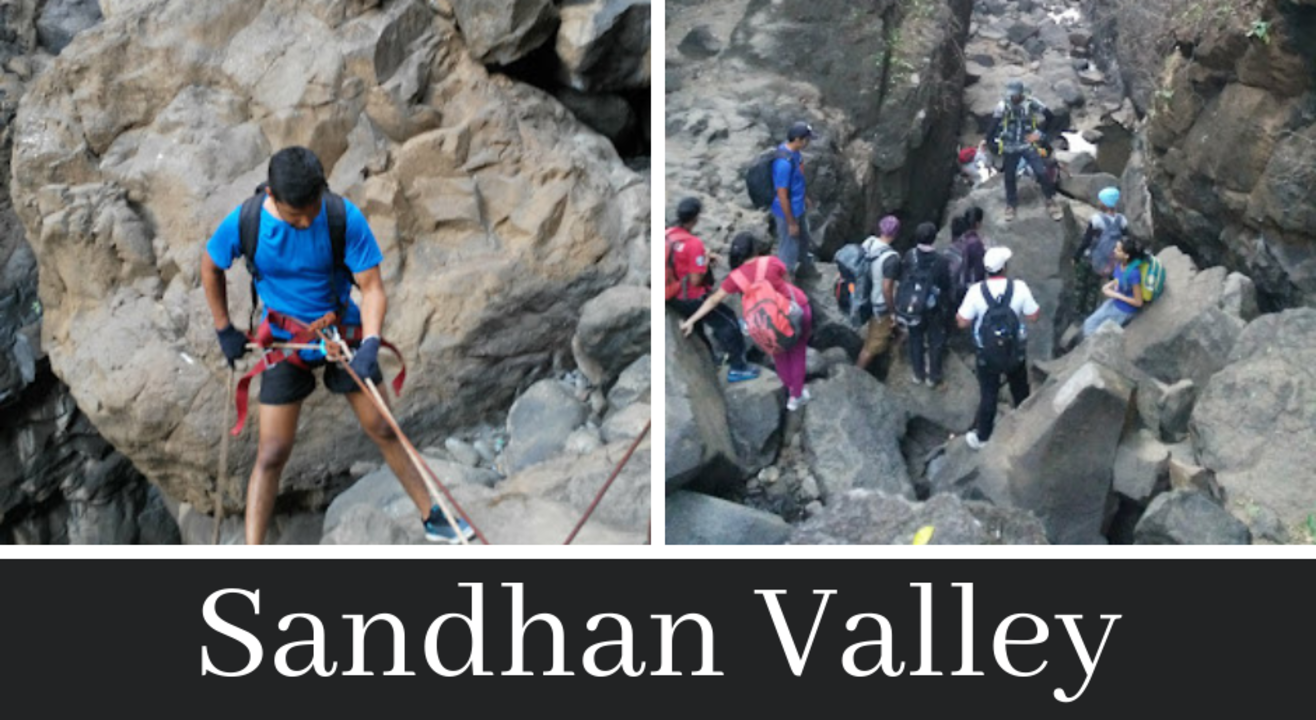 Sandhan Valley Trek | Mumbai Mountain Hikers
December 16 | 10:50PM - March 26 | 4:00PM
Sandhan Valley Start point, Mumbai
Step out and enjoy this event
Event Guide
Getaways
Enjoy the outdoors
Invite your friends
and enjoy a shared experience
Sandhan Valley Trek | Mumbai Mountain Hikers
December 16 | 10:50PM - March 26 | 4:00PM
Sandhan Valley Start point, Mumbai
Step out and enjoy this event
Event Guide
Getaways
Enjoy the outdoors
Invite your friends
and enjoy a shared experience
Event Guide
Getaways
Enjoy the outdoors
Invite your friends
and enjoy a shared experience
Sandhan Valley Trek | Mumbai Mountain Hikers
Sandhan Valley is a unique experience combining adventure activities such as Rappelling and staying amidst nature. Sandhan valley is a water carved valley around 200 feet deep. Sandhan is located near beautiful Bhandardara region near village called Samrad. Samrad village and Sandhan Valley is surrounded by few more forts and scenic places.
Brilliant & deep narrow rock floored ravine between the two high walls of mountain range. At some places its width is less than 3 ft so that at some places sun rays unable to reach. So it's called valley of shadow. It is accessible throughout the year except monsoon. To go at end side of gorge you have cross 2-3 water pools, water level changes according to seasons, in winter it is up to waist & in summer it is up to knee height. At the end of valley you get
magnificent view of high cliffs & deep valley.
The Sandhan valley trek incorporates a rappelling experience and freehold rock climbing and descending. Technical support of experienced trekkers and all safety mountaineering equipment will be used for the event to ensure safety. Sandhan Valley trek starts from Samrad village. Total trek includes rappelling and crossing pool of water. Sandhan Valley is one of lifetime experience which you feel at end of the trek.
Location: Ahmad Nagar District
Category: Descend Trekking/Rappelling/Camping
Grade: Medium
Endurance: Medium
Duration: 2 day and 2 Night
Fee: 1999/-
Itinerary
Day 1: Friday
Kasara Semi Fast
10:50 pm CST
10:57 pm Byculla
11:05 pm Dadar
11:13 pm Kurla
11:18 pm Ghatkopar
11:30 pm Mulund
11:34 pm Thane
11:57 pm Dombivli
12:07 am Kalyan
01:18 am Kasara
Meeting Point :
01:18 am Kasara Railway Station
Pune People will meet at Kasara Station.
Day 2: Saturday.
01:30 am – Travel Samrad village by a Private Vehicle.
04:00 am – Reach Samrad Rest for some time
06.00 am – Breakfast
07:00 am – Move towards the base exploring Sandhan Valley. Rappel down a few patches. Lunch mid-way. (The route few small rappelling patches, the biggest one being 40-50ft approx and we have to go through water up to 4 Feet deep for approximately 30 meters on the way. This only adds to the thrill of the whole exploration.)
05:30 pm – Reach the Campsite Settle followed by food and campfire. End the day by a natural swimming pool under the open sky. Tents will be given 3 people sharing
Day 3: Sunday.
06:30 am – Wakeup Call and have Breakfast.
07:30 am – Start walking towards Dahene.
09:30 am – Reach Dahne.
10:00 am – Move towards Asangaon.
11:00 am – Reach Asangaon Station.
04:00 pm – Reach Dadar (Tentative).
Things To Bring
ID Prove
3-5 Liter Water
Plate, spoon, Mug
Camera (optional)
Good Trekking shoes
Some ready food for munching: biscuit, plum cake etc.
One set extra cloth
Cap
Napkin
Odomass
Medicine as per your requirement
Sleeping bag and Coversheet
Torch with Extra battery
Hoodie/Jacket/Sweater
Hand wash, Teeth Paste etc
Sandhan Valley Start point
GM9P+8HH, saamrudh, Maharashtra 422604, India
GET DIRECTIONS
Sandhan Valley Trek | Mumbai Mountain Hikers
December 16 | 10:50PM - March 26 | 4:00PM
Sandhan Valley Start point, Mumbai
Step out and enjoy this event
Event Guide
Getaways
Enjoy the outdoors
Invite your friends
and enjoy a shared experience