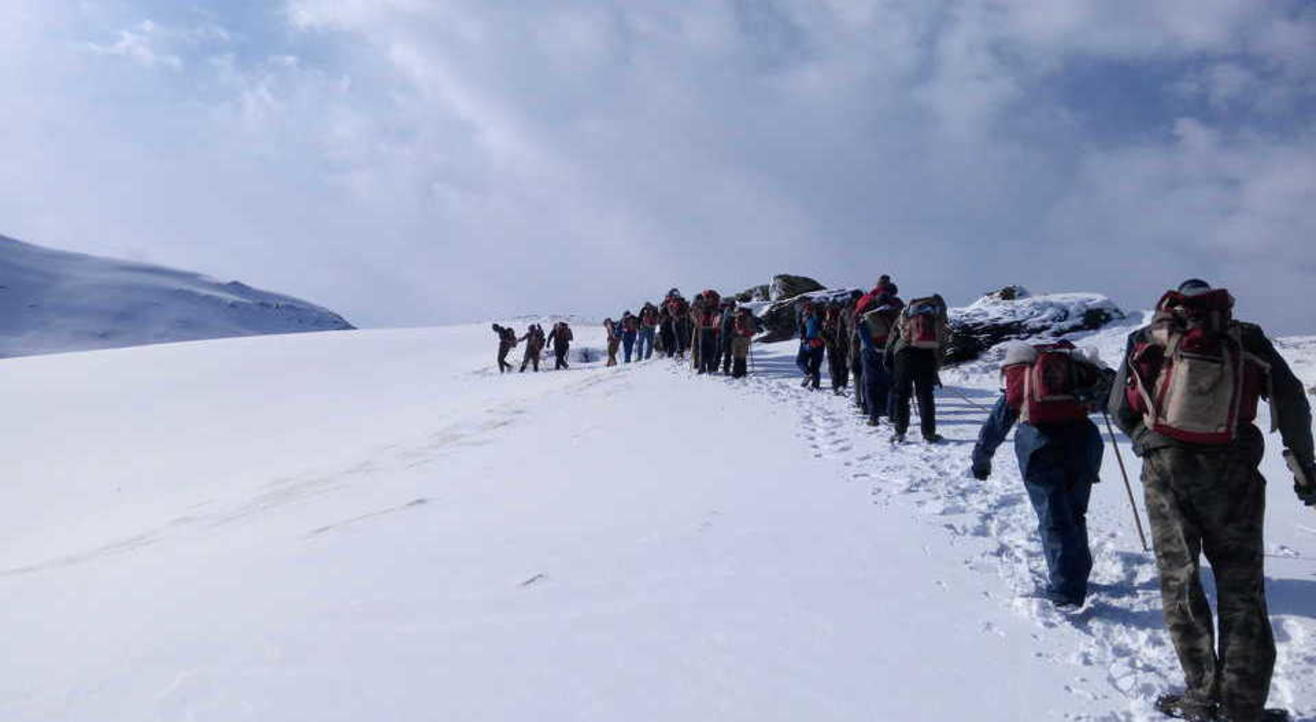 Trek
SARPASS TREK | YHAI
May 12 | 8AM - May 20 | 6PM
Youth Hostel Association Of India (YHAI) Sar Pass Base Camp युथ होस्टेल बेस कँप
About
About Program:After completing 48 years in Himalayan Trekking, Youth Hostels Association of India once again brings the National Himalayan Trekking cum Training Expedition– SAR Pass, 2019, in the beautiful Parvati valley of Kullu District in Himachal Pradesh. SAR Pass is one of the most popular trails of the Shivalik range of the mighty Himalayas. SAR Pass Trail offers an opportunity to enjoy the exquisite beauty of the Parvati valley with Kasol, Nagaru, Biskeri and Manikaran as its beauty spots.
KANWAR WID LIFE SANCTUARY: The Kanwar Sanctuary was established in February, 1954, and is extended over an expanse of 60.7 square kilometres. Kanwar Sanctuary is home to the rare "Western Tragopan" and 200 species of birds and over 30 species of mammals. Amongst the bird population, Cheer Pheasant and White Cheeked Tit are the most prominent which can be seen here. Animals which can be found inside the boundary of the Kanwar Sanctuary are Barking Deer, Serow, Golden Jackal Goral, Leopard, Himalayan Palm Civet, Common Giant Flying Squirrel, Himalayan Weasel and Yellow Throated Marten. Kanwar sanctuary is an ideal place to witness the imposing beauty of the forests and their endless range of wildlife.
MANDATORY: Trekking Medical Certificate will be compulsory at the time of reporting only (with 30 days of validity ) duly signed by registered Medical Practitioner (MBBS / MD only) along with his registration no. and stamp.
*Trek Grading: Moderate to Tough
These treks generally have around 06 hours of trekking per day and can involve a reasonable amount of ascent and descent touching the altitude around 12000-13000 feet. This grade is suitable for someone who is in good health and who is regular walker. Suitable for anyone who is used to walking on weekends or so, no previous trekking experience is required for this grade.
*Range: Parvati Valley, Kullu District of HP
*Flora and Fauna:
Because of the complex geography and the great variations in altitude, Kullu is home to an enormous range of species, which span the subtropical to the alpine. The common trees in the Kullu hills belong to the conifer species (deodar, pine, spruce, fir). Several species of medicinal plants like Hath Panja (Dactylorhiza hatageria) and Brahma Kamal (Saussurea obvallata) grow luxuriously in the valley. the Himalayan brown bear and the Himalayan Tahr. The Western Tragopan (the state bird of Himachal Pradesh) and the Monal pheasant are the prominent birds species found in the region.
*Heighest Altitude Gain: 12,500 feet
Schedule:
Day: 1 – Reporting at Base Camp, Youth Hostel Kasol
Day 2: Acclimatization, Orientation/Training and Kit Inspection
Day 3: Trek to Grahan Camp (Distance 9 km, 5hrs)
Day4: Trek to Ming Thach Camp (11200 ft)
Day 5: Trek to Nagaru Camp (12500 ft)
Day 6: Trek to Beskari Camp (11000 ft) via Sar pass
Day 7: Trek to Bhandak Thatch Camp (8000ft)
Day 8: Short Trek to Barshani and Certificate Distribution and Recreation Activity
Day 9: Check Out after Breakfast
Note : Route and Schedule of the programme may change without prior notice based on the local condition.
* How To Reach: Our base camp is at Kasol which is linked by road to Kullu via Bhuntar, it is 5 kms short of Manikaran, famouis for hot water springs. Regular bus services and available from Kullu and Bhuntar to reach Kasol. Direct Buses are also available to Manikaran from Chandigarh and other parts of Punjab. Nearest railheads are Chandigarh and Ambala. Nearest airport is Bhuntar. Deluxe, semi deluxe and orginary night/day buses are available from Delhi, Chandigarh and other parts of Punjab till Manikaran. Please visit Himachal Pradesh Tourism Department and Himachal Pradesh Road Transportation website.
Cancellation Policy :
In case you are unable to join this trek, you will get a refund of 50% of your booking provided when your request is received through online link http://www.yhaindia.org/program-cancellation.php & offline booking should come through the post directly at the National Office-New Delhi, before 10th April, 2020. After this date no refund application will be considered.
For offline booking, cancellation request may be sent via mail, post etc to the National Office and should reach office before 10th April 2020
Seat once booked may not be re-scheduled or transferred.
There is no refund applicable for the all the program bookings done after 10th April, 2020.
Any unforeseen event/ strike or natural calamity/ unfit medical condition will not be considered as a cause of cancellation.
Refund may be given after completion of the programs 30 to 45 working days.
Venue
Youth Hostel Association Of India (YHAI) Sar Pass Base Camp युथ होस्टेल बेस कँप
Kasol, Himachal Pradesh 175105
GET DIRECTIONS