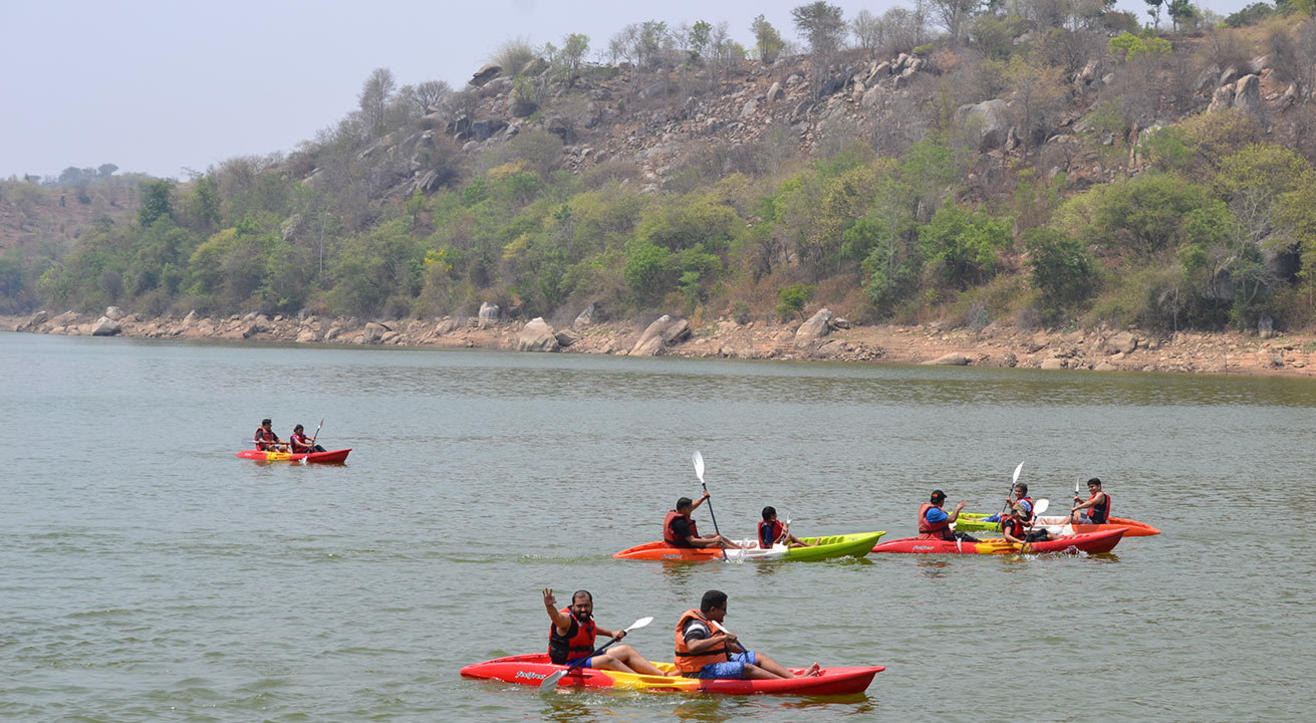 Trek
Savandurga Sunrise Trek With Kayaking | Escape2Explore
1,350 (*inclusive of taxes)
About
Savandurga hill situated around 60km from Bangalore is Asia's largest monolith (approx. 4220ft above sea level). Savandurga is composed of two hills namely 'Karigudda' or the 'black hill' and 'Biligudda' or the 'white hill'. The former trail is less preferred since it requires a permit as it is more extreme and uncovered. The ruins of a fort, that once served as a prison can be seen at the crest of the hill. It was also called as Savinadurga or the fort of death due to its steep natural formation. The Savandurga night trek brings about some steep slopes and boulders that act as a hindrance on your way, but the 5 km trek (approx.) is considered moderate and will give you the satisfaction of a trek.
The Savandurga night trek is a moderate one. Advance up by trekking through the hill to reaching the crest, one can enjoy the scenic beauty of the forest around, although the hill is almost barren, the landscape makes up for it by letting you capture some panoramic views. Unwind by the campfire, brood over or spill your tales to your friends. An end to, maybe a perfect getaway is marked at dawn and you can descend.
Manchinbele is a small water reservoir located around 50 km from Bangalore on the banks of Manchanbele lake. Considered as an ideal location for Corporate team outings, this place will rejuvenate your senses and give you your much-deserved getaway. Take a break from your hectic office hours, because come on! Fun is essential. With the perfect combination of food and adventure sports, our outing package offers an amusing cocktail of enjoyable activities just for you.
Buy a ticket & get 15% stashback upto ₹500. Use code: TRAVEL15 (T&C apply)
11:00 PM - Pick up starts from Bangalore
01:30 PM - Reach Ramanagara - tea, snacks
04:00 AM - Reach Savandurga Base, small briefing about the trek and then later start the trek for 2 hours (4-5 km)
06:00 AM - Reach the peak, start the bonfire
06:30 AM - Watch the sunrise descend to the base.
08:30 AM - Reach base and travel to the base camp (Manchinabele).
09:00 AM - Have breakfast and start the water activities like swimming and kayaking.
11:00 AM - Head back to Bangalore.
12:30 PM - Reach Bangalore
Campfire
Water activities like kayaking and swimming
Transportation (from/to Bangalore)
Sunrise Trek
Campfire
Water activities like kayaking and swimming
Breakfast
Personal beverages of any kind
Personal expenses of any kind
Anything which is not mentioned in the inclusions
Torch with extra batteries
Sports shoes or trekking shoes (in good condition)
Water bottles
Backpack
Energy bars, dry fruits, etc.
Personal medication
Sweater/jackets for the night
Toiletries (napkin, tissues, etc.)
Extra clothing (in case you plan to dive into the lake)
Track pants and cotton tee
Marathahalli (10:30 PM) - Kala mandir
Silk Board (11:00 PM) - Central silkbord building .(towards BTM)
BTM (11:10 PM) - A2B, Udupi Garden bus stop
Banashankari (11:30 PM) - Bus stop
RR Nagar (11:50 PM) - Gopalan Arcade
For queries about this event contact the organiser Vicky 9886421211
Escape2Explore Adventures is not just one of Bangalore's leading adventure travel companies, it's a hub for all nature lovers, adventure enthusiasts and those who just need a little escape from the routine of life to explore outdoors. With Escape2Explore, find the much notable adventure activities near Bangalore. Choose from a wide range of exciting outdoor activities and destinations that best suit your team/group, and leave the arrangements to us.