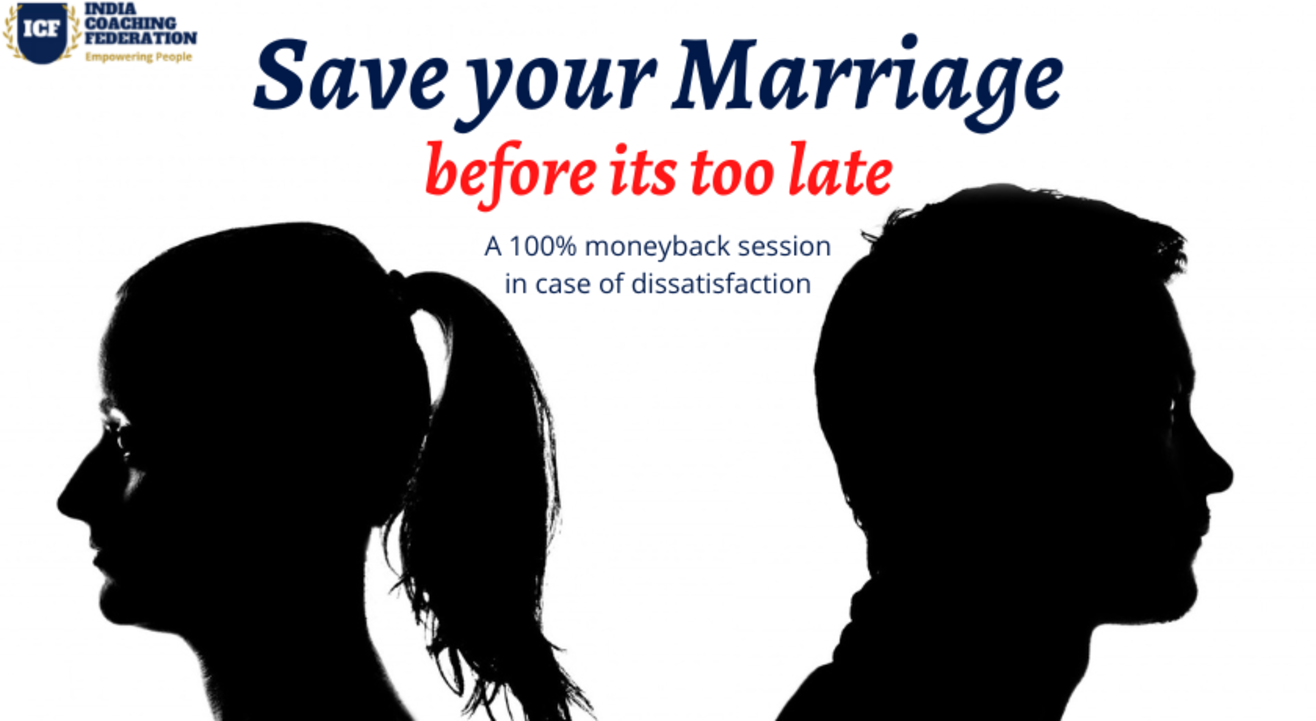 Save your marriage before it's too late
September 12 | 6PM - March 29 | 10PM
Enjoy this event from your home
Event Guide
Masterclass
Learn from an expert
Invite your friends
and enjoy a shared experience
Save your marriage before it's too late
September 12 | 6PM - March 29 | 10PM
Enjoy this event from your home
Event Guide
Masterclass
Learn from an expert
Invite your friends
and enjoy a shared experience
Event Guide
Masterclass
Learn from an expert
Invite your friends
and enjoy a shared experience
Save your Marriage before it's too late, This one to one coaching program is designed to resolve all kinds of problems between a wife & husband which is creating dissatisfaction in their life & Relationship.
A research based and patented relationship coaching session by world's best Life & Relationship Coach Dr. Dhirendra Gautam (Dr.D) & his team of 100+ coaches in India Coaching Federation (ICF). with 100% money back surety in case of dis-satisfaction.
https://www.indiacoachingfederation.com/


This coaching session will cover
Discover and understand yourself better
Understand your relationship challenges and objectives as a wife or husband
Acknowledge your relationship values and goals
Discover your expectation in relationship from your spouse
Get better at conflict resolution and how you can help resolve your marriage & relationship
Why I Am the Way I Am impact of other people in your relationship
way forward to understand and transform your relationship to save marriage.
ABOUT THE COACH
Founder & CEO of India Coaching Federation (ICF) and a global CFO turned Life & Relationhsip Coach Dr. Dhirendra Gautam (Dr.D) has made it his life mission to help people to resolve and transform their life, career, marriage and relationship problem with assured success back. He is Author of bestselling book "Transforming Money & Relationship Challenges" to resolve your Job, career, business and relationship problems with assured success or 100% money.
He has resolved life and relationhsip problems of thousands of people around the world and able to hep couples reconciled their marriage even after 3 to 4 years of separation and withdraw their divorce papers from the court and started living together.
Relationhsip is all about managing the expectation between two people and When it comes to choosing a life partner, he recommends that it's good to be fastidious because marrying RIGHT is the foundation for a good life in general.
He takes the time to understand you and your relationship trajectory in-depth, basis which he would help you build an effective strategy to to resolve relationhsip problems and if your are in looing forward to get married them to find yourself an amazing life partner.
He has already helped more than 1000 of individuals successfully build and realize their relationship aspirations.
Terms & Conditions
You may not be able to attend the live session if you are late.
You may face interruptions during the course of the live stream due to internet connectivity issues.
The coaching session and the coach lined up are subject to change as per the availability
No refunds on purchased tickets are possible, even in case of any rescheduling.
Save your marriage before it's too late
September 12 | 6PM - March 29 | 10PM
Enjoy this event from your home
Event Guide
Masterclass
Learn from an expert
Invite your friends
and enjoy a shared experience