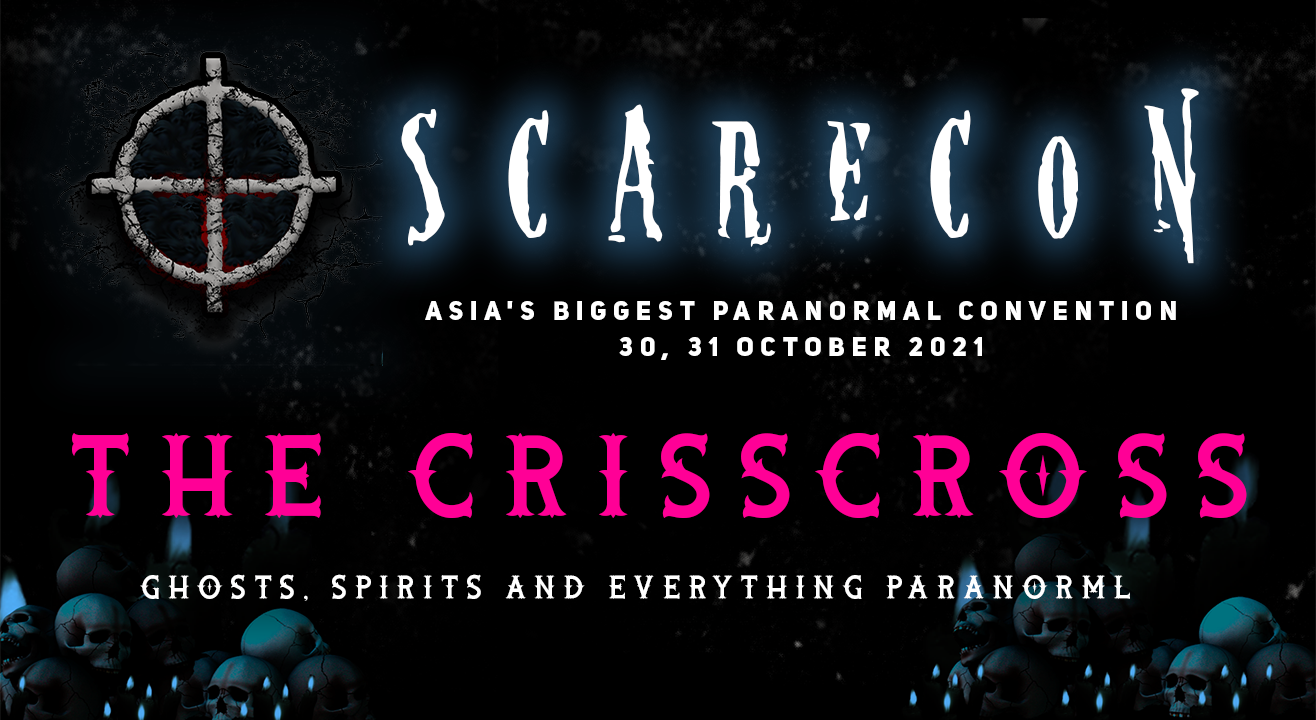 ScareCon India: The CrissCross
October 30 | 10:30AM onwards
Enjoy this event from your home
Event Guide
Digital Event
Live On Insider
Interactive show
Be a part of the show
Invite your friends
and enjoy a shared experience
ScareCon India: The CrissCross
October 30 | 10:30AM onwards
Enjoy this event from your home
Event Guide
Digital Event
Live On Insider
Interactive show
Be a part of the show
Invite your friends
and enjoy a shared experience
Event Guide
Digital Event
Live On Insider
Interactive show
Be a part of the show
Invite your friends
and enjoy a shared experience
Asia's biggest Paranormal convention, ScareCon 2021 returns this year on Halloween to celebrate the Supernatural.
ScareCon's online event, the CrissCross will bring paranormal investigators, authors, filmmakers, psychics, psychologists from across the globe to the comforts of your home. Join us as we share real encounters with the paranormal from across the world, discuss possessions and exorcisms, learn about horror and raise a toast to the spirits of Halloween.
PANELISTS:
BRIAN J CANO: HAUNTED COLLECTOR (SYFY CHANNEL), PARANORMAL CAUGHT ON CAMERA(TRAVEL CHANNEL AND DISCOVERY +)
DUSTIN PARI: GHOST HUNTERS (SYFY CHANNEL), GHOST HUNTERS INTERNATIONAL (SYFY CHANNEL), DESTINATION TRUTH (SYFY CHANNEL)
ALLEN TILLER: HAUNTING: AUSTRALIA (SYFY CHANNEL)
GLENN WILLIAMS: PARANORMAL INVESTIGATOR FROM BALTIMORE PARANORMAL, USA
VISHAL FURIA : DIRECTOR OF LAPACHHAPI, CRIMINAL JUSTICE, CHHORI, FORENSIC AND OTHERS
NEIL D'SILVA : AWARD WINNING AND RENOWNED HORROR AUTHOR OF BOOKS LIKE YAKSHINI, MAYA'S NEW HUSBAND, HAUNTED, THE SPIRITS TALK TO ME AND OTHERS
AARON G THOMPSON: AFTERLIFE RESEARCHER, TV TALENT
CK BISHT: PARANORMAL INVESTIGATOR AND YOUTUBER AT AFTER 12AM CHANNEL
VENITA COELHO: AWARD WINNING AUTHORS OF BOOKS LIKE DARK TALES : GHOST STORIES FROM INDIA, WASHER OF THE DEAD, WHISPER IN THE WIND AND WRITER OF SHOWS LIKE JAISI JAISE KOI NAHI, NA BOLE TUM NA MEINE KUCH KAHA AND OTHER SHOWS.
NIKHIL UPRETEY: AUTHOR AND PODCASTER WITH WORKS LIKE "ON THE VERGE", THE MAUT-E-MATICIANS", HORROR SHOWS LIKE VEHEM AND SIX, AND PODCASTS LIKE SHAYAD ON GAANA AND EK ROZ ACHANAK ON SPOTIFY.
AND MANY MORE.
SCHEDULE
SESSION 1- 10:30 AM - 12:40 PM
1. 10:30am - 11: 30am - Paranormal Meet Up
Psychic Pooja Vijay and Demonologist Sarbajeet Mohanty
2. 11:40am - 12:40pm - हिंदी साहित्य में हॉरर विधा का स्थान (Horror Genre in Hindi Literature)
Nikhil Uprety, Parshuram Sharma, Amit Khan, Manmohan Bhatia,
Shubhanand, Mithilesh Gupta
SESSION 2- 3:00 PM - 6:15 PM
1. 3:00pm - 4:00pm - Bridging the gap between Psychology and Parapsychology
Ms. Varsha A. M (Research Scholar at Karnatak University,
Dharwad), Assistant Professor, Department of P.G studies &
Research in Psychology, Kautubh D. Type (Student of Masters
in Counselling Psychology), Shloka Diwan (Student- Psychology) ,
Tejaswi Bhanu (Student of Masters in Clinical Psychology)
2. 4:10pm - 5:10pm - Ghost Encounters India
Dr. Rahul Kumar (Founder, Paranormal Investigator, Center of
Anomalous Research Bangalore), Arun Kumar A. ( Paranormal
Investigator, Center of Anomalous Research Bangalore), CK Bisht
(Paranormal Investigator, Youtube at After12Am Channel), Shiva
Mohan (Paranormal Investigator at Parapsychology And
Investigations Research Society )
3. 5:15pm - 6:15pm - Horror and the Global Indian Reader
Neil D'Silva, Venita Coelho, K Hari Kumar, Tanushree Podder,
Ell P (Lakshmi Priya)
SESSION 3- 7:15 PM - 9:20 PM
1. 7:15pm - 8:15pm - Horror films bringing out terrifying truth of the society
Vishal Furia, Umang Vyas, Patrick Graham
2. 8:20pm - 9:20pm - Ghost Encounters International
Brian J Cano (Haunted Collector : Syfy Channel ; Paranormal Caught
on Camera : Discovery +), Dustin Pari (Ghost Hunters, Ghost Hunters
International, Destination Truth : Syfy Channel), Allen Tiller
(Haunting: Australia : Syfy Channel), Glenn Williams (Paranormal
Investigator at Boneyard Paranormal Research Group), Aaron G Thompson
(AfterLife Researcher)