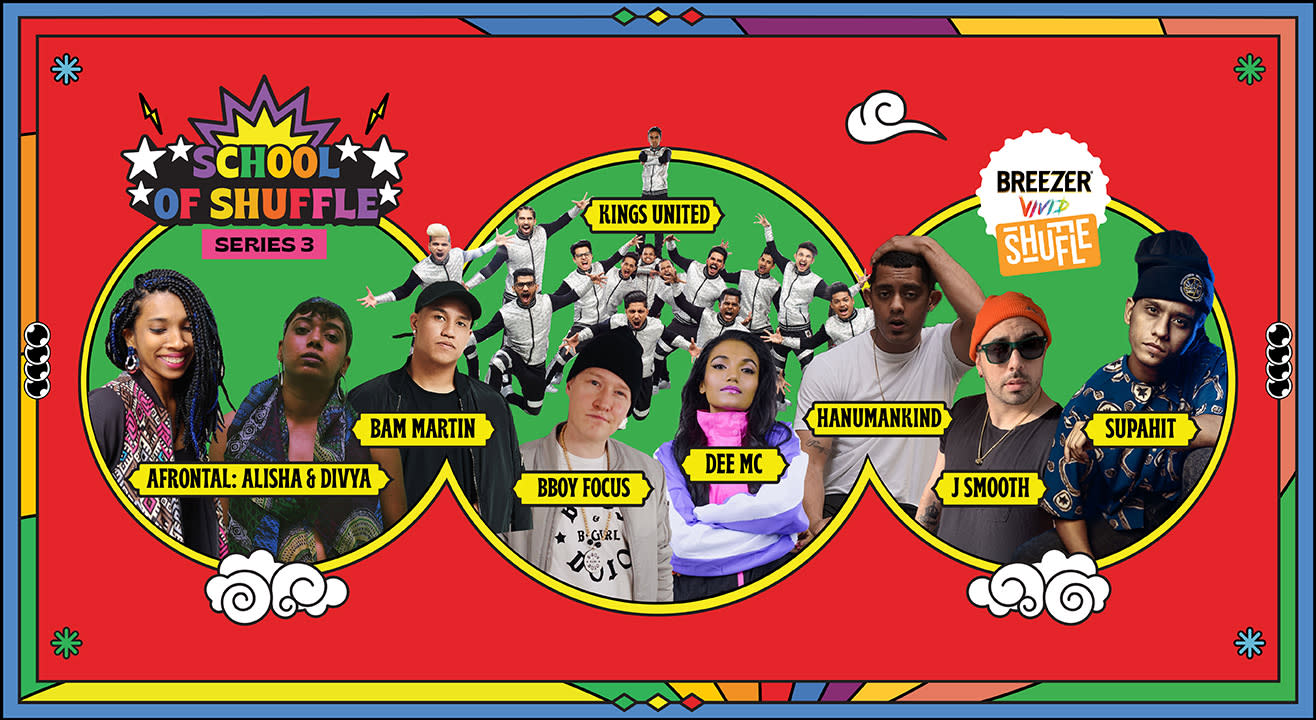 School of Shuffle 2020 is back with Series 3!
#SchoolOfShuffle brings you varied workshops in street art, dance and music where pros of the hip-hop world guide you to take your skills to the next level. Connect with your favourite artists from the comfort of your home and learn their ways to success! Grab your tickets today!
Invite your friends
and enjoy a shared experience
SCHOOL OF SHUFFLE - BREEZER VIVID SHUFFLE 2020 WORKSHOPS
BREEZER Vivid Shuffle is India's first hip-hop league, aimed at giving street art, culture, and performance a national stage. Whether it's breaking, popping, showcase, rap, or graffiti, here's where you can show off your talent, with a Grand Prize of a whopping ₹2 million on the table!
While School Of Shuffle Series 1 and 2 were absolute hits with Alisha Shaikh, Santanu Hazarika, Stunnah Beatz, Sambo Mukherjee, Himanshu Dulani, Zake and Yung.Raj, it's time to be part of Series 3!
What is the lineup for Shuffle 2020?
This year, the School Of Shuffle comprises of:

Thursday, 11th February 2021
19:00 - 20:00 Breaking Workshop - Bboy Focus
20:30 - 21:30 Dancehall Workshop - Afrontal - Divya Easwaran and Alisha Ajit
Friday, 12th February 2021
19:00 - 20:00 Dance Workshop - Kings United India
20:30 - 21:30 Rap Workshop - Dee MC
Saturday, 13th February 2021
19:00 - 20:00 Rap Workshop- HMK
20:30 - 21:30 Dance Workshop - Bam Martin
Sunday, 14th February 2021
17:00 - 18:00 Dance Workshop - J Smooth
19:00 - 20:00 Locking Workshop - SupaHit
Check out the School Of Shuffle Workshops:
Terms and Conditions:
This is a digital event streamed on Zoom
No refunds on purchased tickets
You may not be able to attend the live session if you are late
You may face interruptions during the course of the live stream due to internet connectivity issues
Show details and the artist lineup are subject to change as per the artist's discretion.
The holder of this ticket grants the organizer the right to use all or any part of the recording of the event for advertising, publicity and promotions
The recording of the event will not be shared even in case of non-attendance
For events streamed via Zoom, all attendees need to have an account for which you'll need to meet the eligibility criteria of 18 years and above
We are committed to a respectful, safe environment free from harassment, violence, discrimination, bullying, abuse, and solicitation. All parties, artists and attendees are to be treated with respect and dignity.Participation in activities or behaviours that discriminate on the grounds of race, colour, place of origin, gender, age, marital status, religious beliefs, citizenship, mental and physical abilities, sexual orientation, or any other prohibited grounds within applicable law will not be tolerated
Subscribe to receive our newsletter!
Find the best experiences happening out there in your city or enjoy handpicked content while sitting comfortably at home. Paytm Insider is your go-to place to figure out what to do today!