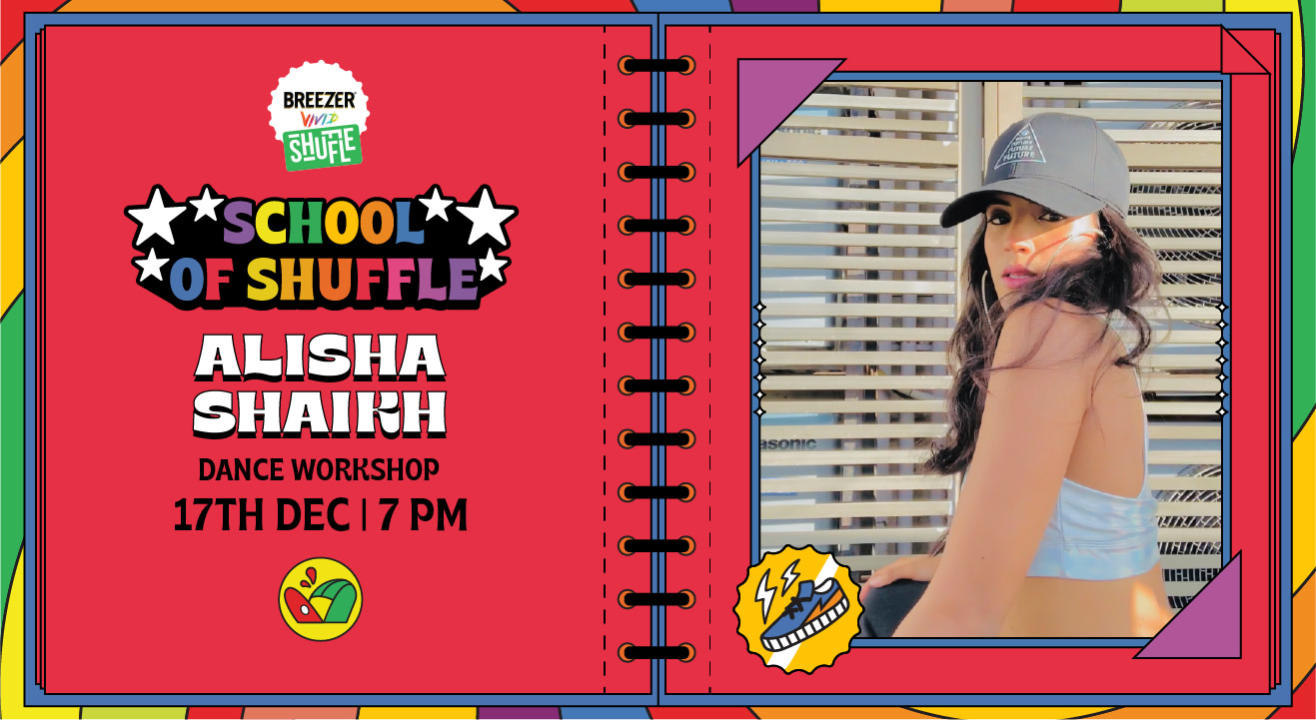 #SCHOOLOFSHUFFLE Dance Workshop by Alisha Shaikh
Enjoy this event from your home
Event Guide
Digital Event
Watch on Zoom
Masterclass
Learn from an expert
Invite your friends
and enjoy a shared experience
Event Guide
Digital Event
Watch on Zoom
Masterclass
Learn from an expert
Invite your friends
and enjoy a shared experience
About the Event
We're extremely happy to announce this year's School of Shuffle – a 4-day learning session brought to you by India's first hip-hop league, Breezer Vivid Shuffle! Well, School Of Shuffle Series 1 was an absolute hit with Stunnah Beatz, Sambo Mukherjee, Himanshu Dulani, Zake and Yung.Raj teaching us the ways in Dance, Art and Music and now it's time to be part of Series 2.
School of Shuffle is meticulously crafted with the aim to give promising young artists and dancers, like you, a chance to learn under industry stalwarts with talented stars like Alisha Shaikh, Tushar Shetty, Santanu Hazarika, Kartik Raja, Spitfire and Sez On The Beat. A skill-building phase that will get you up to speed, School of Shuffle is knowledge-packed and filled with learning opportunities in the fields of dance, art, and music workshops!
About Alisha Shaikh
Born and brought up in Mumbai, Alisha Shaikh is one of the youngest dancers to have turned her hobby into a passionate career in such a little time. The dancer who believes in dancing to the beat of her heart has over time, become a symbol of girl power given the obstacles she has faced in her life. Shaikh has performed and taught at various places across the country and workshop registrations open to you on NOW, so don't wait any further! Register only on Insider to buy your tickets!
Got any queries? Read our FAQs!
Q) What is School of Shuffle?
A) A multi-genre Hip-Hop camp where learning is a party!

Q) When is School of Shuffle Series 1 happening?
A) 17 | 18 | 19 | 20 Dec

Q) Who will be conducting the workshops?
A) Check out the schedule below!

17 December
19:00 - 20:30 - Alisha Shaikh
20:30 - 22:00 - Sez On The Beat


18 December
19:00 - 20:30 - Tushar Shetty


19 December
19:00 - 20:30 - Kartik Raja
20:30 - 22:00 - Spitfire


20 December
19:00 - 20:30 - Santanu Hazarika


Q) Which art forms will be taught?
A) Through the School of Shuffle, you will learn all about the different forms of Hip-Hop ranging from Breaking to Popping to Showcases to Rap & Graffiti.