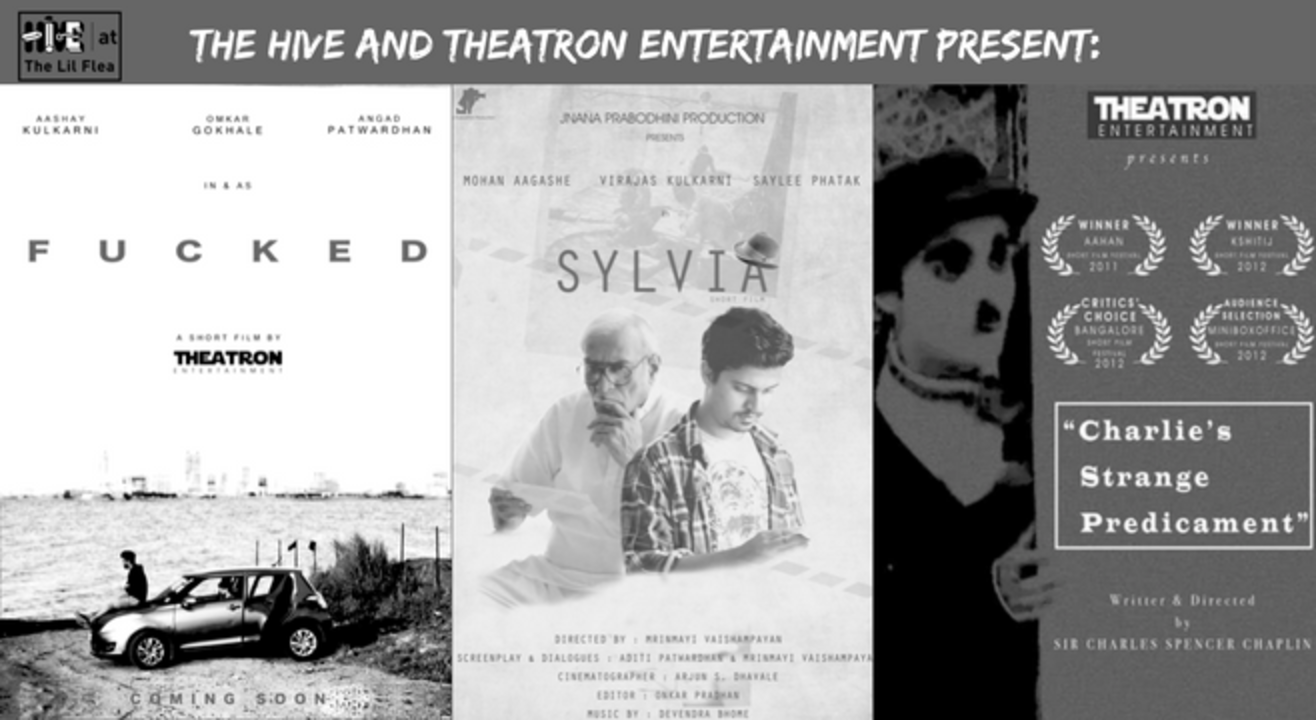 Screening
Screening Of Charlie's Strange Predicament, Sylvia & Fucked
About
Theatron Entertainment is a group of young enthusiasts trying to make a mark in the fields of art, media and entertainment.
The 3 films to be showcased are:
Film : Sylvia
Synopsis: Sarang lives with his grandfather Madhav whom he regards as one of the closest persons in his life. When a letter arrives announcing the arrival of a surprise guest, their relationship goes through a change.
Director : Mrinmayee Vaishampayan
Independent Director and Editor
Masters in Psychology
Short film 'Odyssey' got the 1st prize at MTDC competition in PIFF
Honourable jury mention at Dadasaheb Phalke Film Festival, Delhi
Film: Charlie's Strange Predicament
Synopsis : To commemorate the death anniversary of Sir Charles Spencer Chaplin, this film attempts to recreate his inimitable style. The Little Tramps witnesses a murder, and must use his quick wits to get out of the situation.
Director: Virajas Kulkarni, Jeet Ashok
Laurels : Audience selection at MiniBoxOffice Internaitonal film festival
Special Jury mention at Bangalore International Film festival
Film : Fucked
Synopsis : Two friends accidentally run over a person about to commit suicide, in this comically dark look into human morality. Knowing that by doing the right thing and taking their 'victim' to the hospital would mean risking a huge disruption in their own lives and futures, they must now decide what to do with him before time runs out for them all.
Laurels : Cannés Court Métrage 2018
Iconoclast national film festival 2018
Director: Virajas Kulkarni, Jeet Ashok
Graduated in Film Making from Whistling Woods International.
Currently working as writers and directors for feature films and commercial projects
Helmed over 15 short films, garnering praise from events such as MiniBoxOffice International short films festival, Bangalore International film festival, Kshitij, Aahaan, Banshee, Talenthouse Mobile Short film festival, Iconoclast 2018 and the Short Films Corner at Cannés film festival.
Venue
The Cuckoo Cafe, Mumbai
First floor, above The Cuckoo Club Black Box Theatre | 5AA, Pali Hill Road, Next to Candies, Bandra West, Mumbai, India 400050