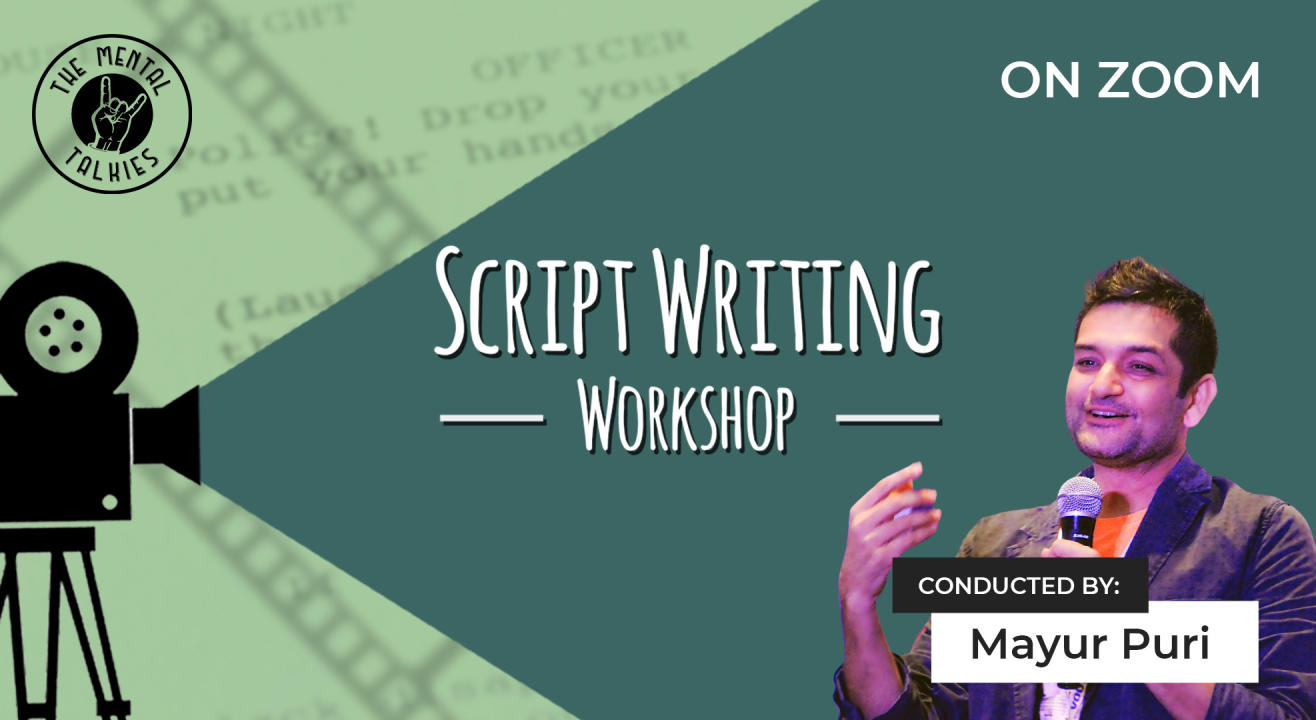 Scriptwriting Workshop with Mayur Puri
Enjoy this event from your home
Event Guide
Masterclass
Learn from an expert
Invite your friends
and enjoy a shared experience
Scriptwriting Workshop with Mayur Puri
Enjoy this event from your home
Event Guide
Masterclass
Learn from an expert
Invite your friends
and enjoy a shared experience
Event Guide
Masterclass
Learn from an expert
Invite your friends
and enjoy a shared experience
The Mental Talkies presents the all new "Scriptwriting Workshop", an innovative workshop program designed to assist new generation storytellers writing stories in the screenplay medium. Trained by a team of highly qualified individuals with process of externalizing a character's internal motivations, telling a story visually and utilizing proper screenplay format which makes for an interactive learning session for students emerging artists.
If scriptwriting is your passion then we will help put your dream into practice.
The following points will be covered in the workshop:
1. Story Structure: Dividing the screenplay into three acts: set up, conflict and resolution


2. Developing the Perfect Beginning and Ending: Knowing the ending of a story can be critical to a writer's success… and the ending has its roots in the beginning.
3. Screenplay Formatting: Standard screenplay formatting provides a visually clear and uncluttered script which is more likely to appeal to the reader, it also helps the writer to emphasize being concise.
4. Basic characteristics of screen story: Skills and tricks while writing effective scripts


5. Development of a basic storyline: The process to take a kernel of thought and turn it into a fully fleshed-out screenplay or pitch.
6. Story structures including The Three Act Structure and alternate story structures.
7. Will have Q&A Session
Mayur Puri has donned many hats over his two-decades-long Bollywood career as a director, film writer, lyricist, and actor, but he primarily is and always will remain a passionate storyteller at heart - a role he'd never grow out of.


He is a leading game-changer responsible for the localization, transcreation and adaptations of various Hollywood films into Hindi translated blockbusters. He has penned the Hindi translation of big-ticket Hollywood films like The Lion King, Avengers – Endgame, Mowgli: Legend of the Jungle, Thor Ragnarok.
He has won over 16 awards for his directorial debut short film 'Firdaws'.


He is also the co-founder of 'Story Circus' – a theatre production group that creates live theatre and storytelling productions for educational institutions, corporates, and theatre enthusiasts.