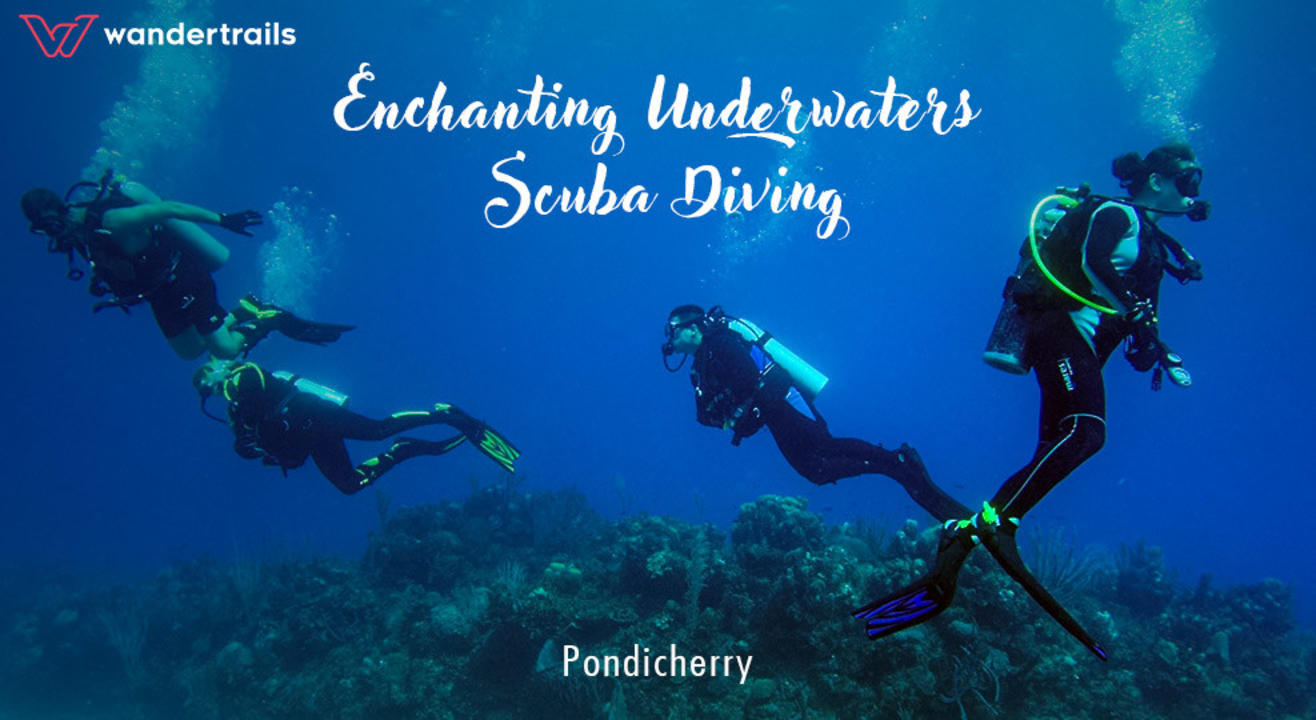 Adventure
Enchanting underwaters - Scuba Diving in Pondicherry
Everyday | September 12 onwards | 2PM
Near Indira Gandhi Sports Complex, Puducherry
About
Still waters run deep in which you can experience the stillness of time, the depth and diversity of the vast marine life. And that is the feeling to be experienced when you go scuba diving along the east coast of India in Pondicherry.
You could be a first-timer when it comes to scuba diving or non-swimmer at that, but through this experience, you could still venture out into the deep sea with experts to guide you through. There will be a 'dive master' or instructor for each individual. You will be provided with scuba diving equipment as you dive to a depth of up to 12 meters. You can either opt for a one-day experience or the sessions can be spread over two days with one theory session, one training session in the swimming pool before you make your way to the deep waters off the coast.
You could revel in the vast stretches of coral reefs as they bristle up with a few "pleasant surprises" when you go near them. Imagine an entire school of fish emerging from a well-hidden cache in the corals, or a seemingly lifeless sea creature suddenly springing into activity once you try to touch it. And yes, for the daredevil in you, sighting a few sharks zip past would give the thrill of a lifetime. There is the diversity of marine creatures to enjoy right from the parrotfish, triggerfish, moray eels, eagle and manta rays, sea snakes, angelfish, lobsters, crabs, banner fish and more! If you're lucky, you will even get a chance to catch a glimpse of dolphins and placid turtles too as you glide along these waters. You will get an opportunity to get some underwater photos of yourself and your fellow scuba diving mates. A certificate of recognition is issued following the completion of the scuba diving course.
The sea is full of hidden treasures, and surprises galore. Experience the uniqueness underwater, by exposing yourself to a world that is entirely different from the life on land through scuba diving in Pondicherry.
Day 0
02:00PM onwards: Theory and Pool Session
Day 1
06:45AM Ocean Dive
03:00PM Debriefing and Photographs

Scuba equipment
Boat ride
Snacks
Scuba certification

Food and drinks
Pick-up and drop-off
Recommended gratuities
Any additional services provide

Personal medication
ID card

Cancellation charges applicable basis duration prior to the date of the commencement of the activity
0-2 days from activity date: 100% booking charges
2-7 days from activity date: 50% booking charges
7-14 days from activity date: 25% booking charges
More than 14 days from activity date: No booking charges

Venue
Near Indira Gandhi Sports Complex, Puducherry
Opposite Colas Nagar, Dr Ambedkar Rd, Uppalam, Puducherry, 605001