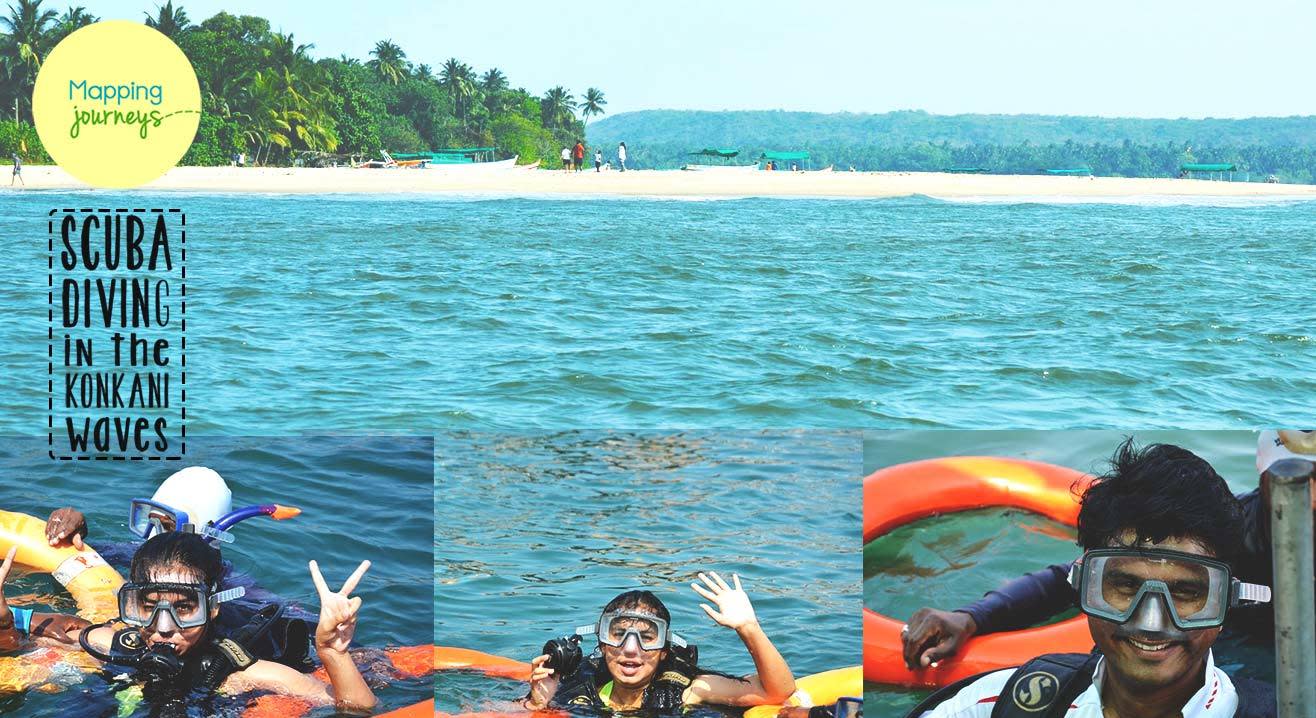 Experiences
Scuba Diving In The Konkani Waves
About
Imagine having your feet curled up in sand until dawn, and the sun forming perfect shades in the sky at dusk. Imagine the waves that you would be within, as you navigate your way in waters while Scuba Diving sun. sand. scuba and more.
About Konkan
Maharashtra's 720-km. coastline and the adjoining area or 'Konkan' as it is called, extends from Dahanu in the north up to Goa in south. Konkan is well known for its natural beauty and is fast emerging as a favorite tourist destination for tourists. Konkan's greenery, coconut trees, beautiful virgin beaches, waterfalls, mountains and lush green valleys will definitely provide a rich and pleasant experience for the traveler.
Sindhudurg Fort.
Nivati beach.
Malvan Beach.
Tarkarli (Water sports, Devbaug Creek, Tsunami island).
Dolphin Safari.
Kunkeshwar Temple and Beach.
Vijaydurg Fort.
Rock Garden.
Cashew Factory.
Malvan Market.
Tondavali Beach.
Day 0 : 22nd Dec (Friday)
Meeting Point : 09:00 pm, Pritam hotel, Dadar.
Pick Up Points :
09:20 pm - Yogi hotel - Chembur.
09:45 pm - Below main bridge - Vashi.
10:15 pm - St Depot - Panvel.

Day 1 : 23rd Dec (Saturday)
08:00 am - Breakfast (Near Kankavli).
10:00 am - Reach Malvan - Check in and fresh up!
12:00 pm - Tarkarli is famous for Water Sports. We'll be hitting the waves for some Water Sports here and then heading towards Tsunami Island and Devbaug Creek!
03:00 pm - Lunch (Tarkarli).
04:00 pm - Post lunch we'll head to explore Sindhudurga Fort, One of the best preserved forts of the Marathas.
06:00 pm - Return Resort.

Day 2 : 24th Dec (Sunday)
06:00 am - Wake Up Call.
07:00 am - Breakfast.
08:00 am - Scuba and Snorkeling!
01:00 pm - Lunch.
02:00 pm - Visit Cashew factory and Rock Garden.
04:00 pm - Chiwla / Nivati beach.
Nivati beach is a secluded cove with a beautiful stretch of white sand beach and a turquoise blue sea to complement it, is without a doubt the main attraction in Nivati.
06:00 pm - Shopping at the Malvan Market.
Head back to the resort later at night for dinner.

Day 3 : 25th Dec (Monday)
07:00 am - Gooood Morning!
08:00 am - Breakfast.
09:00 am - Visit Tondavali beach, an ideal get away for a beach lover!
12:00 pm - Visit the Kashi of Kokan ie Kunkeshwar Temple built along the Arabian sea.
02:30 pm - Vijaydurg fort!
Vijaydurg Fort was called the "Eastern Gibraltar", as it was virtually impregnable. Its locational advantages include the 40 km long Waghotan/Kharepatan creek. Large vessels cannot enter the shallow water of this creek. Also, Maratha warships could be anchored in this creek and yet remain invisible from the sea. It is a protected monument.
03:00 pm - Lunch.
04:00 pm - Leave for Mumbai.
Day 4 : 26th Dec (Tuesday)
Reach Mumbai early morning.
NON AC pushback bus Dadar to Dadar
All Meals, as mentioned
Accommodation Charges (Dormitory / Home Stay type
Accommodation will be provided)
Entry Charges
Scuba Diving Charges
Snorkeling
Professional Expertise
Safety and First Aid
A local guide
Transport till Dadar
Meals during travel
Dolphin Safari
Mineral water
Water sports
Personal expenses
Insurance of any kind
Medical hospitalization, evacuation and related expenses
Any item not covered under "inclusions"
10+ days prior to event - 20% of the total event costs would be deducted.
05+ days prior to event - 40% of the total event costs would be deducted.
03+ days prior to event - 60% of the total event costs would be deducted.
No refund would be provided before 2 days of the event.
Venue
Pritam Hotel, Dadar
Dharamputra, Survey No. 32, Pritam Estate, Dadar T. T, Mumbai, Maharashtra 400014