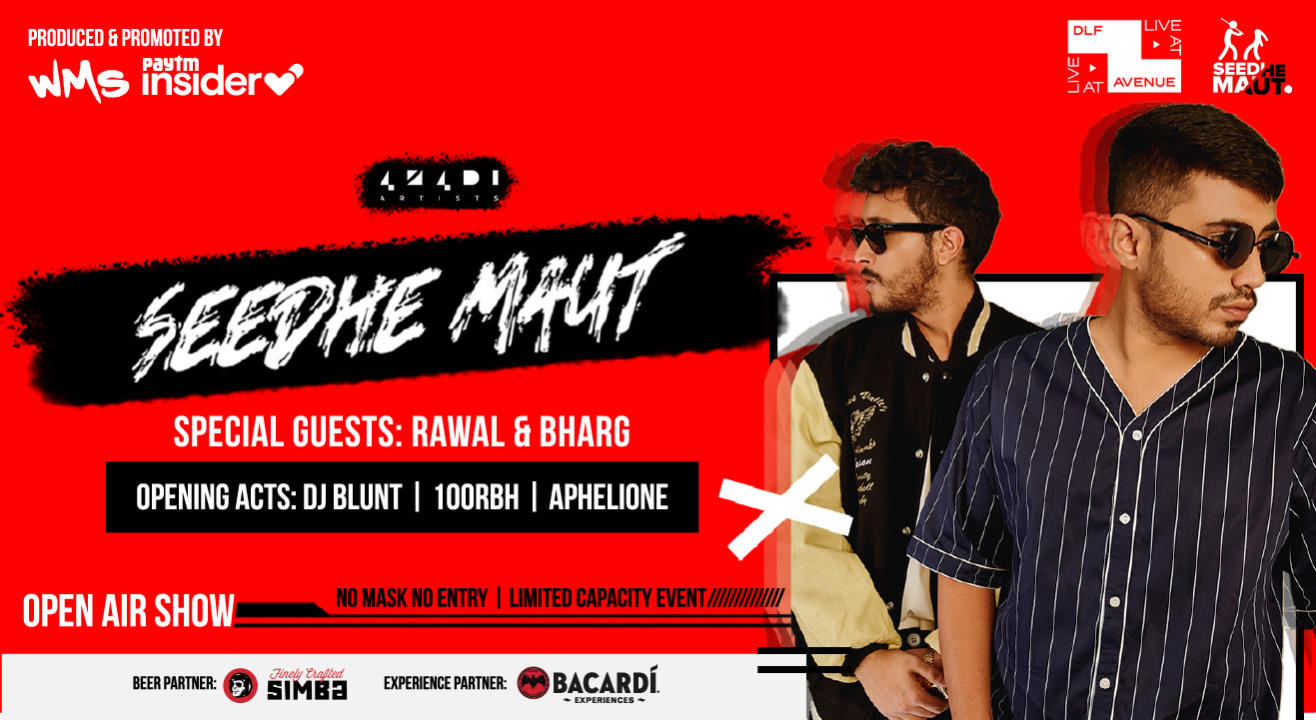 Seedhe Maut, Live at DLF Avenue
Invite your friends
and enjoy a shared experience
Seedhe Maut, Live at DLF Avenue
Invite your friends
and enjoy a shared experience
Covid 19 Safety Measures
This event adheres to the following

Health & safety measures
Social Distancing
Temperature Checks
Face Masks Required
Hand Hygiene Stations
Limited Capacity
Sanitisation before the show
Organisers wear masks
Registered on Aarogya Setu
Invite your friends
and enjoy a shared experience
Covid 19 Safety Measures
This event adheres to the following

Health & safety measures
Social Distancing
Temperature Checks
Face Masks Required
Hand Hygiene Stations
Limited Capacity
Sanitisation before the show
Organisers wear masks
Registered on Aarogya Setu
Time to switch the groove and turn up the heat with the creative force from the capital who are redefining Indian youth culture at every turn.
Paytm Insider and WMS are set to host the next edition of this Live series at DLF Avenue Saket featuring Delhi's own, Seedhe Maut!
Having mastered the art of delivering razor sharp, combative rhymes, this Delhi-based duo comprising Encore ABJ and Calm, have used their lyrical dexterity to push forward the boundaries of Hindi rap and present the language in a revolutionary new format that highlights the emotional power that words can convey.
Seedhe Maut will be supported by DJ Blunt and RBH100 so you definitely do not want miss this!
This is a limited capacity open-air event, so get your tickets NOW!
Gates open: 6:00 pm | No mask, No entry
Bayaan, their introductory album produced in collaboration with Delhi-based hip-hop producer Sez On The Beat, Seedhe Maut have been on a relentless run of form unmatched by any other artist in the Indian artistic landscape.With singles such as 101, Scalp Dem, Do Guna, Ball, MMM / Yaad and Dum Pishaach under their belt in 2020, Seedhe Maut have collaborative albums withelectronic pop producer Ritviz and frequent collaborator Sez On The Beat on the way in 2021 - and their ability to combine pop culture references with socio-politically conscious music has seen them become established as the voice of India's young. In 2021, Seedhe Maut will release their as yet untitled debut album, introducing listeners to their full creative potential.
Rahul 'BLUnt' Dhande, who also goes by the name BLUnt, is a DJ, rapper, music producer, and sound engineer from Mumbai. Having studied Music Technology in the UK for 4 years, BLUnt returned to Mumbai in 2016 and is an active member of the bass/hip-hop crew ViceVersa from Mumbai. Having been active as an engineer, producer, and rapper, BLUnt also rests his hands on decks regularly repping the freshest of Hip Hop, R&B, and Trap music, with chart-toppers to songs you'd wish were more popular. Having been active as a DJ since 2010 and raised on the likes of legendary artists such as Lil Wayne, Jay-Z, Young Jeezy, and Dr. Dre, BLUnt is equally likely to drop a wide array of songs that get the people grooving in their zone from old school Hip-Hop to Modern day classics
100RBH aka Saurabh Abhyankar is rapper, and performer from Amravati, a city from the Vidarbha region of Maharashtra. Growing up in his hometown, 100RBH was exposed to revolutionary, peace-promoting music, in addition to Qawwali and other regional music that soon became his artistic foundation. Today 100RBH is known for his unsparing rap verses and a live-wire persona, he is a sought-after rapper in the Marathi Hip-Hop scene. He is also a prominent member of the multilingual Hip-Hop collective Swadesi and Amravati-based Rap group Raphopper. 00RBH isfeatured on seminal single 'India 91' from the cult Bollywood film 'Gully Boy' among other rappers, and is featured on highly acclaimed single 'The Warli Revolt' by 'Swadesi', that garnered immediate attention as an anthem against the destruction of Aarey Forest in Mumbai.
Can't make it to the gig? Watch the Livestream Here
Frequently Asked Question's:
1. What are the event timings?
6:00 pm to 11:00 pm IST

2. When will gates open?
6:00 pm IST

3. When will gates close?
11:00 pm IST

4. What drinks will be available at the venue?
Red Bull, Bacardi and Water will be available at the show

5. Will food be available? Veg/non-veg/Jain food will be available?
Veg and Non Veg

6. Will there be a separate area for eating?
There will be dedicated FnB stalls in each zone for purchase of required items available on the menu

7. When will the performance start?
7:00 pm IST

8. Who will be the opening act?
DJ Blunt and 100RBH

9. Till what time will the bar be open?
The bar will be open till 11:00 pm IST

10. Will parking be available?
Mall parking can be used

11. What safety precautions will be taken at the venue?
Social distancing, temperature checks, face masks will be required for entry, hand hygiene stations will be available at the venue, this will be a limited capacity event, sanitization will be done for all attendees before the show, organizers and onground staff will wear masks and registration on Aarogya Setu will be mandatory for entry.

12. Will cigarettes be available at the venue?
Yes, you can also carry your own cigarettes' to the venue. Do note, lighters will not be allowed inside the venue.

13. Will there be a smoking area available?
Yes.
DLF Avenue Saket
A4, Press Enclave Marg, Saket District Centre, District Centre, Sector 6, Pushp Vihar, New Delhi, Delhi 110017
GET DIRECTIONS
Seedhe Maut, Live at DLF Avenue
Invite your friends
and enjoy a shared experience