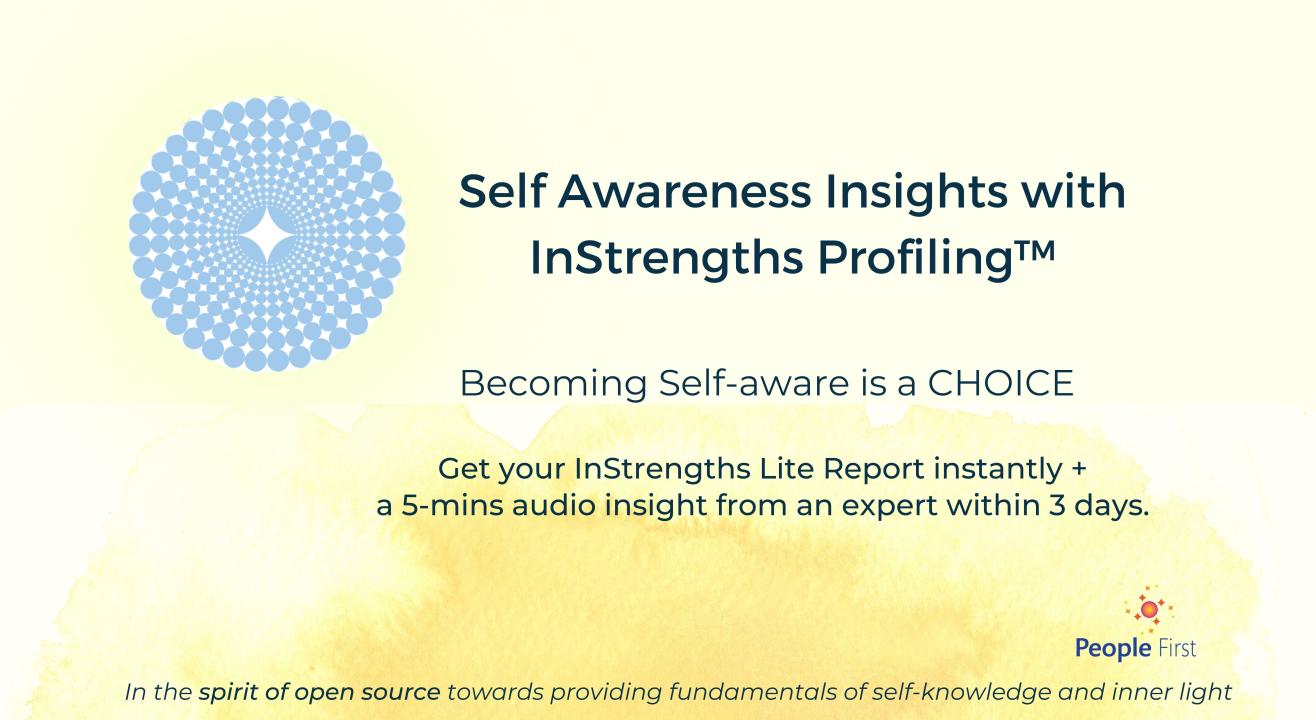 Self Awareness Insights with InStrengths Profiling™
June 17 | 10AM - June 30 | 10PM
Enjoy this event from your home
Event Guide
Live Fitness
Workout with a pro
Invite your friends
and enjoy a shared experience
Self Awareness Insights with InStrengths Profiling™
June 17 | 10AM - June 30 | 10PM
Enjoy this event from your home
Event Guide
Live Fitness
Workout with a pro
Invite your friends
and enjoy a shared experience
Event Guide
Live Fitness
Workout with a pro
Invite your friends
and enjoy a shared experience
Become aware of the richness of 8 parts of our inner self. Get to know how much you access those 8 parts & your patterns in life & work.
InStrengths Profiling™ is a self-awareness tool which maps quality of inner being and inherent strengths. (Body, mind, emotion, thoughts & Deeper Self).
Once you take the tool you will receive your InStrengths™ Lite Report instantly in the download section of your login. Along with this we have introduced a new feature, in which you will receive a 5-mins audio insight from an expert which is customized basis your report (You will receive your audio insights in an email, within three working days).
The lite report & the 5-minute audio is a complementary offerings, with an aspiration to benefit more individuals & add a drop of solution to the collective.
Take the tool at www.beingadvantage.com, & receive your report & audio. For any support or queries feel free to reach out to us at toevolve@poeplefirst.co.in
Here are some steps for you to follow.
1. Visit www.beingadvantage.com to take the InStrengths Profiling Tool.
2. Complete the login process,
3. Take the InStrengths Profiling Tool,
4. Download your InStrengths Insight Report instantly,
5. Receive the 5 min audio insights within 3 working day.
Sample 5 minute expert audio
Self Awareness Insights with InStrengths Profiling™
June 17 | 10AM - June 30 | 10PM
Enjoy this event from your home
Event Guide
Live Fitness
Workout with a pro
Invite your friends
and enjoy a shared experience