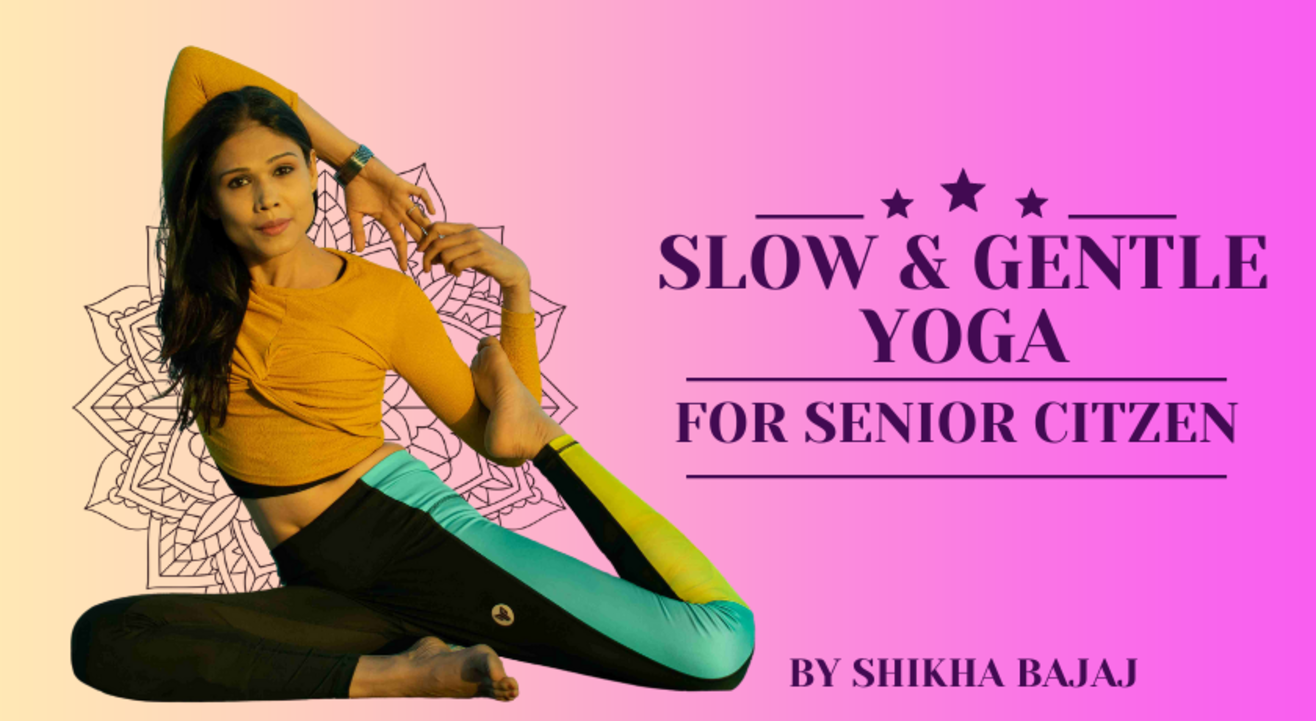 Senior citizens Yoga Workshop
January 1 | 9AM - February 1 | 10AM
Enjoy this event from your home
Event Guide
Live Fitness
Workout with a pro
Invite your friends
and enjoy a shared experience
Senior citizens Yoga Workshop
January 1 | 9AM - February 1 | 10AM
Enjoy this event from your home
Event Guide
Live Fitness
Workout with a pro
Invite your friends
and enjoy a shared experience
Event Guide
Live Fitness
Workout with a pro
Invite your friends
and enjoy a shared experience
Yoga refreshes your mind and spirit. Tones your body. Keep your internal organs and hormonal system in balance. All the more reason for people of all ages to do yoga. In fact, yoga asanas are one of the few physical exercises you can continue doing as you age. As age progresses, it is more important to focus on HOW YOU DO rather than how much you do.
What you'll learn
Learn yoga and chair yoga sequences and one wall sequence
Develop flexibility, mobility, strength, balance, and coordination
Learn how to combine seated and standing poses for a well-rounded practice
Optimize your stress response through mindful awareness
Requirements
A chair with a back but no arm rests, that allows your feet to rest on the floor


A blank section of wall you can lean against


A yoga strap, belt, scarf OR dish towel to use as a prop (optional)


No experience required
Description
Movement is medicine. Treat yourself (or a loved one) to this program of movement "vitamins"!
The focus of this program is on actual class time. There are 20 classes in total, each one between 40 and 50 minutes long.
Every class begins and ends with a brief check-in/meditation to help you get centred. Poses are presented along with possible modifications, i.e. ways to adapt these movements to your own particular needs and abilities. At the end of each class, there is another brief check-in/meditation to integrate the benefits of your practice.
Each class is a complete and balanced session in itself, but it is the cumulative effect of these classes, done in order, that has the potential to really expand your movement capacity. Designed as a gentle progression, this practice builds flexibility, mobility, strength, balance, coordination and confidence. An "active recovery" class halfway through the program provides an opportunity to release tension and enjoy some ease.
This Course Includes 3 Easy Classes:
Slow Flow - Level 1: Starts off slow so you can build a strong foundation. You'll stay seated on the chair for the entire practice and focus on opening up your neck, shoulders, and hips.
Balance & Stability - Level 2: Slightly faster paced. You'll integrate some standing poses while using the chair for balance and stability. This is the perfect class for people who are working at slowly regaining their strength and mobility back.
Quick Energizer - All Levels: Designed to quickly give you a boost of energy through several simple poses including twists, side bends, and forward folds. It's the perfect class to do on your lunch break at work or any time you're feeling lethargic.
This program is perfect for:
beginners looking for a low-risk, low-stakes way to try yoga for the first time
seniors looking for exercise that is easy on the joints and known to reduce aches and pains
those who because of injury or limitations in mobility want to avoid standing poses and/or floor poses
anyone who is sedentary and wants chair exercises to offset the negative effects of prolonged sitting
anyone that can benefit from a convenient and affordable chair yoga program
Who this course is for:
Seniors looking for joint-friendly exercise that is engaging and adaptable
Beginners looking for a low-risk, low-stakes way to try yoga for the first time
Yoga teachers hoping to add to their repertoire of chair yoga poses
Anyone looking for yoga sequences that don't include floor work or freestanding poses
Anyone with balance issues who needs the support of a chair or wall
Anyone who wants to break up prolonged periods of sedentary work with chair exercises
Anyone who could benefit from a convenient and affordable chair yoga program
Senior citizens Yoga Workshop
January 1 | 9AM - February 1 | 10AM
Enjoy this event from your home
Event Guide
Live Fitness
Workout with a pro
Invite your friends
and enjoy a shared experience