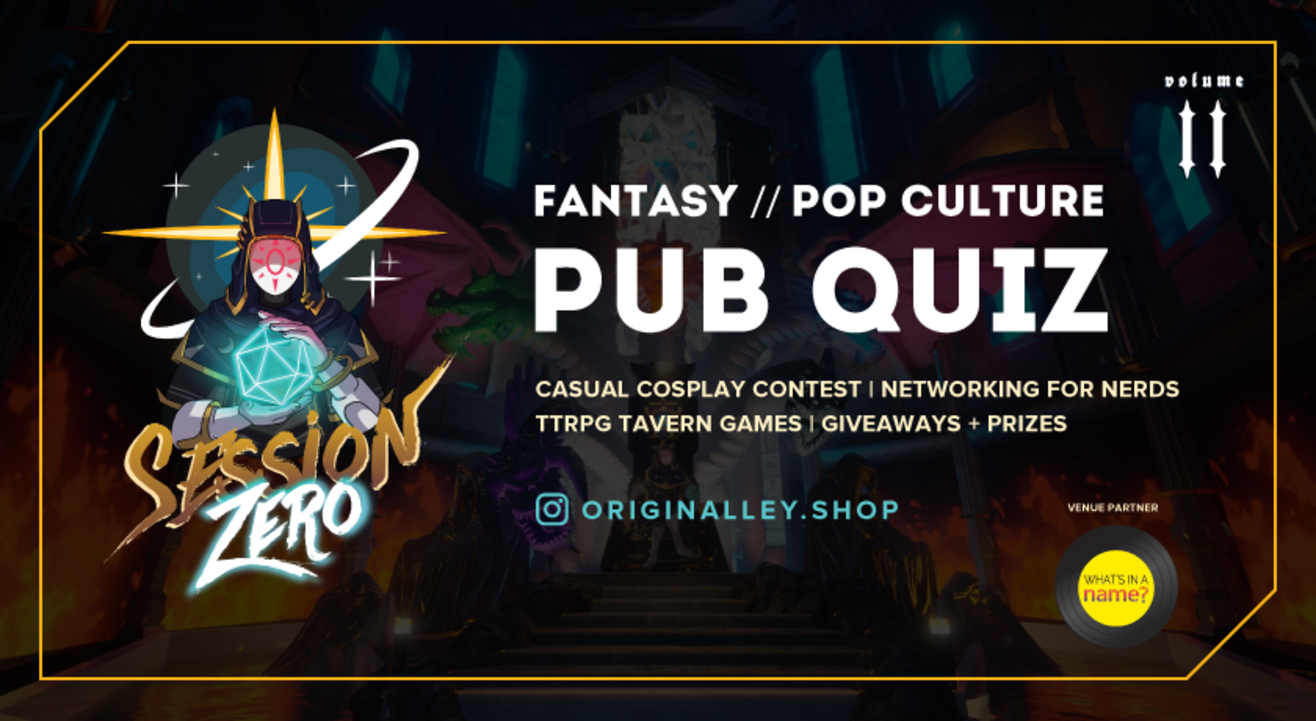 What's In A Name, Bengaluru
Event Guide
Game
Participate and have fun
Invite your friends
and enjoy a shared experience
What's In A Name, Bengaluru
Event Guide
Game
Participate and have fun
Invite your friends
and enjoy a shared experience
Event Guide
Game
Participate and have fun
Invite your friends
and enjoy a shared experience
Have you gotten tickets yet?
✨ Date: Sunday, 13th August 2023 ✨
✨ Venue: @whatsinanamebluru , Koramangala ✨
Join the intrepid Crew as they bring you more TTRPG-themed fun. The party never stops for nerds doing nerdy things but this party is going to be a little different.
✨ What can you Expect? ✨
We will be hosting our fantasy/sci-fi pub quiz, a casual cosplay contest, and the tabletop Origin Alley Store. In Addition, we will have some exciting tavern mini-games for all you adventurers to take part in for some laughs (and maybe some shots)! We will also be showcasing our first beginner-friendly intro campaign to help our newer adventurer friends ease themselves into the intricacies of 5e
✨ This event isn't only for TTRPG adventurers! ✨
This event is to celebrate fantasy and there to create a space where like-minded nerds get to hang out with each other.
Any story from any fictional universe counts as fantasy.
That includes all Anime, Superhero Comics and Movies, Fictional Books, and even Video Games.
If you want to dive deeper into this rabbit hole, cosplay, and role-play are heavily encouraged to make this experience a unique one for everyone involved!
Hoping to see you all at the event! ✨
Ticket price is for ENTRY only. There will not be any cover charge for this event.
This ticket entitles the Holder entry to the Origin Alley event specified on the ticket face, subject to T&C.
Entry to the Event premises will only be given to valid ticket holders.
Please carry valid ID proof. Alcohol will not be served to minors and people under the age limit.
The Venue's standard rules are applicable. Violation of any of the rules or misconduct in any form can lead to being vacated from the event premises without refund or compensation of any sort. Please be nice.
This Ticket is non-refundable.
FOLLOW US ON INSTAGRAM TO STAY UP TO DATE ON ALL FUTURE EVENTS, PRODUCT LAUNCHES AND OFFERS.
PLEASE DRINK RESPONSIBLY AND PLAN A SAFE RIDE HOME!
What's In A Name
146, Upper Ground Floor, Jyoti Nivas College Rd, next to William Penn Showroom, KHB Colony, 5th Block, Koramangala, Bengaluru, Karnataka 560095, India
GET DIRECTIONS
What's In A Name, Bengaluru
Event Guide
Game
Participate and have fun
Invite your friends
and enjoy a shared experience