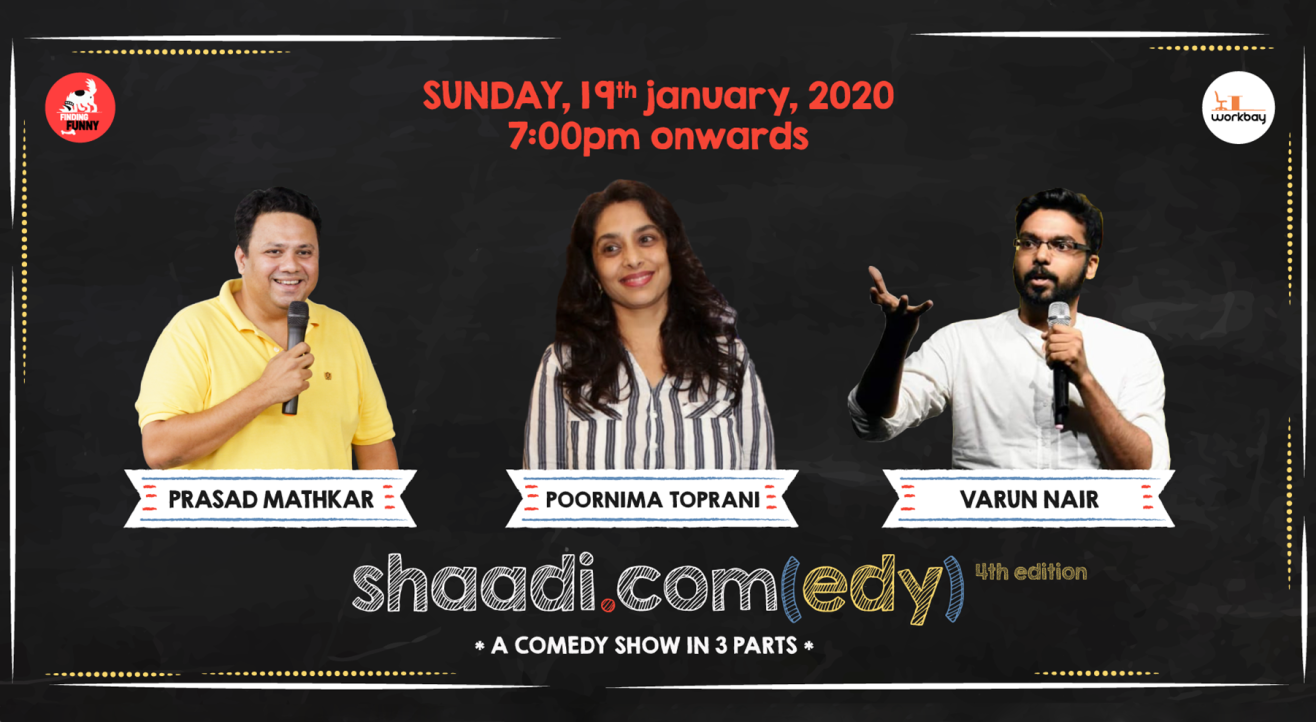 Shaadi.com(edy), a comedy show in 3 parts - Fourth Edition
Invite your friends
and enjoy a shared experience
Invite your friends
and enjoy a shared experience
About the Event
"Marriage? That's for life! It's like cement!"
- Woody Allen
Join Prasad Mathkar, Varun Nair and Poornima Datta Toprani for the fourth edition of this rib-tickling show, as they share their own tragically funny realities and their own takes on what it means to be a married man today.
Gossip about wives, in-laws, offspring and everything that comes with the proverbial "laddoo"; be warned, no topic is off the table and no subject is below the belt.
About the performers:
Varun Nair, once, fell down a gutter for picking up a cricket ball and everyone laughed at him. He thought he was funny and is trying stand up ever since. He has never played cricket since that incident but let's see what happens with his stand up career.
Prasad Mathkar has what you might call a love-hate relationship (more hate than love) with, well everything. Photographer by day, filmmaker by night and stand-up comedian by midnight, he has travelled far and wide in search of two things; cold weather and few people. Having clearly failed in that mission, he now uses Stand-up comedy to distract and bring laughter... the audience is distracted and he's laughing.
Poornima Datta Toprani
A Law and Mass Communication graduate and a Creative Director of films, she moonlights as a stand up comedian, highlighting midlife humour - including the challenges of being a millennial wife and mom.
Humour scarred, after 25 years of marriage, she still thinks she is the Big Boss of the reality show called Marital Madness!
WorkBay, Mumbai
1st Floor, Deepjyot Bungalow, Church Avenue,Off SV Road, Santacruz W, Mumbai, India 400054
GET DIRECTIONS