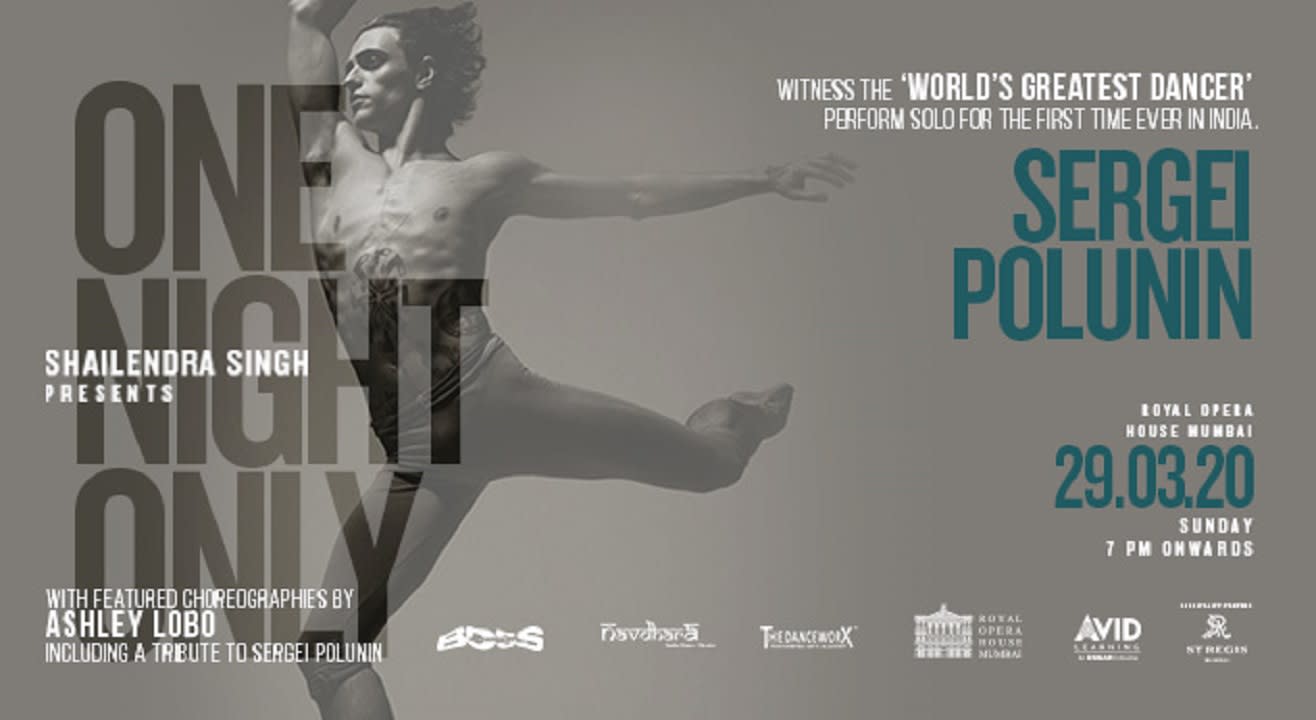 Shailendra Singh Presents: One Night Only with Sergei Polunin
The Royal Opera House, Mumbai
Invite your friends
and enjoy a shared experience
Invite your friends
and enjoy a shared experience
About the Event
Witness the 'World's Greatest Dancer' and the 'James Dean of Ballet' perform live for the very first time in India! International Ballet Star and Prodigy Sergei Polunin will give a coveted solo performance of his globally renowned piece Sacré at Royal Opera House, Mumbai! Made possible by Entertainment and Sports Guru Shailendra Singh, the evening will feature tribute performances curated by Founder and Artistic Director of The Danceworx and Navdhara International Dance Theatre Ashley Lobo with a special cameo by homegrown Ballet Prodigy and Dancer Manish Chauhan, star of Netflix original film Yeh Ballet!
Sacré is a dance theatre piece by Yuka Oishi, Japanese dancer and Choreographer, reinterpreting Stravinsky's infamous "Sacre du printemps" – the very scandalous piece that was created by Vaslav Nijinsky for the Ballets Russes in 1913. On stage will be just one legendary dancer, Sergei Polunin.
The Solo is inspired by Nijinsky's demand for a "feeling, not thinking Human", by masterpieces of the Art Brut – the movement of the outsider art, by the essence of rebellion.
Starring : SERGEI POLUNIN
Choreography : YUKA OISHI
Music : THE RITE OF SPRING BY IGOR STRAVINSKY
Costume designer : LUCIA NETZER-PEDUZZI
Lighting designer : KONSTANTIN BINKIN
Ukrainian dancer Sergei Polunin is a former Principal of The Royal Ballet. He trained at The Royal Ballet School and graduated into the Company in 2007 as an Artist, promoted to Soloist in 2008, First Soloist in 2009 and Principal in 2010. He resigned from the Company in January 2012.
Polunin joined The Royal Ballet School in 2003 aged 13. His Royal Ballet repertory included roles in Dances at a Gathering and Rhapsody, Solor and Bronze Idol (La Bayadère), Des Grieux (Manon), Hans-Peter/Nutcracker and the Prince (The Nutcracker), Prince Florimund (The Sleeping Beauty), Prince (Cinderella) and Lensky (Onegin). He created the role of Jack/Knave in Alice's Adventures in Wonderland. He returned to the Company as a Guest Artist in 2013 to dance Armand (Marguerite and Armand) with Tamara Rojo. After leaving The Royal Ballet Polunin went on to dance with the Stanislavsky and Nemirovich-Danchenko Moscow Music Theatre, where his roles included Prince Siegfried (Swan Lake), Albrecht (Giselle), Frantz (Coppélia), Basil (Don Quixote), Solor and Crown Prince Rudolf (Mayerling). He has also appeared around the world as a guest artist.
Polunin's many awards include gold medals in the Prix de Lausanne and the Sixth Lifar International Ballet Competition, Young British Dancer of the Year (2007), the Youth America Grand Prix (2007), Critics' Circle Outstanding Male Performance – Classical and Rising Star (2009) and nominations for Critics' Circle Best Male Dancer (2010, 2011) and a Golden Mask (2014). In 2015, he starred in a breathrough, crossover music video for Hozier's Take Me To Chruch, directed by David LaChapelle, following it up with another music video for Hozier's Movement. In 2017 he starred in Steven Cantor's documentary film Dancer and in 2019, debuted as Romeo alongside world-renowned ballerina Alina Cojocaru in dramatic re-telling of the greatest love story of all time at the Arena di Verona in Italy.
Shailendra Singh is the Inceptor of Percept Ltd (India's first and only entertainment, media and communications conglomerate), Sunburn (3rd largest dance music festival in the world – 2014) and Guestlist4Good (the world's first and largest entertainment4good social enterprise). He is also a Serial Entreprenuer, having successfully launched 23 startups in 23 years. As Entertainment and Sports Maverick he has produced 72 full-length feature films; was ranked as 12th most powerful man in Bollywood; awarded 16 national awards including Best Film & Best Director for Kanchivaram; is the bestselling author of F?@k Knows and The True Story of Sunburn; created and sold over 4000 ad campaigns; conceptualized and executed over 2500 of India's largest live events; launched India's first global and local talent management agency for sports, music, movies and fashion; brokered deals valued at over $4 billion across cricket, football and boxing - including the largest cricket sponsorship deal in world history. He is Asia's largest music promoter and the only Indian ever to be ranked in the 50 Most Powerful People in EDM (inthemix).
About Partners
BOSS Entertainment is India's largest youth activation company. They are an independent team of versatile, creative free-thinkers, expending thier time and effort on things that excite and inspire them. Creative Dreamers, Brand Guardians, Graphic Designers, Marketing Professionals, Event Managers, Storytellers, Intellectual Property Masterminds, Campaign Writers, Production Experts, Social Media Amplifiers, Content Producers – they've been known by many names, but everything they do is with the mission to excite and inspire the new, young India. BOSS is not a person, it is an energy.
Follow Sergei Polunin
https://www.instagram.com/poluninink/
https://www.facebook.com/sergeipolunin.dancer/
Follow Shailendra Singh
https://www.instagram.com/shailendrasingh/
https://www.facebook.com/ShailendraS7/
Royal Opera House, Mumbai is widely touted as Mumbai's Cultural Crown Jewel and India's only surviving Opera House. The original idea for the space was conceived of in 1908, inaugurated in 1911 by King George V, and eventually completed in 1916. The design incorporated a blend of European and Indian detailing. The space became a cinema in later years before falling into disrepair and shutting by the 1990s. Fittingly, the space has been owned by the Royal Family of Gondal since 1952 and was eventually restored by conservation architect, Abha Narain Lambah under the leadership of His Highness, Maharaja Shri Jyotendrasinhji of Gondal. The Royal Opera House Mumbai, now one of the last remaining Baroque structures in the city, reopened after 23 years in October 2016. The building was included on the 2012 World Monuments Watch to raise awareness about its history and significance, and support preservation efforts. The building has since been recognized with an Award of Merit in the 2017 UNESCO Asia-Pacific Awards for Cultural Heritage Conservation. The restored facilities feature a 575-seater 3-level auditorium with an orchestra pit and state of the art technological upgradations, including acoustics, stagecraft, lighting and air-conditioning, alongside retaining the old-world charm of the proscenium stage, the royal boxes and the magnificent regal chandeliers. Some more enhancements to the venue include a motorized screen, co-axial ceiling speaker system, Four-zone volume control and all round wifi access. Today, it stands as a key performance and creative hub in the city's cultural landscape, while being a premier heritage landmark.
Facebook: MumbaiOpera Twitter: @MumbaiOpera Instagram: @mumbaiopera
Avid Learning, the cultural philanthropy arm of the Essar Group founded in 2009 has, over the past decade, grown into one of Mumbai's leading public programming platforms and is firmly entrenched in the country's wider cultural ecosystem. Over the years, AVID has gained a reputation for curating thought provoking, innovative and path-breaking content that is intellectually and creatively stimulating and engages with a variety of topical subjects and trends. Our thoughtfully curated and diverse events embrace the spirit of collaboration to bring together the best of Indian and international writers, artists, intellectuals, cultural experts, policymakers and industry leaders across Visual Art, Literature, Culture and Heritage, Education, Design & Technology and the Performing Arts through engaging and dynamic formats like panel discussions, workshops & master classes, roundtables, lecture demonstrations, festival platforms, symposiums & conferences, multidisciplinary performances and walkthroughs. We seek to democratize the arts, create new audiences, and deepen engagement by providing a platform that gives equal access and opportunity to new learners, fresh voices and nascent minds in order to nurture future stakeholders for the creative community in India. To date, AVID has conducted over 1150 programs and connected with more than 140,000 individuals, a widely eclectic group of life-long learners including students, patrons, practitioners, influencers, thought leaders and cultural & creative enthusiasts in Mumbai, Delhi, Jaipur, Bangalore, Goa and Gujarat. We have also made our mark internationally, with events and collaborations in Dubai and New York. We regularly collaborate and partner with institutions, organisations and initiatives like the Federation of Indian Chambers of Commerce and Industry (FICCI), one of the apex bodies that impact cultural policy and the creative sector as a whole. We have been at the helm of programming at the Royal Opera House, Mumbai India's only surviving Opera House since its reopening in 2016. We believe in the importance of arts for social change and we regularly offer our support and platforms for Social Advocacy. Thanks to a dedicated and innovative team, as well as a growing and evolving community of learners, AVID continues to give truth to the belief that Learning Never Stops!
Facebook: @AvidLearning Twitter: @AvidLearning Instagram: @AvidLearning
Navdhara India Dance Theatre (NIDT) is a contemporary dance company based out of Mumbai, India, founded by Indian-Australian choreographer Ashley Lobo. It was set up with the aim of helping out young dancers in India channelize their creative energies and to give them a platform to reach out and communicate with an international audience. Combining the physical methodologies of western dance and the spiritual philosophies of India and Indian dance, including some thoughts from the ancient Indian gurukul system, NIDT seeks to allow newer methodologies and works of theatre and dance to come through. The focus is simplicity and communication. Sharing thoughts through this universal movement language, so all boundaries disappear and Navdhara or 'new flow' is achieved. To this end, all dancers have a strong western dance technique and this is then combined with indigenous tools like yoga, ancient Indian movement, meditations, and Indian classical and folk dance, to create a unique blend that just 'is'. A movement style that is neither eastern nor western in nature, but completely universal. The only allegiance being to the truth of breath and prana or life energy.
The Danceworx comprises of The Danceworx Academy and The Danceworx Student Repertory Company.The Danceworx Academy was set up by Indian-Australian choreographer Ashley Lobo in November of 1998 to teach dance along the lines of dance institutes overseas. Currently, its curriculum consists of styles such as Jazz, Classical Ballet, Contemporary Dance & Urban/Funk. Today, The Danceworx Academy has a huge student database all over New Delhi, NCR and Mumbai.The Danceworx Student Repertory Company was set up with senior students hand-picked by the Artistic Director Ashley Lobo. These budding artists are given opportunities to perform, teach and choreograph. They have a special curriculum set by the Artistic Director.
The Royal Opera House, Mumbai
Mathew Rd, Charni Road East, Opera House, Girgaon, Mumbai, Maharashtra 400004
GET DIRECTIONS