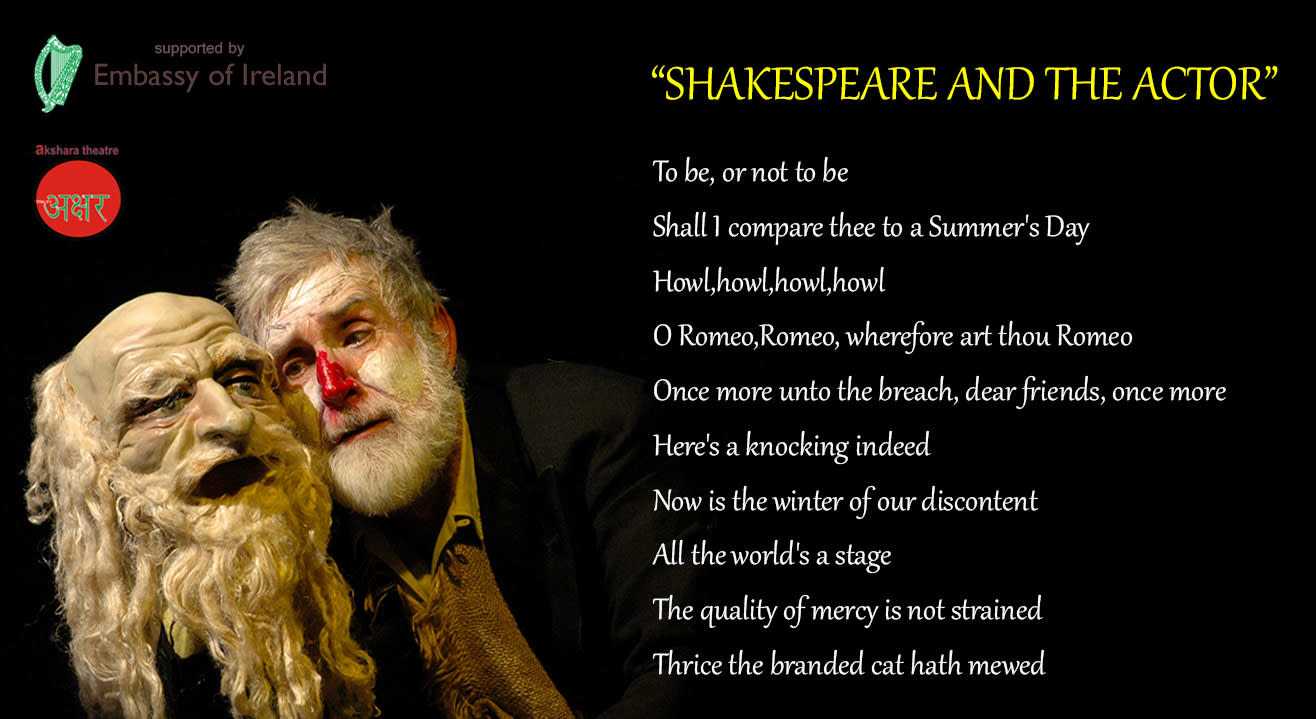 Shakespeare And The Actor
The central Club of Comedy, Akshara Theatre, Delhi
Step out and enjoy this event
Invite your friends
and enjoy a shared experience
Shakespeare And The Actor
The central Club of Comedy, Akshara Theatre, Delhi
Step out and enjoy this event
Invite your friends
and enjoy a shared experience
Invite your friends
and enjoy a shared experience
Eminent Irish actor Denis Rafter uses the instinctive art of the Irish Storyteller bring out from each actor and actress the essence of the Shakespeare text, focusing on:
- how to tell the truth of the story
- maintaining the poetic brilliance of the text
- maintaining the passion and emotion of the character
- being true to the character within the context of the play and in relationship to the other characters
- involving the audience emotionally and intellectually with the play
As his basis, he will be using some of the most famous monologues from Shakespeare:
1. Now is the winter of our discontent
~ Richard III, Act 1, scene 1.
2. Once more unto the breach, dear friends, once more;
~ Henry V, Act 3, scene 1.
3. Here's a knocking indeed!
~ Macbeth, Act 2, scene 3.
4. Be not afeard. The isle is full of noises
~ The Tempest, Act 3, scene 2.
5. Shall I compare thee to a summer's day?
~ Sonnet XVIII
6. O Romeo, Romeo! wherefore art thou Romeo?
~ Romeo and Juliet, Act 2, scene 2.
7. Speak the speech, I pray you, as I pronounc'd it to you,
~ Hamlet, Act 3, scene 2.
8. Friends, Romans, countrymen, lend me your ears;
~ Julius Caesar, Act 3, scene 2.
9. To be, or not to be; that is the question:
~ Hamlet, Act 3, scene 1.
10. All the world's a stage,
And all the men and women merely players;
~ As you like it, Act 3, scene 1.
Participants are advised to familiarize themselves with these speeches and learn at least one of them by heart. The roles need not be gender specific, i.e. a woman could play Romeo and a man could play Ophelia.
Denis Rafter is a highly acclaimed actor and director. Originally from Ireland, Rafter has spent most of his professional theatre career working in Spain. He first studied acting at the Abbey Theatre in Dublin and later at the Guildhall School of Music and Drama in London. In Spain he has directed over fifty shows including plays by Sophocles, Shakespeare, Calderon, Valle Inclan, Beckett, Pinter and many contemporary writers such as Martin McDonagh, Mike Bartlett as well as many of Spain's current playwrights.
He is a versatile actor who has played in the works of writers such as, Sophocles, Shakespeare, O'Casey, Merriman, Carroll, Synge, Stopped, Chekhov and Simon. He has also written and performed his own one man shows. These shows have been presented with critical acclaim throughout Spain and internationally. His show on Oscar Wilde won the Best Solo-Show award at the Edinburgh Festival. He holds a Doctorate on the Theory, History and Practice of Theatre from the University of Alcala de Henares (suma cum laude) and has published a book on Shakespeare Hamlet y elActor.
Critical Acclaim
His performances have been hailed in the international press. "He has the storyteller's art", said the Irish Times. Time Out said: "Rafter looks deep…to find a touching humanity that is as unexpected as it is pleasing", and The Scotsman summed it up as: "It works…phenomenally well".
The central Club of Comedy, Akshara Theatre
11-B, Baba Kharak Singh Marg. Next to RML Hospital exit no. 5, Closest Metro Stations: Rajiv Chowk, Patel Chowk and RK Ashram, Delhi NCR
GET DIRECTIONS
Shakespeare And The Actor
The central Club of Comedy, Akshara Theatre, Delhi
Step out and enjoy this event
Invite your friends
and enjoy a shared experience