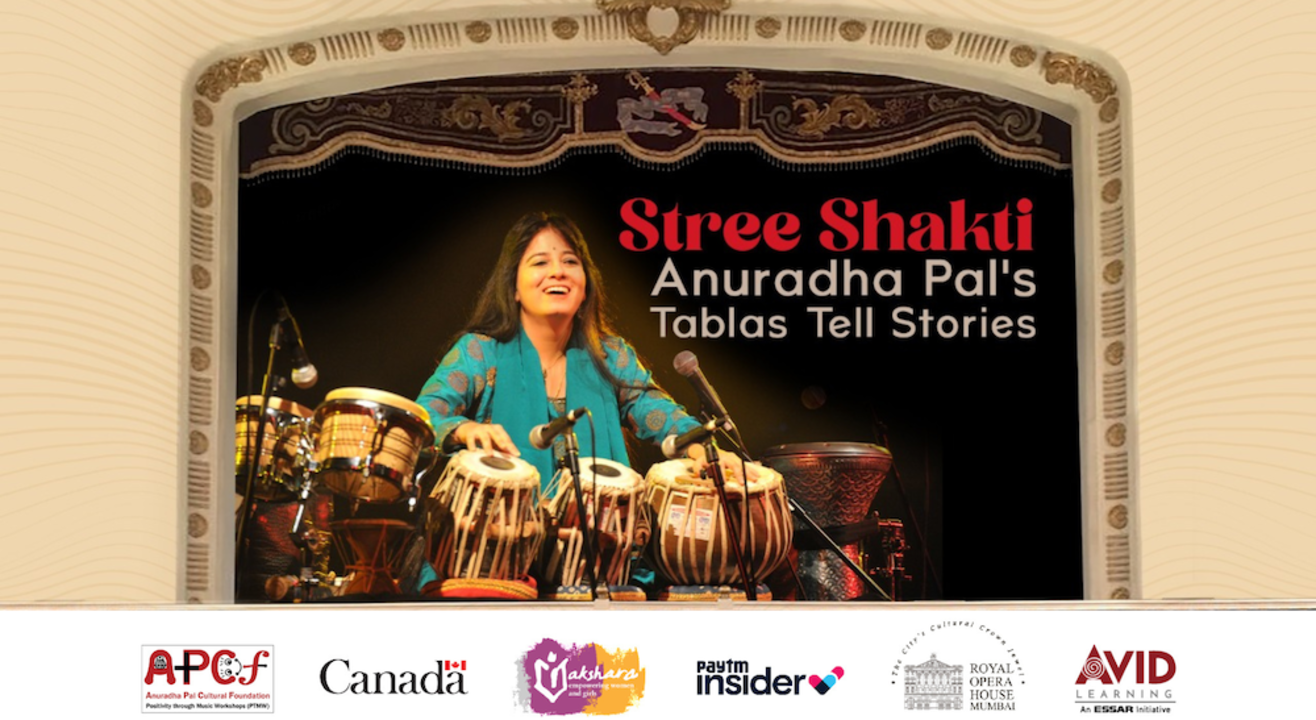 Stree Shakti: Anuradha Pal's Tablas Tell Stories | Navratri 2022
The Royal Opera House, Mumbai
Step out and enjoy this event
Event Guide
For Age(s)
Family Friendly
Live Performance
Enjoy a unique experience
Invite your friends
and enjoy a shared experience
Stree Shakti: Anuradha Pal's Tablas Tell Stories | Navratri 2022
The Royal Opera House, Mumbai
Step out and enjoy this event
Event Guide
For Age(s)
Family Friendly
Live Performance
Enjoy a unique experience
Invite your friends
and enjoy a shared experience
Event Guide
For Age(s)
Family Friendly
Live Performance
Enjoy a unique experience
Covid 19 Safety Measures
This event adheres to the following

Health & safety measures
Social Distancing
Temperature Checks
Face Masks Required
Hand Hygiene Stations
Limited Capacity
Contactless Service
Sanitisation before the show
Organisers wear masks
Proof of Vaccination Required
Invite your friends
and enjoy a shared experience
Covid 19 Safety Measures
This event adheres to the following

Health & safety measures
Social Distancing
Temperature Checks
Face Masks Required
Hand Hygiene Stations
Limited Capacity
Contactless Service
Sanitisation before the show
Organisers wear masks
Proof of Vaccination Required
In celebration of International Day of the Girl Child, Avid Learning in association with Consulate General of Canada in Mumbai, Akshara Centre and Royal Opera House, Mumbai presents Stree Shakti: Anuradha Pal's Tablas Tell Stories.
World's FIRST female Professional Tabla maestro, a Torchbearer of Indian Music, Brand Ambassador of Beti Bachao Beti Padhao and UNICEF - Anuradha Pal will take us on a journey celebrating the life & facets of a girl child, her challenges, and triumphs through interactive and innovative stories on display; amalgamating poetry, art, prose, music, and rhythm to showcase a delightful blend of compositions depicting contemporary and traditional Navdurga, through Nine World percussion instruments, in reverence of Navratri. This event also coincides with the Government initiated Beti Bachao Beti Padhao Week which is observed annually between 9th-14th October.
President Awardee & Tabla Maestro Pandita Anuradha Pal will be blending the traditional repertoire with her own contemporary interpretations in her distinctive style with nine different percussion instruments like the Pakhawaj, Djembe, Darbuka, Bongo, Handsonic, Udukku, Kanjira & Udu and her Tablas. She will be joined by Vidushi Gauri Pathare (Vocal) & Tushar Raturi (Keyboard).
The evening will begin with a heart-touching short poem/prose, celebrating female empowerment or Stree Shakti, written by noted painter & author, Ila Pal and performed by Anuradha Pal.
Four young girls from across India will be honoured with the Padmashri M. T. Vyas Stree Shakti award for their service to Music/ Dance and society by the Anuradha Pal Cultural Foundation, which is also helping large sections of society recover from anxiety & depression through their impactful 'Positivity through Music workshops'.
Enjoy the stunning visuals, scintillating music and exhilarating, ambience at the historic Royal Opera house, Mumbai. Join us to celebrate the courage and resilience of women. Let us pledge to make the world a kinder place, which believes in their leadership & potential.
About the Artist:
"If the male synonym for the Tabla is Zakir Hussain, then the female equivalent is undeniably Tabla Phenomenon, Rani of Rhythm, Pandita Anuradha Pal." - Hindustan Times
'One of the world's leading & most innovative percussionists & composers' (Bangkok Post) Anuradha Pal is revered globally for her 'virtuosic repertoire, creative improvisations, mathematical precision, complimenting musicality in her live wire performances (Tribune).
Anuradha has performed over 5000 concerts in prestigious festivals in USA, UK, Europe, Africa, Australia, Brazil, Japan & far east, amongst 30 countries, enthralling audiences with her groundbreaking, Musical innovations like –'Anuradha's Tablas tell Stories- Krishna ke Taal' , 'Ardha Narishvara', Path breaking bands - Stree Shakti (India's first all-girls Band) & Su-Fo-Re (Sufi-Folk recharged!), accompaniment with Masters like Pt Jasraj, Pt. Hariprasad Chaurasia, Ustad Amjad Ali Khan, Pt. V. M. Bhatt etc and collaborations with International masters of diverse genres. Anuradha is a Multi percussionist and Music composer in several trendsetting albums. Her background score in the famous film 'Gaja Gamini using only her Tabla & Voice won great appreciation at the Cannes film festival.
Blessed by Ustads Alla Rakha & Zakir Hussain, parents- Ila & Devinder Pal & husband Shyam Sharma, Anuradha is a trailblazing pioneer, entrepreneur, trendsetter, female empowerment icon, inspirational leader &​philanthropist, who has inspired the youth, with her outstanding contributions.
A proud Mumbaikar, Anuradha is a recipient of the Maharashtra Rajya Sanskrutik Puraskar and a President awardee of the 'First Ladies' National Award (among 108 prestigious awards) for being the youngest Indian musician & first female Indian Musician to perform at Woodstock & WOMAD Festivals. She has regaled Honourable President Dr. APJ Abdul Kalam & Prime Minister of India at CHOGM & SAARC Summits.
An Outstanding category musician of Ministry of Culture & ICCR and Top Graded Vidushi of Prasar Bharati, Anuradha Pal has been acclaimed in Who's Who journals Worldwide and has been appreciated as 'Bharat ki Laxmi' by Honourable PM Narendra Modiji.
Anuradha is a Masters in Music university topper who has contributed in research & teaches at several prestigious Ivy League US universities and at Anuradha Pal Cultural Academy. Her organisation Sur aaur Saaz produces premier Music festivals & releases Music Videos, albums & training modules, worldwide. Her recent Music videos 'Dancing Rain', 'Bharat Vandan', & 'Taal Tiranga' further demonstrate her lifelong commitment to use Indian Music to unite and heal the world & have been greatly appreciated by several consulates and Indian diaspora, across the world.
More about Anuradha Pal: https://www.anuradhapal.com/
--
Anuradha Pal Cultural Foundation
Anuradha Pal Cultural Foundation (APCF) has recently launched 'Positivity through Music Workshops (PTMW) कानसेन बनें, ख़ुशी बढ़ाए to reduce stress and anxiety in all sections of society & bring about 'Social transformation through Music'. Through our especially curated, experiential, edu-taining and engaging workshops, we endeavour to inculcate creativity, critical thinking, teamwork and a sense of pride in our rich cultural heritage, to increase group cohesiveness, focus, positivity, EQ & inner peace.
Consulate General of Canada in Mumbai
October 11 is International Day of the Girl Child, as proclaimed by the United Nations in 2011 to recognize girls' rights and the unique challenges girls face around the world. Canada spearheaded the creation of the International Day of the Girl Child and has been an active participant each year in marking the day. In Mumbai, the Consulate General of Canada has worked actively with civil society to mark the day and raise awareness of the problems facing girls in India and innovative work that is being done to address these challenges. This aligns closely with the Indian government's own efforts such as the Beti Bachao, Beti Padhao campaign and achievement of the Sustainable Development Goals.
This year, the UN marks the 10th anniversary of the International Day of the Girl. And the theme is "Our time is now—our rights, our future" which presents an excellent opportunity to highlight your local efforts and support for girl's rights.
Akshara Center
Akshara Centre is a Mumbai-based non-profit, women's rights organisation committed to building a gender equal, gender just, and violence-free society. We empower young women from resource-poor families so that they can challenge deep-rooted gender inequalities and claim their rights to education and the opportunity to break out of their cycle of poverty and achieve their full potential. Akshara Centre also engages young men in this process to redefine gender norms and co-create the gender-equal world. We collaborate with governments and municipalities to accelerate efforts on making cities gender inclusive and safe for women.
www.aksharacentre.org
Please wear a mask in the venue and auditorium.
Please maintain social distance and use a sanitizer whenever necessary.
Please carry your vaccination certificate.
Entry to the venue starts 20 minutes prior to showtime.
Please follow venue seating rules.
Tickets once purchased, will not be refunded.
Terms & conditions are subject to change at the discretion of the organiser / management.
The Royal Opera House
Mathew Rd, Charni Road East, Opera House, Girgaon, Mumbai, Maharashtra 400004, India
GET DIRECTIONS
Stree Shakti: Anuradha Pal's Tablas Tell Stories | Navratri 2022
The Royal Opera House, Mumbai
Step out and enjoy this event
Event Guide
For Age(s)
Family Friendly
Live Performance
Enjoy a unique experience
Invite your friends
and enjoy a shared experience