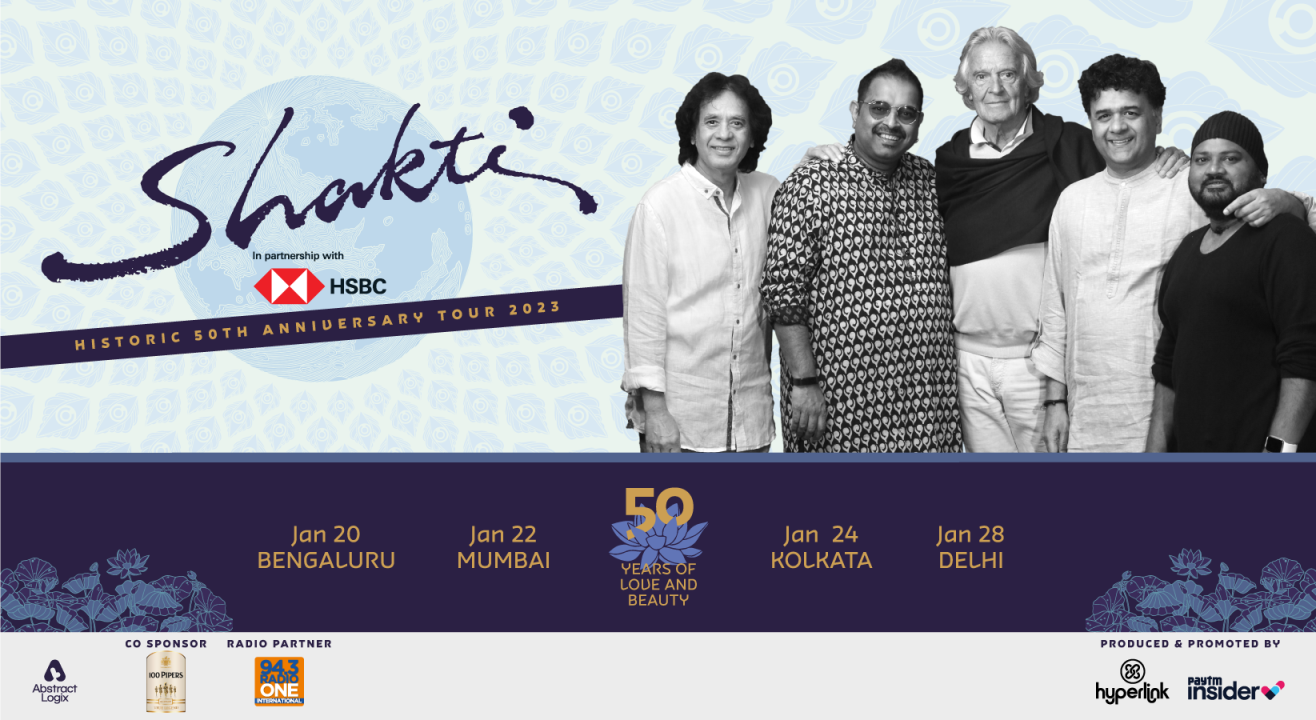 The Legendary Indo-Jazz Fusion Group 'Shakti' all set to perform in India.
Presenting a live musical treat like no other in 2023 - Shakti - The 50th Anniversary India Tour in partnership with HSBC
Invite your friends
and enjoy a shared experience
It has almost been a half-century since Shakti mesmerized the world with their music. However, come 2023, their journey continues!
In what has become known as World Music, Shakti was an unprecedented transcontinental collaboration that united Eastern and Western musicians. It's time for you to be captivated by this dynamic musical hybrid!
Tour Schedule
Bengaluru - January 20th, 2023 | Jayamahal Palace Hotel
Mumbai - January 22nd, 2023 | DOME, NSCI SVP Stadium
Kolkata - January 24th, 2023 | Calcutta Cricket and Football Club (CCFC)
Delhi - January 28th 2023 | Jawahar Lal Nehru Indoor Weightlifting Auditorium
Catch them LIVE at a stage near you!
John McLaughlin
Guitarist, bandleader, and composer John McLaughlin hails from the United Kingdom. He pioneered jazz fusion by combining jazz with rock, world music, Indian classical music, Western classical music, flamenco, and blues.
Ustad Zakir Hussain
The Indian tabla player and composer Ustad Zakir Hussain is also a composer, percussionist, music producer, film actor and music producer. President Abdul Kalam presented him with the Padma Shri in 1988 and the Padma Bhushan in 2002.
Shankar Mahadevan
Adding his genre-defying vocals to the band is Shankar Mahadevan. The musician grew up idolising the legends of 'Shakti' and as a member of their band Shakti, he complements their musical output.
Ganesh Rajagopalan
Ganesh Rajagopalan has been an internationally renowned violinist and composer for more than four decades. He has toured all over the world. Before he was ten years old, Ganesh completed his 100th stage appearance!
V. Selvaganesh
One of the foremost players of kanjiras (south Indian frame drums) in his generation is V. Selvaganesh. With his rhythmic genius, he has captivated audiences since he made his debut at the age of 10.
Generations of musicians, artists, and thinkers from all walks of life have been inspired by their journeys across cultures.
With a World Tour that kicks off in India in January 2023, the quintet of living legends, which includes John McLaughlin, Zakir Hussain, Shankar Mahadevan, Ganesh Rajagopalan & Selvaganesh, will travel across four key Indian cities - Bangalore, Mumbai, Kolkata & New Delhi and continue to Europe & America in summer and fall.
Their 50th Anniversary is a milestone for everyone who is a music lover! Don't miss out on the magical world tour by the legends.

Subscribe to receive our newsletter!
Find the best experiences happening out there in your city or enjoy handpicked content while sitting comfortably at home. Paytm Insider is your go-to place to figure out what to do today!