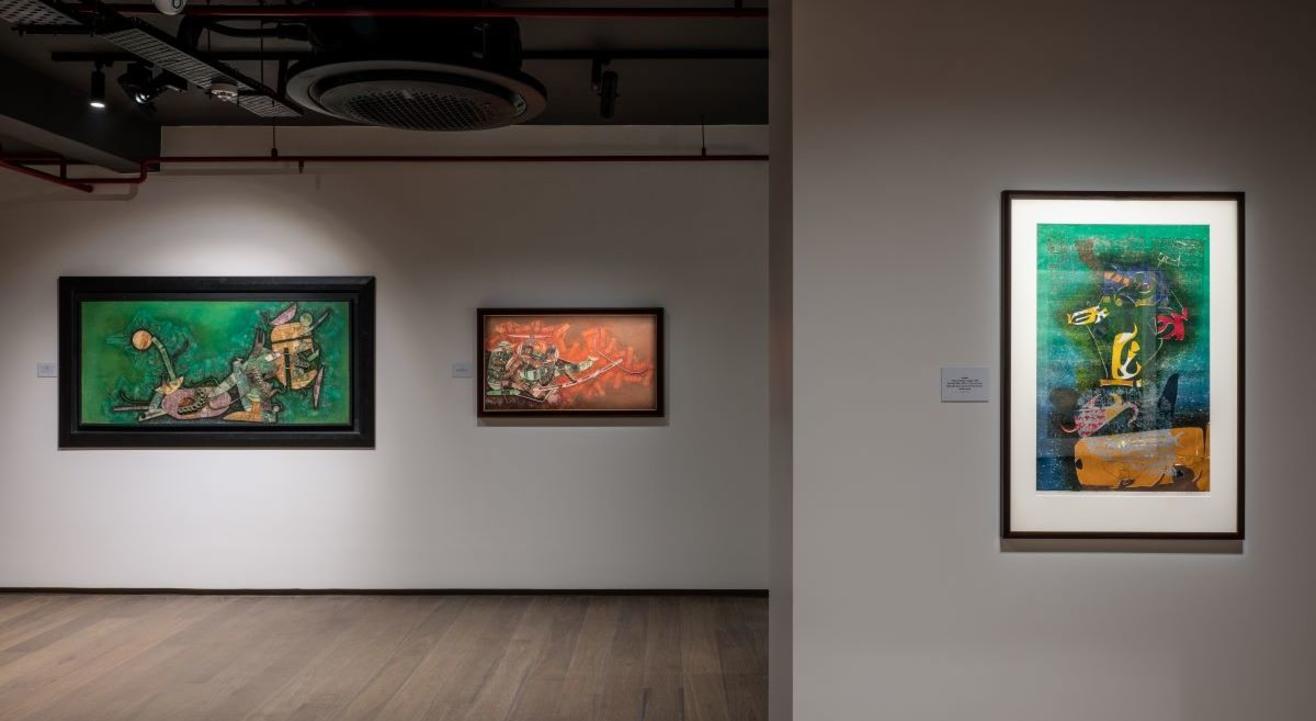 Shanti Dave: Neither Earth, Nor Sky
July 15 - September 9 | 10:30AM - 7:00PM |
Invite your friends
and enjoy a shared experience
Shanti Dave: Neither Earth, Nor Sky
July 15 - September 9 | 10:30AM - 7:00PM |
Invite your friends
and enjoy a shared experience
Invite your friends
and enjoy a shared experience
DAG opens the first-ever retrospective on artist Shanti Dave spanning a six-decade long career
Recognised for establishing the legacies of several Indian modernists in the global world of art, DAG adds artist Shanti Dave to this assembly of masters with his first-ever retrospective, to be shown in India as well as overseas. Shanti Dave: Neither Earth, Nor Sky, dedicated to this major abstractionist, is curated by Jesal Thacker and features over eighty works that capture the artist's journey from early figuration to his unique style of abstraction, including larger-than-life mural-like paintings—a visual language that matured over several decades—alongside a range of archival material on the artist.
Key highlights:
The exhibition features Dave's rarely seen early figurative works as well as his beeswax and encaustic canvases and layered watercolours.
The retrospective also highlights his role as a printmaker and muralist. Alongside large paintings from the 1970s, drawings, collages, and relief paintings in mixed media are other mediums that find a place in the exhibition and show the artist's range and mastery over mediums and materials.
For the first time, Dave's stark black-and-white graphic watercolours on the Indo-Pak war, a body of work that is political and shows him as a humanitarian, are being publicly exhibited.
Investigating the artist's unparalleled style and technique, Neither Earth, Nor Sky studies his unique visual language and persistent exploration of the word or akshara, and is accompanied by an eponymously titled book edited by Jesal Thacker with contributory essays by poet, essayist and script writer Udayan Vajpeyi, art writer Meera Menezes, and DAG's Kishore Singh.
DAG, Janpath Rd
22 A, Janpath Rd, Windsor Place, New Delhi, Delhi 110001, India
GET DIRECTIONS
Shanti Dave: Neither Earth, Nor Sky
July 15 - September 9 | 10:30AM - 7:00PM |
Invite your friends
and enjoy a shared experience