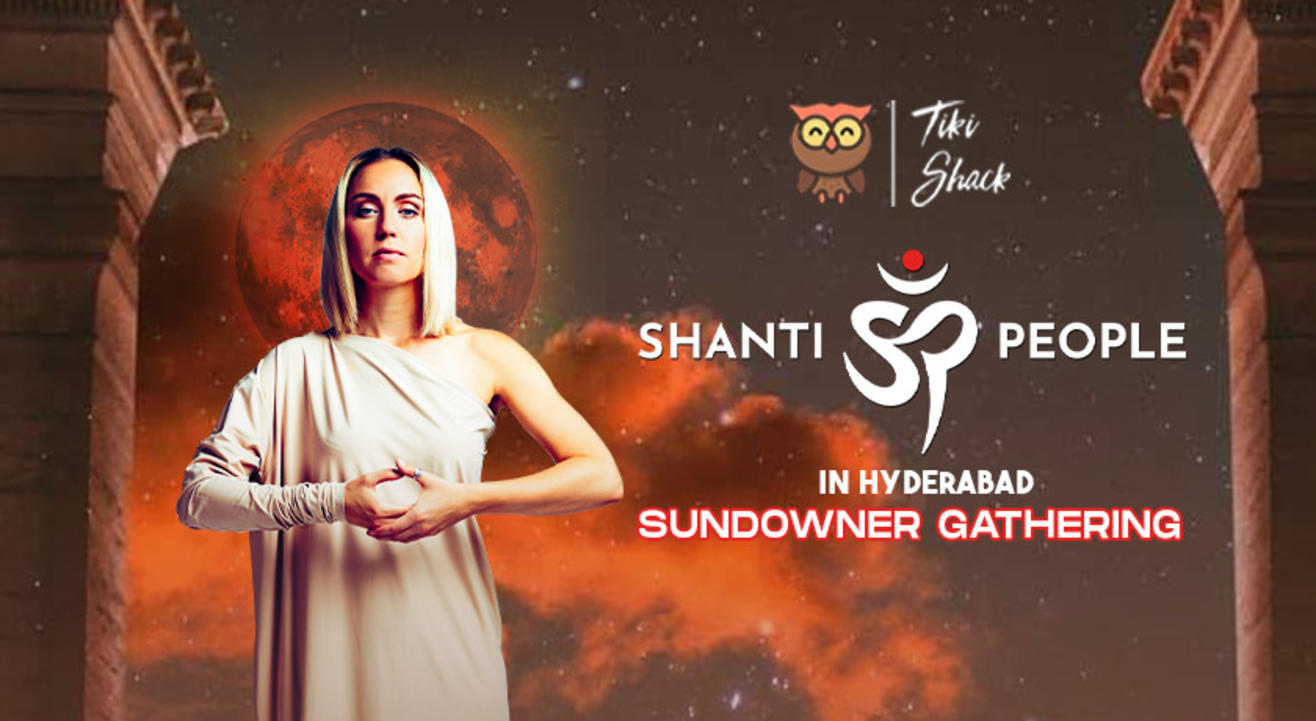 Shanti People in Hyderabad - Sundowner Gathering
Tiki Shack - Gachibowli, Hyderabad
Step out and enjoy this event
Event Guide
Live Performance
Enjoy a unique experience
Invite your friends
and enjoy a shared experience
Shanti People in Hyderabad - Sundowner Gathering
Tiki Shack - Gachibowli, Hyderabad
Step out and enjoy this event
Event Guide
Live Performance
Enjoy a unique experience
Invite your friends
and enjoy a shared experience
Event Guide
Live Performance
Enjoy a unique experience
Invite your friends
and enjoy a shared experience
Their performance traverses you to a state of divine power that is like nothing else! Each time Shanti People perform in the city, the music lovers gather for yet another mesmerising journey.
As you grab your passes & tell your friends about the show, you'd feel the excitement growing! What's more? You get sunset vibes on a rooftop that reminds you of Goa!
PS: An additional fully redeemable cover of Rs. 500/1000/1000 (girl/stag/couple) will be collected at the gate. This can be redeemed on food or drinks.
• Attendees rejected entry due to non-adherence of these Terms and Conditions may not receive a refund of their tickets.
• Clubwear is mandatory.
• Kindly purchase ticket only for persons above the age of 21 years. Persons younger than 21 years of age are not permitted to enter the venue. All persons are required to carry a valid ID proof along with the valid ticket.
• People in an inebriated state will not be given entry.
• Tickets once booked cannot be exchanged or refunded.
• An Internet handling fee per ticket may be levied. Please check the total amount before payment.
• Unauthorized resale (or attempted unlawful resale) of a ticket would lead to seizure or cancellation of that ticket without refund or other compensation.
• The headline act is scheduled to perform for 60-90 minutes during the show at a suitable timing at the discretion of the event organiser and/or the venue management. Suitable complementing supporting acts perform before and/or after the headline act. Should, for some reason, the headline act not be able to perform, ticket holders are qualified for a refund in the event that the organiser is unable to arrange for a performance of a suitable substitute of similar profile and musical style.
• Rights of admission reserved.
• A fully redeemable cover of up to Rs. 500 may be charged at entry for ticket holding girls and Rs. 1000/- for stags and couples.
• Frisking may be done. Should anyone be found with the possession of illegal substances, authorities would be reported about the issue.
• These terms and conditions are subject to change from time to time at the discretion of the organizer.
Tiki Shack - Gachibowli
19, Old Mumbai Hwy, Vinayak Nagar, Indira Nagar, Gachibowli, Hyderabad, Telangana 500032, India
GET DIRECTIONS
Shanti People in Hyderabad - Sundowner Gathering
Tiki Shack - Gachibowli, Hyderabad
Step out and enjoy this event
Event Guide
Live Performance
Enjoy a unique experience
Invite your friends
and enjoy a shared experience