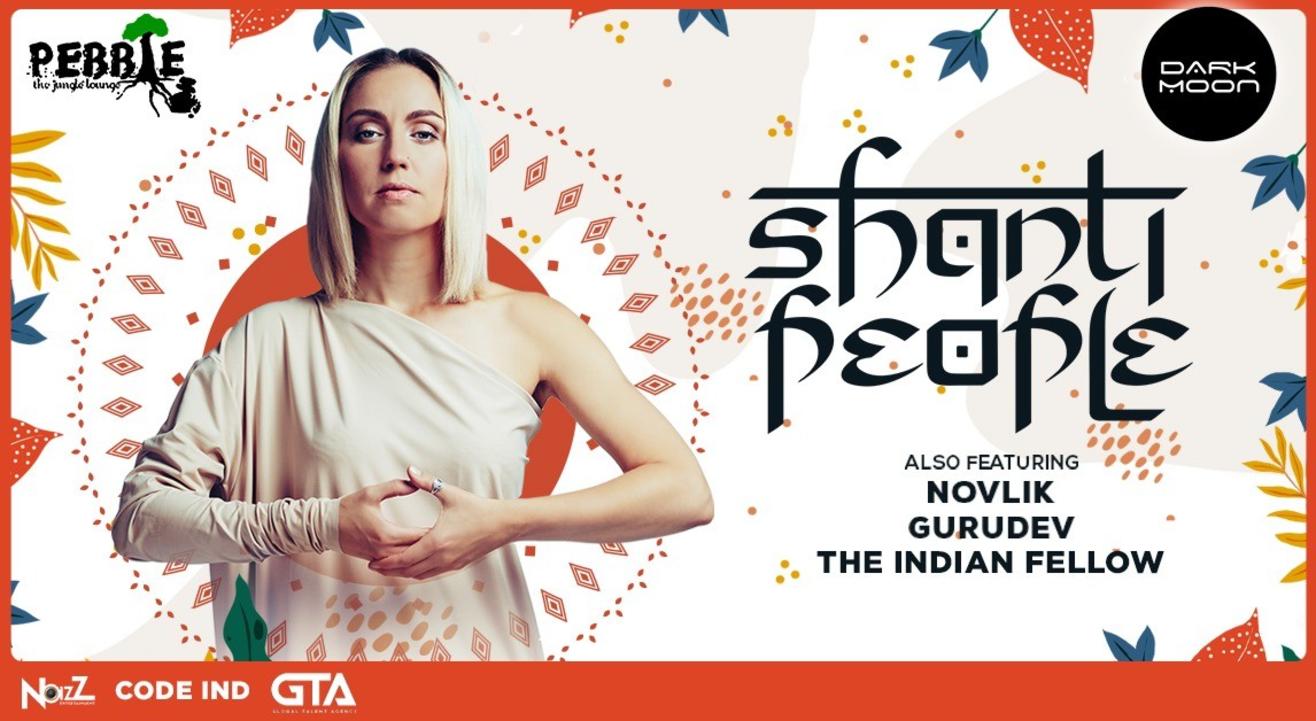 Music
Shanti People Live in Bengaluru
Pebble, Palace Grounds, Bangalore
About
Dark Moon is back again with a big bash for the lovers of EDM and Commercial Trance music. This time it's goanna be 'Shanti People' performing live at Pebble, Bangalore to give you a heavenly and impossible to forget experience. Get ready to revolve for their stupefying and staggering performance on 29th Feb 2020.
Let's gather to the weather of EDM and trance and party like never before.
Artist Info:
Shanti People
Shanti People is a music band that mix contemporary EDM (electronic dance music) with ancient Vedic Mantras.
Shanti People had played at the various World festivals such as Ozora, Sunburn Festival, Summer Never Ends, GogolFest, Ultra Vague, Kvammanga, Veda Life, Inne Brzmienia, Radhadesh Summer Holi Festival, Hedonism, Xperience Festival etc. and played live shows in Germany, Switzerland, Spain, Belgium, Czech Republic, Poland, Ukraine, Russia, India etc.
The increasing popularity of Mantra music let Shanti People become a really trendy modern project, as they have everything for that: an original material, a talented vocalist, sincerity and belief in what they do. A fusion of ancient Mantras and contemporary sound does attract a lot of very different people all over the globe.
Shanti People get inspired by traveling, the best music practices in India and the sources of Vedic culture, where the music is accepted as the holy sound and is practiced as a meditation for higher reality, displayed here and now.
​Uma, the vocalist of the project: «Mantras do not only eliminate the worries and bring the peacefulness to the mind and heart, but also help to comprehend the nature of the consciousness, which is the most important thing in the practice of self-realization. In our music we try to express our knowledge though the common language of electronic music. We are happy that we can share this treasure with our audience».
​Shanti People are all about experiments. And the latest result of those experiments is collaboration with electronic artists such as ​Vini Vici (track ''Karma''), Reality Test (track ''Passion''), Droplex (track ​ ''Mahishasura Mardini''​), Blazy​ &​ Gottinari (track ​ ''Tandava''​). Thanks to those collabs and other DJ's playing their remixes Uma's voice sounds at the biggest open-air festivals of the world.
Currently the band is working on a new EDM program and releasing more ''FEATs'' with the world-known electronic artists as well as solo tracks in such genres as trance, drum 'n bass, trip hop, house etc.
Novlik Bio :
Novlik is a psychedelic trance DJ - Producer – Event Organiser from Hyderabad, India. A hospitality manager turned psytrance artist, Novlik has been associated with music since the age of ten, but it wasn't until a music-oriented educational trip to Manchester, UK, that he was totally convinced to influentially contribute to the world of electronic music, especially the divine art of psychedelic trance.
Having entered the market professionally in 2018, Novlik in his first year, has shared stages across India with many top acts from across the globe, including Vini Vici, Skazi, Mandragora, Hilight Tribe, Avalon, Burn in Noise, Kindzadza, and many more.
The Indian Fellow Bio:
22 year old Anenth (The Indian Fellow), born into a group of music lover. The Indian Fellow dependably had been a devotee for all style of music. By a multi-faceted kid, he was quick to get to the Electronic Dance Music (EDM) upheaval as the years cruised by. His initial presentation to the scene gives him a high ground with his track determination, nearly making him a conceived natural and now become a complete Psychedelic style artist.
The Indian Fellow was completely motivated from his launch tour in Bangalore and so as drove him to play at Freedom Blast 2018, 2019 Goa, and Hilltop Festival 2020 Bangalore Edition. The 22 year old guy is now releasing his new album and looking forward to headline India's Psychedelic and trance music festivals in coming years.
Gurudev Bio:
Gurudev started dj-ing in the year 2009, his love for psychedelic music and the association of it with a higher perspective with spiritual knowledge, is what made him immerse himself in the world of "Psychedelic Trance." Apart from his music skills, he was also in search for something radically different, and co-formed a décor company called " Sangachadwam" in the year 2012,along with his friends. They have organized the décor for some of the most memorable, indoor and outdoor parties, across India. He wanted to showcase his love for art and not just music. In 2015 he got signed as a dj for one of the world's best record label "Digital Om Productions"
Gurudev's style ranges from progressive to full-on psytrance. His energy behind the decks is simply splendid; his enthusiasm for psy-trance music remains instrumental in the development of the scene.
Venue
Pebble, Palace Grounds, Bangalore
#3 Princess Academy, Ramanna Maharishi Road, Palace Grounds
GET DIRECTIONS